Wondering which coffee percolator to buy?
Coffee percolators enjoyed great popularity around the 1970s. They fell out of fashion after drip coffee makers came around, but more recently have been making a comeback. I have found that the main benefit of this style of coffee making is its versatility. Coffee percolators are incredibly portable and can be used both in the house on the stove or microwave, or can be taken to heat over a campfire.
With this method, the water is cycled through the coffee grounds multiple times. This produces a strong, robust flavour to the coffee that is different from other methods. The process also gives the coffee a smooth, creamy texture.
Percolators come in a great variety of sizes, from just your personal morning coffee to industrial 30-50 cup models. I have also read that they are incredibly user-friendly and easy to clean, although an electric percolator can be tougher to clean. You dump out the coffee grounds and rinse the vessel with warm, soapy water. In this article, to help you make a buying decision, I've reviewed the best coffee percolators in the UK and United States. Check it out!
Best Coffee Percolator – Our Top Picks Reviewed
Here are our to picks
Last update on 2021-01-12 / Affiliate links / Images from Amazon Product Advertising API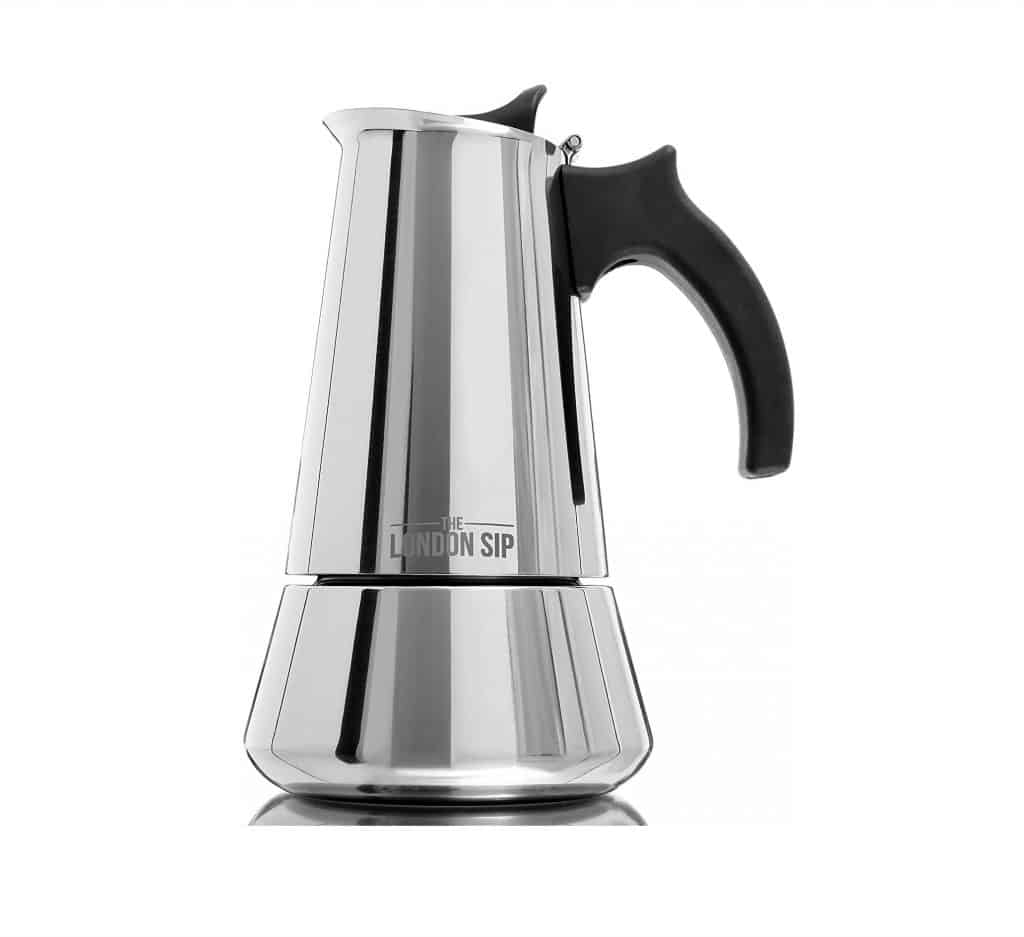 This product advertises itself as a more modern take on the traditional coffee percolator. It's made with stainless steel rather than the aluminium used on some of the cheaper models. I think that this particular coffee percolator has a better quality finish than some of the other models.
Features
The design of this particular percolator has a heat-proof, outward-facing handle. This keeps your hand further away from the heat and reduces the risk of burning yourself on the hob. It's also fitted with a steam safety valve to prevent scalding.
Pros
Easy to clean
Works with induction hob
Heat safety features
Cons
Lined on the inside with a metal other than stainless steel
Handle poor quality
Customer Sentiments
A few customers mentioned that the customer services department at this company were particularly useful. Many said that they and their friends much enjoyed the taste and quality of the brew using this particular coffee percolator. One user mentioned that they had tried other, more expensive products, but that overall preferred this one at just a fraction of the price.
Some of the poor reviews mentioned that the coffee percolator did not appear to be very well made. There were a few issues with rust, and some said the handle seemed loose. However, all who mentioned asking for a refund were successful in receiving one and had no problems with the company.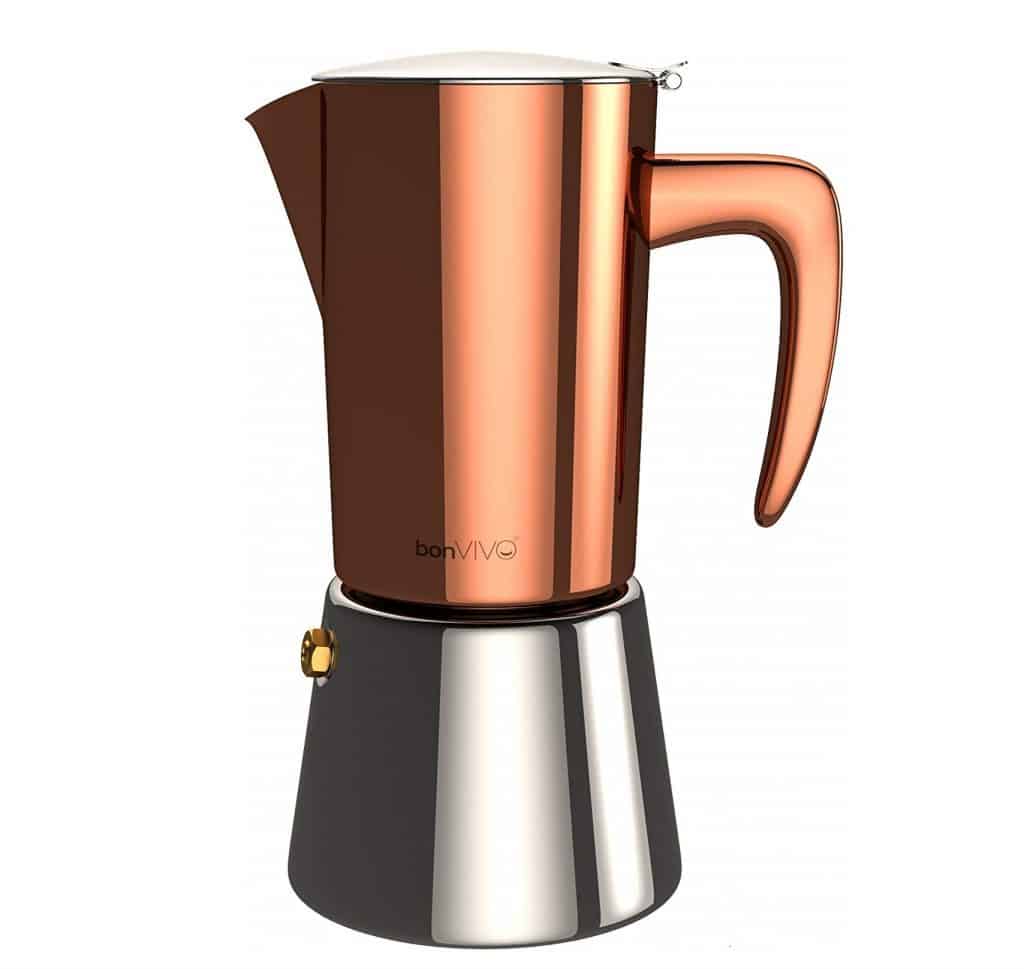 Designed in a more traditional Italian style, but still with the stainless steel finish. This electric coffee percolator is available in different sizes and colours, meaning that you can choose how many cups you need. You can also match it to the aesthetics of your kitchen.
Features
The design of this coffee percolator has a unique spout that allows for drip-free pouring. It also has a safety valve, which prevents excessive pressure from building up during the brewing process.
Pros
Works on gas, electric, ceramic, and induction hobs
Can choose the size that suits your needs
Well manufactured and durable
Electric percolator
Cons
Recess around the inside of the coffee chamber makes it more difficult to clean
More expensive than the previous model
Customer Sentiments
Several customers mentioned that this particular model had a much thicker, solid base. Both this and the excellent quality of the stainless steel seemed to be the main benefits of this one. Again there was a customer who mentioned buying various models in a similar price range and decided that this was the best option available.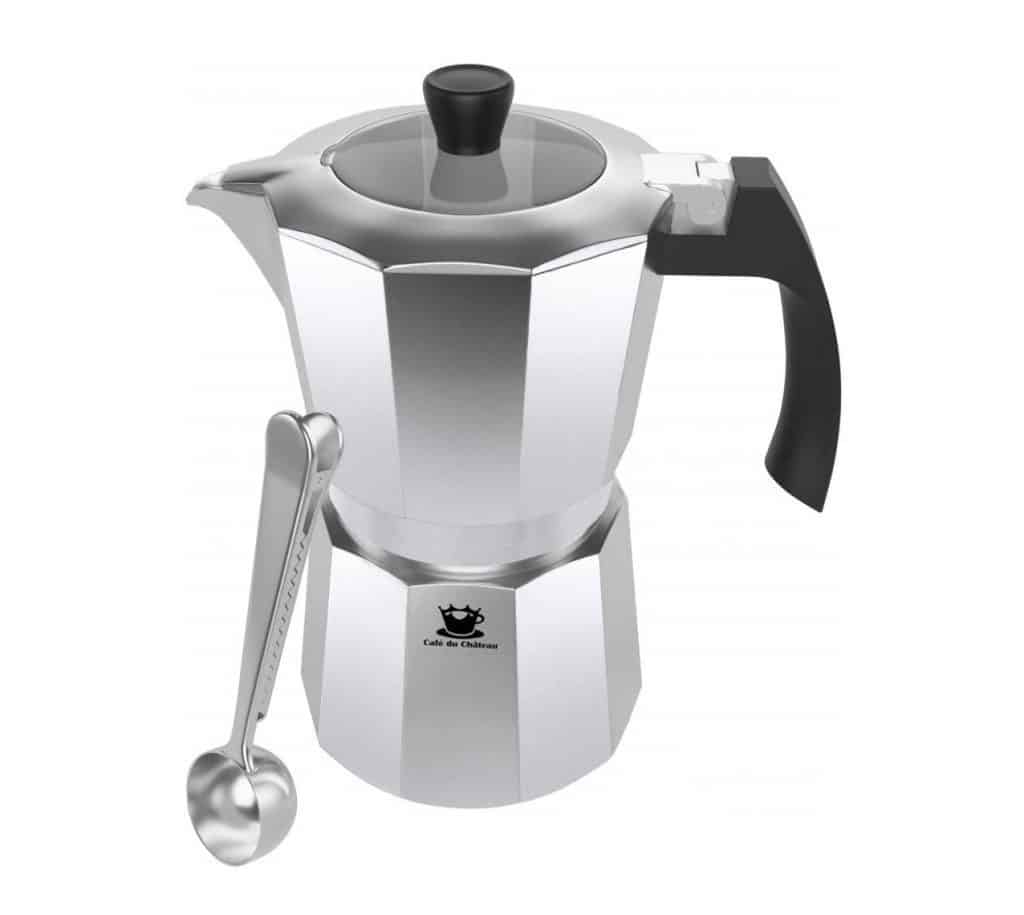 In comparison to the last two products, this design focuses more on practicality than style. It is made of aluminium as per the more traditional models of coffee percolator. It has a high gloss finish and comes with a free clip spoon for you to measure out your coffee.
Features
This particular model has a transparent lid that allows you to keep an eye on your coffee without the risk of scalding. It has a similar handle style to the first model, which bends away from the coffee pot to give you space not to burn your hand on the hot metal. The high gloss finish involves a protective metal coating to help prevent rusting and blemishes on the pot.
Pros
Lifetime replacement guarantee
Less chance of rusting over time
Can easily see when your coffee is ready
Cons
Can't be used with induction hob
Some users found that the handle came loose or detached easily
Customer Sentiments
Lots of customers appreciated the quality of the product. From my research, it seemed to be more sturdy than some of the other aluminium options. People said that the customer service was attentive and helpful. Many users particularly liked the addition of the glass lid.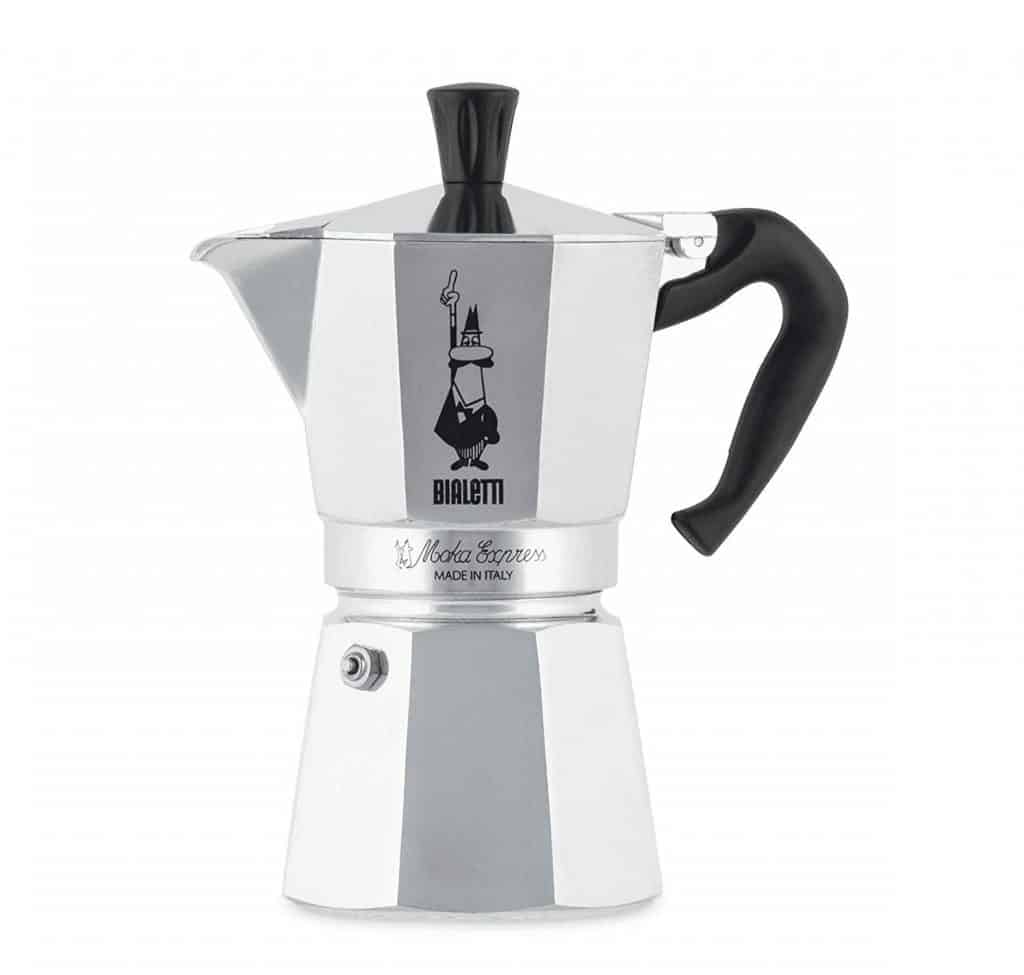 Similar to the previous product and only a little higher in price. This is another more traditional style, aluminium coffee maker. It seems to be a popular model as it had more than double the reviews than any of the other products. Probably the way to go if you want the more "authentic" coffee percolator experience.
Features
This product mentioned something that I hadn't seen on any of the other coffee percolators I looked at. It says that you can 'personalise' your coffee by adjusting the blend quantity and quality directly in the filter. It also has exclusive easy-to-clean technology, which is patented by Bialetti.
Pros
Can adjust the blend to suit your tastes
Most traditional and authentic product
Easy to clean
Cons
More difficult to use than other products
A few users had problems with leaking when the coffee was brewing
Inconsistent in use with induction hobs
Customer Sentiments
In general, this product had excellent reviews and a significant number as well. A few users said that it was quite challenging to master, but was worth it for the great tasting coffee they got. It seemed to be common for people to need a few tries to work out their preferred setting for the adjustable filter.
A surprising number of people had issues with the quality of their product. From reading several reviews, there seemed to be a few users who had received 'refurbished' products. One user suggested that the company had an issue with quality control.  There were plenty of reviewers who were completely satisfied and had no problems.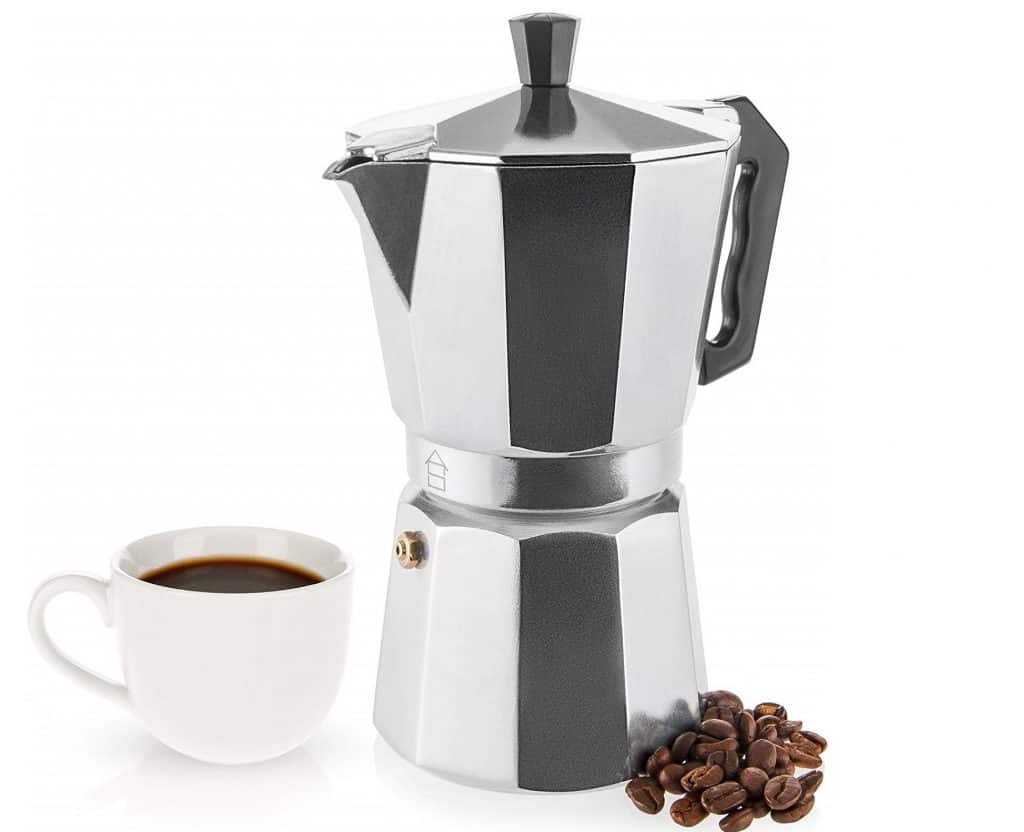 Another more traditional style espresso maker, again made from aluminium. This product also has the option for a 3, 6, or 9 cup model. It specifically mentions that it can be used over a camping stove. It has a small and compact design to make it easily portable.
Features
It has a silicone gasket to prevent leaks, which seemed to be an issue in a couple of the previous models. It has an easy-pour spout and a cool-touch handle and lid.
Pros
Most affordable of all the products
Portable
Users liked the compact design
Cons
Not suitable for induction hobs
Some users were not happy with the quality and said that the product did not work
Customer Sentiments
Users liked that the lid fits well, and there was no leakage when brewing the coffee. A couple of reviewers mentioned that the handle stayed noticeably cool. They could easily move the percolator from the stove and pour the coffee. One user said that it comes with a spare filter and seal, extending the life of the pot because you can easily replace the parts.
A few reviews stated that either the handle melted or the water did not come up into the pot and brew the coffee. Most people who had issues were offered a full refund.
Coffee Percolator Buying Guide
With such a range of coffee percolators out there, I think it's important to consider what you want from the product. With such a variety in price as well, often you seem to get what you pay for. While some people are happy with just the good excellent of the coffee, other reviewers expect a higher quality product.
Size is the first prominent factor to consider. Remember that a 'cup' is one espresso and not a mug of coffee. However, most users stated that because this style of brewing makes strong coffee, you can top it up with milk or hot water depending on your preference.
The products listed here are either 3, 6, or 9 cup coffee percolators. Most people said that a 3 cup is suitable for one large or two small cups of coffee. A 6 or 9 cup model would be better suited to you if you often make coffee for family or friends.
One thing I realised from my research is that almost all of the reviewers agree that this method makes an excellent mug of coffee. They like the robust flavour it produces, and several compared it to a proper Italian espresso. A lot of people who had previously had more elaborate electric coffee machines said that they would never go back because the flavour of this coffee was just too good.
Of these particular products, the first two larger, stainless steel coffee percolators would be more suitable to keep at home. With the stylish finish, they can be left out in your kitchen as a feature.
The smaller espresso electric coffee machines are useful if you just want to make yourself a good mug of coffee from time to time. People liked that they fit easily into their cupboards, so only need to be taken out for use. If you want to make coffee while you're out and about, then the Savisto is probably the most sensible option for you. It's also worth looking into whether you're going to want to use a filter with your coffee percolator (regardless of whether the percolator requires one, as filters are still used by aficionados!).
Coffee Percolator Verdict
Overall I would say that The London Sip Company percolator is the best option on this list. A few customers disliked that the inside became slightly discoloured over time. However, there was a vast number of positive reviews, and most users agreed that this was a high quality product.
While you could argue that the bonVIVO is a more high-end product, it was not significantly better enough to justify the difference in price. The London Sip Company coffee percolator would definitely be my top pick.
Last update on 2021-01-12 / Affiliate links / Images from Amazon Product Advertising API
Here's a related video on Moka Pots that we think you may find interesting.