Are cheap coffee machines worth buying? 
If you love your morning cup of coffee, it's worth buying a cheap coffee machine for a number of reasons. You will save money in the long-term if you invest in a good coffee machine. Most people are unable to get that barista coffee taste at home, so will go to a coffee shop.
However, barista-style or café coffee can often be expensive, and the portions smaller than you'd prefer. It's great to support your local coffee shops, but if you're interested in saving money and enjoying coffee the way you like it, a coffee machine is the only way to go.
Feeding your coffee addiction with great quality coffee is enough of a reason to buy a cheap (but reliable) coffee machine. There are numerous health benefits associated with drinking coffee on a daily basis. Good for your wallet and your heart!
Coffee culture is a booming industry, showing no signs of slowing, even despite the impact of COVID-19. An incredible 79% of British people drink coffee every day of the week, with about 95 million cups of coffee made every day!
However, the big coffee brands (Costa, Starbucks and Caffè Nero) have suffered major losses as a result of store closures, with estimates saying it will take about 4 years to recover £2 billion in lost sales from 2020.
As a result, home coffee machine sales have boomed. With a dizzying number of models available on the market, it's easy to get confused about which models are cheap and reliable, and which ones are not worth buying.
If you've been finding it difficult to get the great taste you want from your current coffee method, it could be that you're ready to move to the next level and invest in a coffee machine.
We've put together this helpful list to help you make your decision about the best cheap coffee machine for your needs.
Best coffee machines under £100: our top picks
1. Russell Hobbs 20680 Buckingham Filter Coffee Machine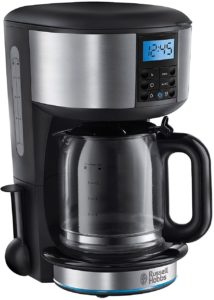 For many people looking for a sturdy and reliable filter coffee machine, this model is hard to beat. It produces outstanding-tasting coffee and it's a very low-maintenance machine. It's undeniably good value for your investment.
Russell Hobbs is a trusted household name when it comes to kitchen appliances, so you know you're buying a quality product. A solid, no-frills machine that won't let you down is what you're buying when it comes to Russell Hobbs products.
If you're searching for a filter coffee machine, you are likely to want a 'stay warm' feature included as standard. The Russell Hobbs Buckingham coffee machine heats up your coffee quickly and will keep it at the optimum temperature for longer than most of its competitors.
A great feature of this coffee machine is its shower-head technology. The majority of filter machines flood the ground coffee. However, Russell Hobbs have opted for a smarter technology to make a more flavourful grind.
Making too much coffee and wasting good beans is definitely a big issue for coffee lovers. With this model, you can accurately make either 1 cup or 10 cups, depending on your preference.
We love the stainless-steel structure which gives it a more durable feel, and it's relatively lightweight at just 2kg.
It's got a built-in 24-hour timer, which means you can programme it to automatically brew your morning 8am cup of coffee. It's got a permanent filter which means you won't need to constantly create buy and throw out filters. If you'd prefer to use paper filters, you still have that option.
Overall, it's a brilliant filter coffee machine and won't let you down if you need to make a lot of coffee and keep it tasting fresh and hot with each brew.
Pros:
     

You can make up to 10 cups of coffee at a time, making it perfect for a busy work-for-home household

     

Blue LED light shows clearly when the coffee is in the keep-warm stage

     

Stylish and modern appliance
Cons:
     

The small inner filter can easily be discarded by accident – take care when emptying old grounds
2. Tassimo Bosch Suny 'Special Edition' TAS3102GB Coffee Machine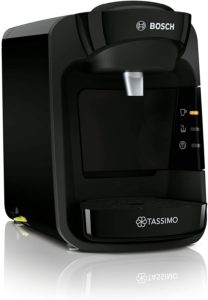 There's a lot to like about Tassimo coffee machines. They're stylish, functional, and affordable. They make great coffee and they're uber-functional, with plenty of customisable and product-specific options (think of their Costa Coffee, Kenco, Cadbury, Twining's and even Baileys collaborations).
The inner workings of the machines have been designed with the busy coffee drinker in mind. Their Intellibrew heating technology means that the user can usually get their coffee in less than 30 seconds.
As well as that, you've got a choice of over 70 different drinks from 11 brands. There are very few other brands that can boast such an exceptional variety from just a single coffee machine.
As a company they've really adapted to using smart features to craft the perfect cup of coffee. One of these features is the smart start system. With this, you can just pop your cup under the spout, and you've got a very quick cup of your favourite type of coffee.
For those who enjoy using coffee pods, Tassimo offers plenty of versatility with their pods. The convenience of popping in a pod and knowing that your coffee will be the same perfect brew every time is something that can't be beaten.
If you're new to the world of coffee machines, one of the things you'll quickly learn is the range of choices and options can quickly become overwhelming. With the Tassimo Bosch Suny 'Special Edition', the simple LED interface will let you know when your machine is ready, when there's enough water, or when you need to descale it.
Pros:
     

Excellent selection of coffee flavours and drink styles

     

Automatic shut-off function, making it a safe model

     

Super easy set up and the capsule system is one of the easiest ones on the market

     

The cleaning T-Disc that comes with the machine makes the cleaning process very easy
Cons:
     

The pods aren't yet recyclable, meaning that they are quite wasteful
3. De'Longhi Nescafé Dolce Gusto Mini Me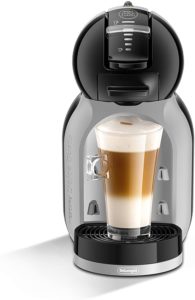 De'Longhi is a well-known Italian appliance brand with a fantastic reputation for creating great drinks. The collaboration between De'Longhi and Nescafé is one that will make coffee lovers rejoice. This simple, no-frills and quality-made machine is one of the better pod capsule models out there.
Nowadays, having a beautiful-looking coffee machine appliance in your kitchen is about having the right look, as well as having great tasting drinks. This affordable model is made from high-quality sleek plastic and will fit seamlessly into all types of kitchens.
What about the taste of coffee from this machine? The Dolce Gusto pods are a specific form of ground coffee which, of course, isn't freshly ground. Despite this, there's a lot to love about this model. It's got some brilliant flavours of drinks, including Espresso, Latte Macchiato, Chococino, and Cappuccino.
If you're a big fan of Dolce Gusto, you'll be happy to know that the Mini Me machine provides the classic velvet-smooth creamy finish to each drink. It's flavourful and each pod packs a seriously tasty punch.
Extremely easy to use, compact, and intuitively designed, you get exactly what you expect from this machine.
The advantage of a pod machine is that you get coffee that's a step-up from instant coffee but doesn't require the effort or work of a barista-style coffee machine. There's no chance of getting confused or overwhelmed using this machine.
Pros:
     

Despite its mini size, you can get 3 cups of coffee out of a single brew, which is economical, and enough for most users

     

The temperature of the coffee is quite hot, which is ideal for most coffee lovers

     

Warms up rapidly
Cons:
     

The tank and drip tray are low capacity and will have to be emptied fairly frequently
4. Swan Retro Pump Espresso Coffee Machine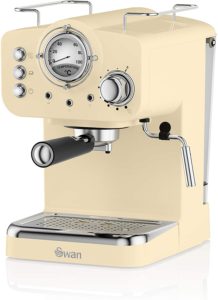 It's hard not to get really excited about this classic coffee machine. As a brand, Swan's logo is 'Designed for Life' which is perfect for people who want to invest in a classic machine that will last.
Based on design alone, this espresso machine is a sleek and sophisticated-looking machine. With its stainless-steel structure and availability in a range of colours, it's bound to be the perfect fit in most modern kitchens.
The affordability of the machine is what makes it one of the most popular appliances in the Swan range. Anyone who has a Swan machine is unlikely to want to invest in a more expensive coffee machine and that's down to its exceptional quality.
There's no need to worry that this coffee machine will be too difficult to use. It comes with a total of 3 buttons to operate the machine. With this, you'll be able to create the perfect espresso with a minimum of effort.
For people who feel strongly about making their own milk drinks, the milk frother is an essential component of their coffee machine. This frother heats up your milk and allows you to create the perfect froth for both cappuccinos and lattes.
How does the coffee quality compare when it comes to the Swan coffee machine? Not surprisingly, it makes a fantastic cup of coffee. It doesn't come with a built-in grinder, so we highly recommend getting a good coffee grinder to make sure that you're getting the most from your beans.
The fact that you can get a warranty of up to 3 years on this machine is testament to the faith that Swan has in this machine. It's an incredibly strong machine for a very affordable price.
Pros:
     

Amazingly easy to get an outstanding cup of coffee from this machine. It takes very little effort to make the coffee and clean up afterwards

     

The frother will heat your milk and create microfoam for the perfect latte or cappuccino (some experimentation is required to become a great latte artist!)
Cons:
     

Some users have reported a taste of plastic in the water dispenser, so it's recommended to clean it thoroughly before use
5. Bonsenkitchen Espresso Machine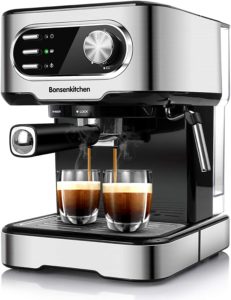 A good way to describe this coffee machine is a step-up for anyone who wants a barista-feel coffee experience but without the associated cost, effort, and fussy features.
Ideal for users who are looking for dual-cup functionality, it's got some neat little features that make it an all-round stylish and versatile machine.
If you're serious about your coffee, you will know the importance of temperature when creating the perfect brew. The extra temperature controls with this machine (up to 15 bars of pressure) give you the ultimate control over both the coffee-brewing and milk-frothing aspects.
The sleek display and control panel gives you control over the coffee-making experience and allows you to quickly access a great cup of coffee.
Making coffee can sometimes be a messy process, but the designers realised the importance of having an easy to clean and removable drip tray. We like that the water tank is also removable, which makes it easier to get the water into the machine.
The machine is compact and weighs just over 4kg. It will fit neatly into your kitchen, measuring just 27 x 22 x 30cm.
Again, it's recommended to invest in a good burr grinder to ensure you extract the maximum freshness from your coffee beans. However, with that in mind, it's pretty difficult to create anything but an amazing cup of coffee using this excellent coffee machine.
 Pros:
     

Even though it's a highly elegant machine with plenty of high-tech looking features, it's very simple and intuitive to use

     

Great amount of control over the brewing process to give you the perfect cup according to your preference every time
 Cons:
     

The instruction manual can be a bit tricky to decipher, but more instructions can be found online on the manufacturer's website
Cheaper coffee machines are worth buying
As a coffee lover, you know that there's a fine line between good coffee and great coffee. The more that you understand about the brewing process, the more you understand how important it is to have a machine that is built to create an outstanding cup every time.
Whether you're looking for a filter machine, pod/capsules, or an espresso machine is more your style, there's a machine out there to suit every taste.
It's possible to find an affordable coffee machine for under £100, as long as you start off with a good understanding of the following:
     

the type of coffee you want (filter, espresso, milk drinks, pod/capsules)

     

the non-negotiable features you must have on the machine

     

how frequently you will use the machine
Researching the best machine for your needs doesn't have to be a difficult process. Our guide has hopefully given you a greater understanding of some of the best machines out there for this price range.
Once you get the machine and become a regular user, you'll look back and wonder how you ever managed to survive without one! It will be pretty difficult to go back to using instant coffee in the future.
When it comes down to making the final decision about investing in a cheap coffee machine, we recommend adding up how much you've spent on takeaway or instant coffee in the last 2 months. How much of that coffee did you really enjoy, and how much was only okay?
Of course, if you can afford a more expensive coffee machine, we've got plenty of recommendations:
But if you're wondering if a coffee machine is really worth it, and you want to try a cheaper machine before investing hundreds of pounds into a more expensive model, you can't go wrong with a great machine for under £100.