Why are Smeg coffee machines so popular? 
When thinking about iconic names in the world of coffee, Smeg has to appear in the top 5. The brand was established in 1948 in a place called Guastalla, near Reggio Emilia in Italy. We all know how the influence of Italian coffee and that this wonderful Italian brand has taken the world by storm ever since. But what's so engaging about the brand and why has it endured for so many years?
Part of the reason is because of coffee culture and its impact on modern life. Coffee culture looks different across different countries but the common features are an appreciation for fine coffee and an interest in using the best coffee-brewing appliances to achieve the optimal brew. 
Nowadays, it's not just about the taste of your coffee, it's also about the experience. People don't love Starbucks for the flavourful coffee, it's because it's a recognisable brand name, the story behind the brand and the sense of little luxury that you get with a visit to one of their branches.
In a similar way, Smeg have ensured that their coffee machines are a must-have feature of any modern kitchen. There are few kitchen appliances that you could buy just for how aesthetically pleasing they look, but Smeg coffee machines are one of those rare ones. But of course, you are more likely to be buying the coffee machine for its coffee making abilities.
So, is the Smeg hype worth it? The answer, simply, is yes. The taste from a 'proper' coffee machine is well and truly worth the investment. If great-tasting coffee is something that's important to you, these machines really are the top of the range in the non-commercial market.
Whether it's the numerous thoughtful features on the Smeg machine, the outstanding design or the best in class taste, it's clear why they're so popular. Let's take a look at some of the best models and also popular Smeg brewing equipment that we highly recommend: 
1. Smeg DCF02CRUK Drip Coffee Machine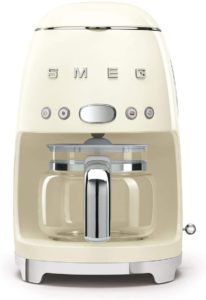 This effortlessly stylish and sleek coffee machine looks almost like a piece of art, so you might feel reluctant to put coffee beans and water into it!
If you're unfamiliar with Smeg controls, this model is intuitive and easy to use. The coffee-brewing experience is made extra enjoyable because of the usability and care that has been put into every aspect of the machine's design. It's a perfect size for all kitchen sizes and can easily be stored away or proudly displayed in your home. The machine brews superb-tasting coffee and keeps it warm on the hot plate for up to 40 minutes. It will be difficult to drink instant coffee anymore once you've started to use this Smeg model and it's become part of your home routine. 
In terms of specifications, the machine has a 10-cup capacity (which should amply cover your needs). There are non-slip features enabled for safety reasons and an indicator light will let you know when it should be descaled. The water tank holds 1.4 litres and there is a digital LED display to give you all the information you need. It weighs only 3.4kg and measures 25.6cm by 24.5cm by 36.1cm. 
The automatic programmable feature is one of the best aspects of this appliance. While not a smart device, being able to programme your coffee to be created at the same time each morning is incredibly useful. 
Pros:
Beautifully designed, this is a tasteful appliance that will add some decadence to your home. It's the perfect size for any type of kitchen 

The aroma intensity controls allow you to choose between two different strength levels – perfect for keeping differing taste levels satisfied 

The machine produces professional barista-standard coffee with an outstanding taste

It can be programmed so that you can prepare your coffee to automatically begin brewing at the same time every day, making the process extremely simple

The instructions are easy to follow and the initial set up doesn't take long, so you can get brewing right away
Cons:
The hotplate will keep the coffee warm for about 40 minutes to one hour which is a shorter time than some other models and you may find that it's not long enough

The handle (while it looks great) is made from a plastic material that might not feel as sleek as the rest of the design
2. Smeg ECF01CRUK Traditional Pump Espresso Coffee Machine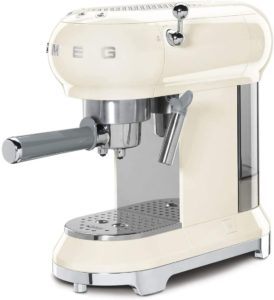 Are you looking for a coffee machine that gives you the experience of a handmade barista style coffee made in your own home? Look no further than this Smeg model. We've already covered why we're so in love with this iconic brand, but it bears repeating: it brings a unique elegance to the otherwise utilitarian task of making coffee.
Weighing in at almost 5kg (4.9 to be precise), this machine is made of stainless steel that will last a long time. If you are very precise about how you like your espresso, you'll be pleased with this machine. It comes with a measurer and a 15-bar professional presser to give you full control over the brewing process. With a water tank that has a capacity of 1 litre, you'll find that it's more than enough for your home-brewing needs. 
Most homes don't have the luxury of a cappuccino maker, but this machine helps you to make the perfect cappuccino every time. The Thermoblock heating element makes sure that your drink heats up fast and brews at exactly the right temperature. There's plenty of safety information included with the machine so that you can feel confident in using this powerful feature.
With so many functions, it's easy to worry if it's an easy machine to maintain, but the designers have thought of everything and you can rest easy. With the anti-drip features, water level indicator and descaling light monitor, it's never been easier to keep your machine in the best condition. 
Pros: 
Makes an outstanding cup of coffee. Uncompromising on taste, this is unsurprising for a Smeg machine but still worth pointing out – after all, that's what you most need the machine to do!

Works great for home use or in a small office 

It's really easy to use the machine. Detach the water tank and fill it up to the desired level. Place the ground coffee into the container, press the start button and that's all you'll need to do

Despite its many features, the design is still perfect for most kitchen sizes and won't take up too much counter space
Cons:
It can be tricky to figure out the correct settings and ratios for water and coffee while you're getting used to the machine

The milk frother, while powerful, has been designed to be compact and for some users, they may find that it's a little too short for their needs
3. Smeg CGF01PBUK Coffee Grinder

Yes, you can purchase a cheap coffee blade grinder from Argos, but if you care about coffee, why would you want to ruin the experience? Coffee connoisseurs understand that you a great cup of coffee starts with a good grinder. If you're already a Smeg fan, you'll know that their pieces are worth investing in and can make your house feel like a home. 
As far as we're concerned, this is the only grinder you'll ever need for your coffee. A stainless-steel conical burr grinder, this model has 8 programme settings and 3 grinding grades to give you the ultimate control over your blend.
As you will know if you've researched the best type of coffee grinder, burr grinders are designed to ensure beans are ground into the same size and consistency. The main difference between a cheap coffee grinder (usually one that doubles as a herb grinder) and a burr grinder is that the coffee should not be ground by just blades – you will need a burr to do this properly. With this Smeg burr grinder, you'll notice a significant difference in taste almost immediately. 
 As usual, this Smeg offering is equipped with the most thoughtful design elements: a die-case powder coated housing for the bean hopper, silicone lid, backlit control handle and stainless-steel magnetic plate.
It also comes with an auto switch-off after 90 seconds and a Twist and Lock system for the safety conscious. It's never been easier to measure out the exact amount of coffee you need, with the ability to create between 2 and 12 cups suitable for drip or French press style coffee.
Pros:
If you've already got a Smeg coffee machine, it's really worth using a grinder that will give you the best quality taste in every cup, and that's what you'll get with this burr grinder

A feature of all those coffee machines is their outstanding aesthetic and crisp design. You don't automatically think "coffee grinder" and "beautiful" in the same sentence, but this is a company that doesn't follow conventions when it comes to design. It's a beautiful looking machine and one that you will be proud to have in your kitchen

It's a relatively compact size so that you don't have to compromise on space
Cons: 
The cost may put some people off purchasing the grinder, and it's a fair point, although you are paying for quality, it should be remembered

It's possible that your ideal grind type might not be covered under the 8 programme settings or 3 grades of grind
4. Smeg MFF01CRUK Milk Frother
What is the best part of the coffee experience? For some, they get endless enjoyment from simply brewing the same type of coffee every time. For others, the joy is in finding new ways of improving your coffee experience.
What are the capabilities of this Smeg milk frother? There are 6 programme settings with automatic hot milk, cold milk and hot chocolate controls. This machine is capable of creating both light and thick foam and it comes in an easy-to-detach stainless-steel jug. The purpose of a frother is to create  professional-standard foamy milk at the perfect drinking temperature and despite what you might think, this can't be achieved by heating up a cup of milk in your microwave and using a handheld frother to get the desired texture!
As with most Smeg products, the frother takes all the pain and stress out of producing the exact type of milk you need for your coffee and as usual, does it in an effortlessly stylish way. 
The removable stainless-steel jug is a pleasure to use and feels like a quality appliance that will last for years. Whether your milk of choice is oat, almond, coconut or dairy, this frother works with all types to create the perfect milky accompaniment to your coffee. The attachments for frothing and warming milk are designed for optimum frothing.
Just like the burr grinder, it's worth investing in quality products that enhance your coffee experience. Using a Smeg coffee machine will certainly improve your coffee experience even without the supplementary appliances, but it's worth considering whether you want better coffee or the best coffee.
Pros:
It uses a 500W motor which products up to 250ml of frothy milk or 500ml of warm milk, which should be more than enough for your home coffee needs 

It comes with a backlit control panel to easily set the programme to your desired functions

The frother is made from stainless-steel and the quality is clear from first glance

It's likely that we buy so many coffees at coffee shops because we can't get the quality we need at home, so if you look at how much you spend on takeaway coffees during the year, this is clearly an investment! 
Cons:
It can be a little pricey at first glance and you may feel that a handheld frother would be better suited to your needs

It's not overly bulky, but would definitely suit a larger home with more storage space for appliances 
5. Smeg KLF03CRUK Retro Style Kettle
It's likely you've been convinced of the value and quality of Smeg appliances already, and there really is no other way to view the range. With a 1.7 litre capacity, stainless-steel body, and the ability to make up to 7 cups, this kettle is another excellent example of the stylish Smeg brand. 
First off, the choice of colours available and the overall design is another masterstroke from the engineering geniuses at Smeg. With a handy water level indicator panel underneath the handle, the focus is on the overall aesthetic and not just another boring appliance that boils your water. They really have been ingenious in their design of all their appliances and you can't get away from the fact that once you have one Smeg appliance, you'll really want them all!
If your current kettle is a messy pour, you'll be glad to know that this model has an anti-drip spout, perfect for a house with little kids to ensure hot water never splashes out. As well as that, we love the variable temperature options – absolutely perfect for a range of uses when you want to specify water temperature instead of just guessing when it's almost boiled. With seven temperature settings, you've got full control over the boil.
But it would have to be the keep-warm feature that is unquestioningly the most useful feature. Boiled water doesn't last long at its peak temperature but with the press of a button, you will be able to keep your water warm and ensure that you're only using the exact amount of energy you need.
Pros:
Fantastic anti-drip spout will make your realise how smooth a pout it is and how much water can be lost from other models

An ergonomically shaped handle that refuses to compromise on design safety or beauty

The soft opening lid feature is really a great addition, ensuring that you don't splash hot water anywhere when filling or refilling

Comes with 2400W of power which means a very quick boil and it will last a long time

For those who live in limestone-rich water environments, it comes with a limescale filter to ensure that you can easily capture it
Cons:
The base of the kettle is made from durable plastic which might ruin the aesthetic slightly or feel a bit jarring compared to the quality of the rest of the materials

It can be difficult to clean the interior without the approved Smeg cleaning materials, so this is something to consider when purchasing
Conclusion 
So, there you have it – our review of the best 5 Smeg models for all your coffee and tea-making needs! There's clearly a common thread between all the models in this review and it's worth reminding ourselves of those.
First, the quality of a Smeg appliance is unrivalled in the market today. The innovation when it comes to thoughtful design additions and features is something that can't be seen in other models. It's true that you get what you pay for, and it can't be overestimated just how much you're getting with the Smeg coffee makers.
Second, you're definitely paying for the design and aesthetic, there's no question about it. If you're at the stage where you're ready to start investing in classic kitchen pieces, then you don't need to look further than Smeg. Think about our parents' generation and the appliances that lasted for decades. 
Third, the quality of the coffee. With the recent COVID restrictions, it's becoming more and more difficult to go out and about to buy a cappuccino or a great black coffee. Of course, there's many more important things happening in the world right now, and it's not the case that a new coffee machine will solve all your problems. But it will bring some much-needed joy and happiness in small measures to make life feel just a little bit more normal.
But don't just take our word for it – check out some of the amazing reviews each of these items have received and make up your own mind. Happy brewing!
Liked this guide? You may also enjoy: