Why Buy a Latte Machine For Your Home?
For some, starting their day with a coffee is irreplaceable. Silky blends of rich espresso, smooth steamed milk, and a cream micro-foam is quite simply the only way for some to get up and start moving in the right direction. 
However, getting that authentic barista flavour isn't as simple as just pouring boiling water over a teaspoon or two of coffee granules. It's a time consuming process that requires not only skill, but the right tools for the job. 
Luckily, latte machines are now fairly abundant on the web, with most offering a great coffee experience without being too expensive. By purchasing a latte machine, you'll no longer have to get up early, run to the nearest coffee shop and queue with the rest of the caffeine seeking public.
You can simply roll out of bed, pop downstairs and let the latte machine do all the hard work for you. These quick, easy, and extremely efficient latte machines not only provide you with a great coffee, but they'll also take the stress out of your morning routine. Purchasing one for the home will open up time you didn't know existed.
Whether you're looking to get more done in the morning, get extra time in bed, or just want the taste of quality coffee in the morning, a latte machine offers everything you could want. Furthermore, when you tally it up, chances are you'll be saving a bunch of cash by investing in a latte machine. So, what are you waiting for?
Are Latte Machines Hard To use?
One of the questions I get asked when discussing latte machines with friends and colleagues is, are they hard to use? Thankfully, the answer is no.
At first, using a latte machine can seem quite confusing. The process requires several buttons to be pressed, tools to be attached and repositioned, and steam for frothing coffee. If you have never used a latte machine before, you might be a little overwhelmed by the process. 
However, most modern-day latte machines are extremely easy to use. The buttons are all clearly labelled and step-by-step instructions come to guide you through the process. Nine times out of ten, once you've made one coffee using a latte machine, you'll know exactly what you're doing. 
Having said that, some are more difficult than others. For example, a Nespresso Essenza that uses coffee capsules is far easier to use than a Klarstein Passionata. The latter requires the grinding of beans and a straining process. The former only requires a capsule to be placed in the lid and a button to be pressed.
Despite one being easier than the other, it's still safe to say that it doesn't take a rocket scientist to master even the most difficult of home latte machines. 
My top selections of latte machines that you can easily use at home
1. EspressoWorks Bundle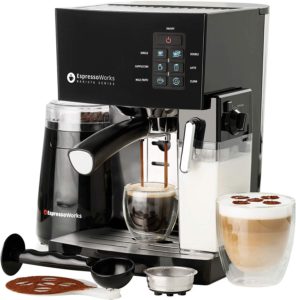 The EspressoWorks 10 piece all-in-one Barista bundle is a fantastic choice for beginners that want to get into a more authentic coffee making experience. Not only does it come equipped with a tonne of accessories; including a quality grinder, nicely sized scoop/tamper, and four glass (plastic) cups, but it also offers an ease of use which gets you from box to freshly made coffee in a matter of minutes. 
The machine itself is, first and foremost, very well made. It feels extremely robust and fit to stand the test of time – providing users with a simple setup that is both intuitive and easy to use. The buttons are both clear and obvious in their operation, giving you all the options you'd require for making a morning coffee.
You have the freedom to adjust the settings for how much coffee is poured – I always choose large – and can attach a steam spout which allows you to froth a cappuccino or heat up milk in a very quick fashion. With a large water tank at the rear, you won't need to refill this thing as often as you might think. The 1.4L large detachable water tank offers plenty of capacity and a hassle-free refill experience. 
At the heart of this latte machine sits a 19-bar pump which allows users to create the perfect crema. The guys at EspressoWorks say that creating a bold and rich taste has never been easier – and we find it hard to disagree. 
Pros
A power 19-bar premium pressure pump system that offers a unique, rich, and bold taste

With a 240V plug-in electric grinder, you'll be able to grind your own beans to the perfect texture – ensuring a fresh brew every time

Comes equipped with a measuring spoon and tamper, allowing you to measure the perfect amount of coffee for your specific taste

Also comes with 2 premium double walled Espresso cups and 2 high-quality double walled cappuccino glasses

Offers a built in heating tray, keeping your cups warm at all times

Built in milk frother and reservoir with adjustable controller knob
Cons
Grinder can become a little messy

Only makes espressos and drinks that use espressos

Can be a little noisy – not ideal if you're trying to be discrete in the morning

Milk spout can drop over time

Can be difficult to clean, especially if left for a few days
2. DeLonghi ECP35.31 Espresso Machine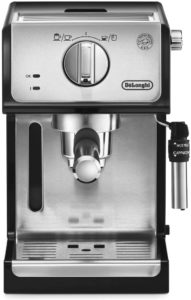 The DeLonghi ECP35.31 espresso machine is a traditional pump model that offers a great coffee experience without all the hassle that comes with larger coffee machines. If you're looking to experiment with your morning coffee, this could be exactly what you're looking for. 
This particular latte machine offers a combination of ground or capsule coffee, with both being extremely easy to use and select. 
DeLonghi is one of the most well-known and respected names in the coffee game, so it's no surprise to see their name featured in this guide. 
This system is largely designed for making espressos – or drinks that use espresso as a base. It's a small and compact unit that could easily fit in a cramped kitchen or dining area. Users have the ability to make two drinks at once with a single or double shot of coffee. With a tonne of alternative filters to choose from, consumers can experiment with a variety of different styles for their morning brew. 
Like many of the other recommendations in this guide, the DeLonghi offers a milk frother for making lattes and cappuccinos, heating milk at a rapid rate. With a decent grinder, the ECP35.31 offers a rich taste that is both authentic and characteristic of something more premium. 
The overall design of this latte machine has to be applauded as well, offering an aesthetic that is neither eye-catching or boring. An additional spout at the front of ECP35.31 also allows users to make a second coffee simultaneously, giving this machine a more commercial feel. Overall, it's pretty hard to knock this latte machine, ticks a lot of the right boxes. 
Pros
The ECP35.31 allows users to make a variety of different drinks

Users have a bunch of filters and settings to choose from, allowing you to experiment with your morning drink

A compact and stylish design allows this coffee machine to sit comfortably in a crowded kitchen or dining area

Despite it's compact size, users will be able to make two coffees simultaneously – a feature other latte machines in this guide can not offer

Offers an ease of use that makes this latte machine a perfect gift for any beginner coffee maker who wants a more authentic taste
Cons
The DeLonghi can be a little overpowering when it comes to noise levels

The build quality leaves a little to be desired

Can be a little messy, especially if not cleaned regularly

Can also be quite hard to clean

Certain attachments are quite difficult to remove

The coffee dispenser can experience a drip after time
3. YesUKDirect HomeTronix 4 Bar Coffee Machine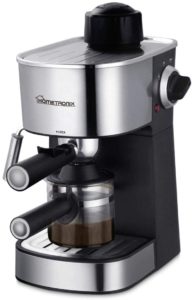 Next up we have one of the cheapest options available, the Home Tronix 4bar coffee maker. Despite this being one at the lower-end of the price spectrum, it still offers up a decent coffee taste and experience. 
The design is subtle yet attractive, infused with style, performance, and an ease of use that'll have you drinking fresh coffee before you know it. This latte machine offers up a 3.5bar working pressure pump which is ideal for beginners looking to get extra depth of flavour from their morning coffee. The simple dial at the top of the Home Tronix allows you to easily select your settings, giving you a number of different choices for coffee experimentation. 
With this set, users will also receive 4 cups (espresso) – all of which can be made in under 5 minutes. The drip tray, filter holder and filter can all be removed to increase the ease of cleaning.
Speaking of the filter, this coffee machine comes equipped with a stainless steel filter which is both reusable and dishwasher safe. The compact design of this coffee maker allows you to easily position this machine in a busy kitsch or dining area. It also offers a milk frother for making tasty lattes, cappuccinos, or hot chocolates – depending on your fancy. The milk jug included allows you to froth milk quickly and efficiently. Using the wand, you'll also have full control over the heat of your milk.
If you're looking to spice up your morning routine and experiment with your morning coffee, the YesUKDirect HomeTronix 4 bar coffee maker is a great place to start. 
Pros
A compact design that offers clutter-free storage no matter how crowded your kitchen space is

A stylish design that wouldn't look out of place in any kitchen or dining area

Very easy to operate, with plenty of functionality and settings to choose from

From the box to freshly made coffee in less than 5 minutes

All filters and attachments are easily removable to make the cleaning process that little bit easier

At under £40, this is by far one of the cheapest coffee makers on the market

Showcases fantastic value for money for the price
Cons
Nowhere near as versatility as some of the more premium recommendations in this guide

Build quality leaves a little to be desired

Coffee making process can become noisy – not ideal for discrete morning usage

Can quickly become messy

Thanks to its small design, cleaning can be a little problematic at times
4. Nespresso Essenza Mini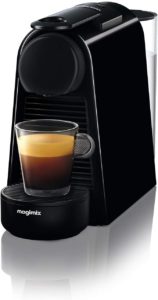 Next up we have the Nespresso Essenza Mini, the only pod-based latte maker in this guide. Whilst it doesn't offer quite as much versatility as other machines in this guide, a combination of high quality build construction and good value for money make it a great pick for any beginner. 
The idea with the Nespresso Essenza mini is to provide high quality coffee making in a compact design – something I feel this machine does extremely well. With dimensions of 3.3 x 12.9 x 8.9 inches, this coffee maker will sit comfortably in the most cramped of kitchen spaces. Better still, if you wanted to transport it to the office or a dining space, it offers a design that isn't nearly as "kitchen" as the others in this guide. 
As we mentioned early, the Nespresso Essenza mini is a pod-based machine, meaning you are limited to pods and will not be able to use ground coffee with this machine. That said, there are benefits to using a machine such as this. For example, you have a huge catalogue of flavours and blends to choose from when using a pod-based machine. You have the freedom to sample any number of different coffee flavours without having to buy or import beans.
All that being said, at a price tag that falls just shy of £80 (at time of writing this), I still feel the Nespresso Essenza showcases fantastic value for money. You get all the high quality coffee making that you get with a larger, more premium Nespresso at half the size. You really can't go wrong. 
Pros
High quality build construction that feels like it'll stand the test of time

A very compact design that is easy to incorporate in any kitchen, dining, or office space

Gives you the ability to make a 1.35oz espresso shot or a 5.0oz Lungo drink

Extremely fast brewing process

Simple brewing process that almost anyone can use

Displays excellent value for money at this particular price point

Gives you the freedom to try a number of different coffee flavours and blends

Pods are fairly easy to source and purchase, with a variety of different blends to choose from
Cons
Versatility is a little lacking, only giving you option to use pods – not ground coffee

Costs can spiral quite quickly, especially with the current price of coffee pods

Coffee connoisseurs may find the pod flavour a little lacking

Can drip after the brewing cycle has completed
5. Klarstein Passionata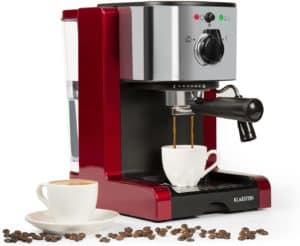 Lastly, we have the Klarstein Passionata pump espresso machine. This is another budget oriented coffee maker that falls into the mid-range pricing bracket – and it's easy to see why. This thing has a tonne of versatility, allowing you to fully experiment with your morning coffee.
For me, the design is a big plus, offering a steel look that is bang in fashion right now. This compact coffee maker measures in at 35 x 20 x 30cm and is ideal for any smaller, cramped kitchen space. The water tank sits on the back of the machine and offers a 1.25L capacity, more than enough to handle a small family or coffee/ hot chocolate drinkers. 
Like other Klarstein coffee machines, this one comes equipped with an ease of use that is very intuitive. There is one button on the front of the machine to turn it on and off, with a red light that displays green or red. This particular machine is very fast acting and only takes 60 seconds to warm up. It lets you know it's reached the correct temperature by turning the red light green. 
The portafilter that comes with this machine feels robust and allows you to grind the perfect amount of coffee for your desired taste. Consumers of the Klarstein are also treated to steam pressure for frothing milk or making cappuccinos. This feature is extremely easy to control and definitely adds another tick to the list of features it already comes with. Overall, a great coffee maker that showcases excellent value for money. 
Pros
A nice, stylish design that would suit any modern kitchen or office space

Offers an ease of use that makes operating this coffee maker an absolute breeze

Build quality is very high for a coffee maker of this price point, giving you confidence that it'll stand the test of time

Offers up versatility for making a number of different drinks, including lattes, cappuccinos, and hot chocolates

At £100, this coffee maker showcases very good value for money

Fairly easy to clean, but can drip once the brewing cycle has completed
Cons
Has been considered a little noisy by some individuals, stating that it isn't ideal for quieter office type spaces

Can be a little problematic to clean, mainly because it is such a compact design

Whilst it still showcases good value, it does fall into that "over £100" price category
Conclusion
So, not only are latte machines easier to use than you may have expected, but they're also probably cheaper than you may have thought too. My advice is to consider space as a priority when buying any type of countertop coffee machine. Not matter how good it may be, if you can't sit the machine on your countertop then making that artisanal brew is going to be a bit of a struggle!
If you liked this guide, be sure to also have a read of: