There's so much choice out there when it comes to finding the best commercial coffee machine. In this article, I will look at some of the best commercial coffee machines you can find. I will discuss their unique features, the value for money, and what customers think about each device. For further information, you can check out some common questions that cropped up, and look at my additional purchase suggestions in the Commercial Coffee Machine Guide below.
Best Commercial Coffee Machines: Our Top 5 Picks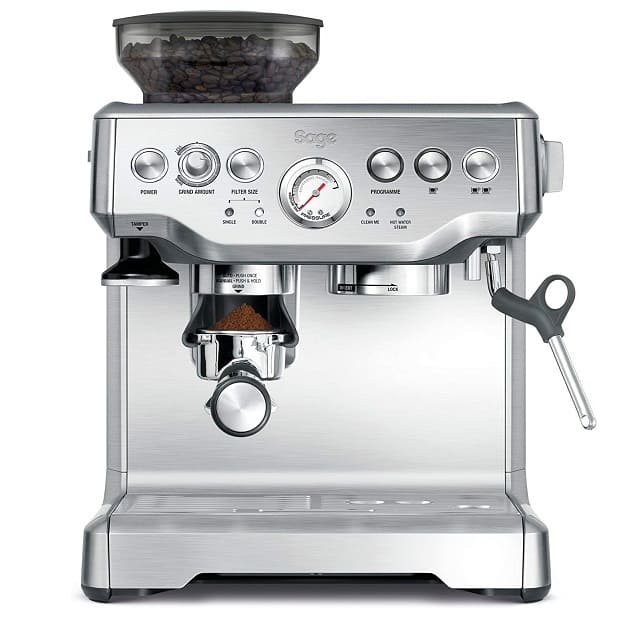 This is a proper sized bean-to-cup espresso machine. It comes in several varieties, depending on your preferred aesthetic. The available options are stainless steel, brushed stainless steel, silver, black sesame, or black truffle. You also receive a matching temperature control milk jug.
Features
The automatic dosing on this device means that all you are required to do is keep the beans topped up. The machine will deliver a consistent volume of ground coffee into the filter when it is set to start. The low-pressure pre-infusion means that the coffee is soaked before the higher pressure extraction to give the espresso a more balanced taste. There's also a high-pressure steam output for milk texturing.
Customer Feedback
Customers were extremely impressed with the quality of coffee this machine could produce. However, it did take people a short while to learn how to make a good cup of coffee. A few customers suggested that if you do purchase this model, the coffee is noticeably better when made with fresh coffee beans and not typical supermarket packets.
Pros
Automatic dosing
The machine comes with a two-year warranty
All-in-one device for you to create barista level coffee
Cons
The most expensive device on this list
Difficult to clean as parts aren't easily removable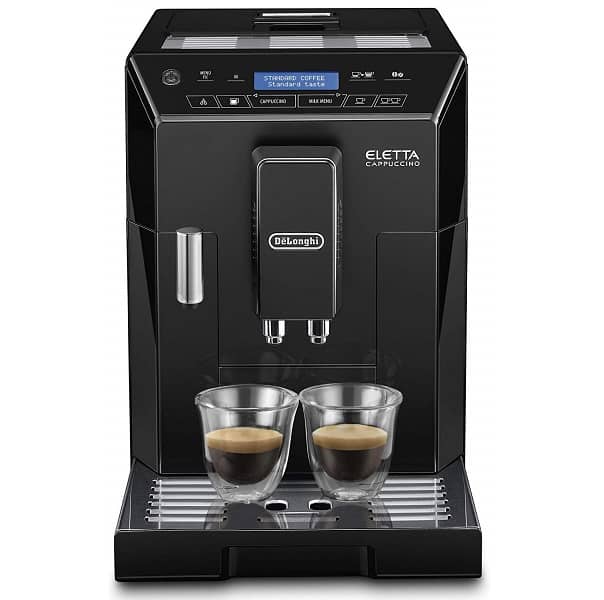 The Eletta is part of De'Longhi's 'home comfort' range, which boasts a slim and elegant design. The Eletta comes in three different varieties; the basic, the cappuccino top, and the Eletta plus. There is a slight variation in price between each of the models, but all are at the top end of the range I'm providing here.
Features
The Eletta is a fully automated machine that features an electronic display where you select your preferred drink. You can customise the aroma level and coffee length even further to suit your tastes. The De'Longhi machines have an easy-to-clean feature, which has descaling, cleaning, and rinsing options.
Customer Feedback
One benefit of this machine is how easy it is to use. People enjoy the one touch to create their coffee, and also how much they can adjust to get it just right for them. Some users said that this device seemed sturdy, had an elegant design, and was high quality. Customers who did experience issues didn't get a good response from the customer services at De'Longhi.
Pros
Fully automated and extremely straightforward to use
Easy to clean due to the automatic systems
Lattecrema system allows you to enjoy perfectly creamy milk foam with your coffee
Cons
Requires maintenance such as changing filters, etc.
Inconsistency in product quality with some breaking after light use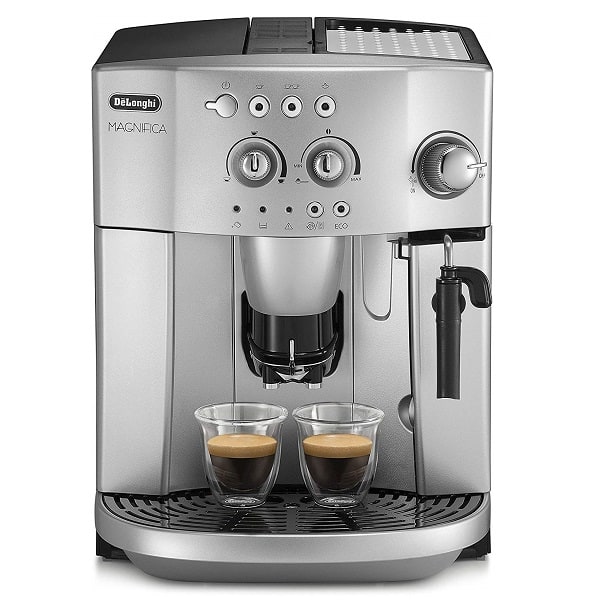 Another device from the De'Longhi range, this also features the 'home comfort' design. It's only available with a silver metallic finish. This particular machine is slightly lower in price than the previous ones I've mentioned.
Features
The Magnifica has both an integrated grinder and an built-in milk frother. The grinder allows you to adjust the coarseness levels to create a fuller flavour to your coffee. This machine also has the easy-to-clean features that I mentioned along with the previous model.
Customer Feedback
Many users mentioned that this machine was straightforward to set up and use. It was suggested that this particular device is better value for money than other, more expensive machines. Overall, it was a mutually agreed point that the quality of the coffee produced was excellent.
Pros
Water settings can be adjusted to make a hotter coffee
Machine is durable
Integrated grinder for a fresh espresso
Cons
More effort required in coffee creation without an automated display
Problems with customer service from De'Longhi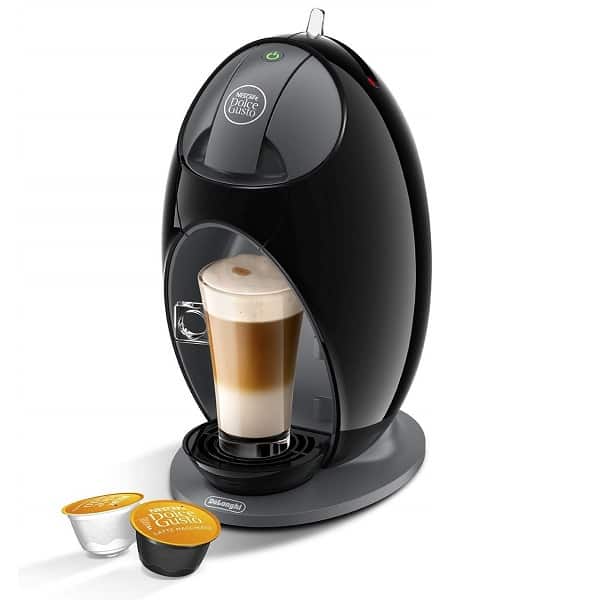 This is a much smaller machine and by far the cheapest one on this list. It's a much smaller pod machine and comes in three colour options, black, white, or red. It's a more compact and affordable option for those people who just want to make different types of coffee at home.
Features
The use of pods allows you to make over 40 varieties of hot and cold drinks. The machine will automatically power down five minutes after use to save energy. It's easy to use and clean and comes with a two-year guarantee. The pods are available both online and in a supermarket.
Customer Feedback
Customers appreciate the look of this coffee machine, and that it can make a good cup of coffee without all the fuss of a full-sized device. It was mentioned that the coffee produced is nice and hot. One thing that some customers didn't realise is that this machine isn't automatic. You are required to keep an eye on the device while it makes your coffee and then manually stop it when the cup is filled.
Pros
Smaller and more straightforward to use
The cheapest machine on this list
Comes with a two-year guarantee
Cons
Uses pods and not fresh coffee beans
Not automatic so needs to be watched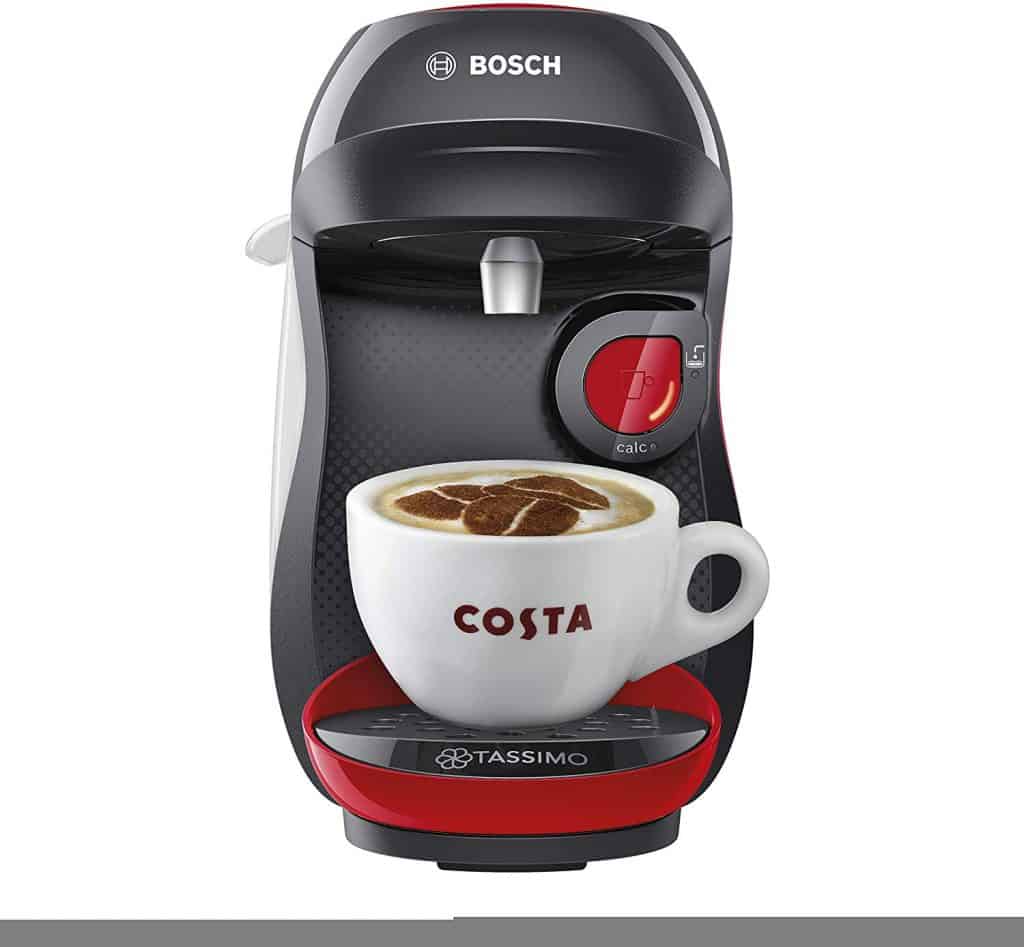 This is relatively similar to the previous product. It's a smaller coffee machine which again uses pods to produce a wide variety of drink options. There are again some different colour options; black, cream, red and black, red and white, or purple and white. The options range in price, but all are towards the lower end of the machines I've mentioned.
Features
This machine has an 'Intellibrew' feature, which helps to keep the drink quality consistent. The cup stand is adjustable to make it suitable for any size of cup, mug, or travel vessel. Pods are again available in the usual varieties, meaning you still have lots of options for your coffee.
Customer Feedback
Most customers seemed very pleased with their purchase of the Tassimo Happy. One user advised registering your product with Bosch when it arrives, as they received some vouchers towards further coffee purchases. One customer was surprised that other reviewers had failed to mention that this product comes with a two-pin plug, despite it being sold in the UK.
Pros
Adjustable cup stand
Simple to set up and doesn't take up space
Easy to use and easy to clean
Cons
Is fitted with a two-pin European plug and so requires an adapter
Doesn't fill a bigger mug, so may need to be topped up
Commercial Coffee Machine FAQs
1. How often should you clean a commercial coffee machine?
This will vary depending on the water quality in your area. It's suggested that for optimum use, you should clean your coffee machine every four to six weeks. Some of the devices mentioned in this review have some self-cleaning and descaling programs, so you will be able to use these to make life easier for yourself. Some of the automatic machines will also give you a prompt message when the device needs to be cleaned.
If you're using a machine that requires manual cleaning, there are several tips to be found online to make your own descaling solution from white vinegar, citric acid, or lemon juice.
2. How long does it take for a coffee machine to warm up?
When watching your machine, you'll notice that it takes around 5-10 minutes for the boiler to reach the correct brew temperature. It's advised that you wait a further 5-10 minutes after this so that the portafilter and other group head parts are comfortably at a stable brewing temperature.
3. What are the gauges for on a coffee machine?
If you can see a gauge on your machine that displays a number up to two or three, then this tells you what the pressure reading is for the boiler. Some devices may have a second gauge, which has a display up to twelve. This is a group head gauge telling you the expected pressure for the group head.
4. What is an E61 group head?
These pieces are named as such because they were patented in 1961. The group head is the 'nose' on some coffee machines where you can lock your handle in. The group head will contain a pre-infusion chamber to reduce the pressure inside the head and then gradually increase it. This pre-infusion technique improves the flavour of the coffee because it doesn't strip the oils which are first extracted.
5. (For the Sage Barista Express Machine) What is the discussion about the filters, and where can I buy them?
This particular device has a replaceable water filter for the tank. The recommendation is to change this either every 90 days or after 40 litres of water. Whether you need to filter your water or not will again depend on the water quality in your area.
Unfortunately, Sage/Breville no longer manufactures their replacement filters for this machine. If you need to change the filter, then you will have to buy a suitable one from other sources, and replace it as often as required. Some customers have reduced their original number of stars for this machine as they have only been able to find single-use filters as a replacement.
Commercial Coffee Machine Guide
There are so many different machines available with such considerable variation between the models. The crucial thing to work out is what you want from a coffee machine. If you're wanting a straightforward machine that gives you the option to make a good coffee, then you would be more suited to the Jovia, or Tassimo Happy. These will allow you to make a great cup of coffee without any of the fuss. They will also save you a lot of money.
However, if you want to teach yourself some barista skills and really get fancy with your coffee making, then you may want to look for a more complex model. These are a significant investment, so it needs to be something that you're definitely looking to get into.
The most helpful thing you can do when making a final decision on a product is to read the reviews. This will help you to ascertain that you are getting a good quality product. It will also give you more of an idea if the particular device is suited to your needs.
Verdict
It was hard to select the best product because of the significant difference between the barista-style machines and the compact, countertop models. Personally, though, I would say that the De'Longhi Magnifica is my top pick from this list.
The Magnifica is the lowest priced of the largest machines and was good value for money from what I saw in the reviews. It has all the different features you could possibly want to play around with and teach yourself some impressive coffee-making skills. It also gives you the most control over what you can adjust to make your coffee exactly as you like it.