There are several steps in the journey to perfecting your cup of coffee. You can experiment with different machines, from something manual like the French press, filter coffee, an Aeropress, or a full-scale espresso machine with a frothing wand.
You can also experiment with the four different types of coffee beans to find a taste profile that you'll enjoy. Even where a bean is grown can have an impact on the taste of the resulting cup of coffee. Once you start deciding between different beans, you might want to buy them whole and produce the grounds yourself.
Fortunately, there are plenty of grinders on the market that can fit into kitchens large or small. With your own grinder at home, you can produce coffee grounds to the coarseness you like. You will always have fresh coffee grounds on hand, and you can choose from a wider range of beans and shops to buy them from. In this article, we review the best coffee grinders in the UK to help you make a decision.
Best Coffee Grinders UK Reviews: Top Picks
I take a look at four different best coffee grinders that will help you achieve a wonderful cup of coffee. For a quick glance, here are our top picks:
Last update on 2021-01-12 / Affiliate links / Images from Amazon Product Advertising API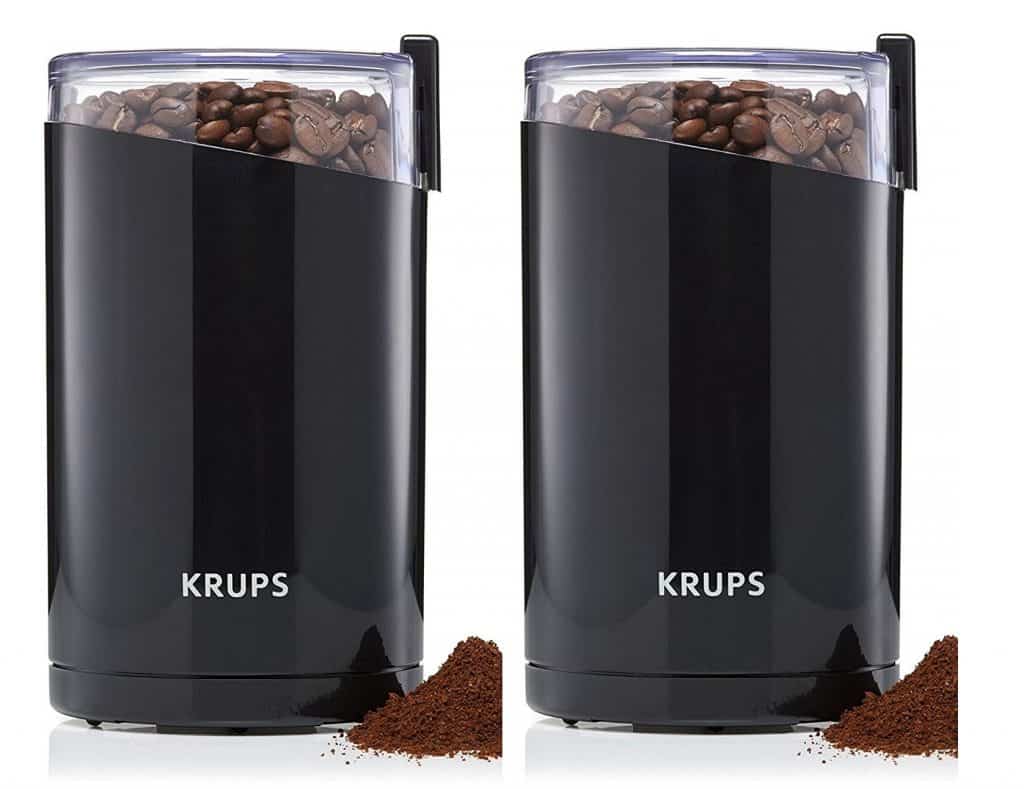 This coffee grinder sits at the lower end of the scale in terms of price, although it's not the most affordable product in our review. It is made by Krups, a reliable brand in the coffee industry. It is ideal for milling coffee beans for espresso.
It uses two blades to chop the coffee into fine pieces, rather than the burr process, which results in a crushed bean. This unit is made from plastic and steel blades and can fit in the palm of your hand, which makes it easy to operate, the main drawback to this product is that it's noisy.
Features
This grinder comes with twin stainless steel blades to grind you coffee beans. It mills at a single speed, which means you are in control of the results. The longer you mill them for, the finer they will be. It is operated by a button that you push to get started.
This mill also doubles as a spice grinder and has a capacity of 75g, which is enough for many cups of coffee. The lid needs to be in place for any grinding to take place, which is a useful safety feature.
Customer Feedback
Customers enjoyed how easy it was to use this grinder. They found that it works quickly and efficiently. Some customers found it a little noisy, and it can also be hard to clean.
Pros
Fast and easy
Good result
Compact
Cons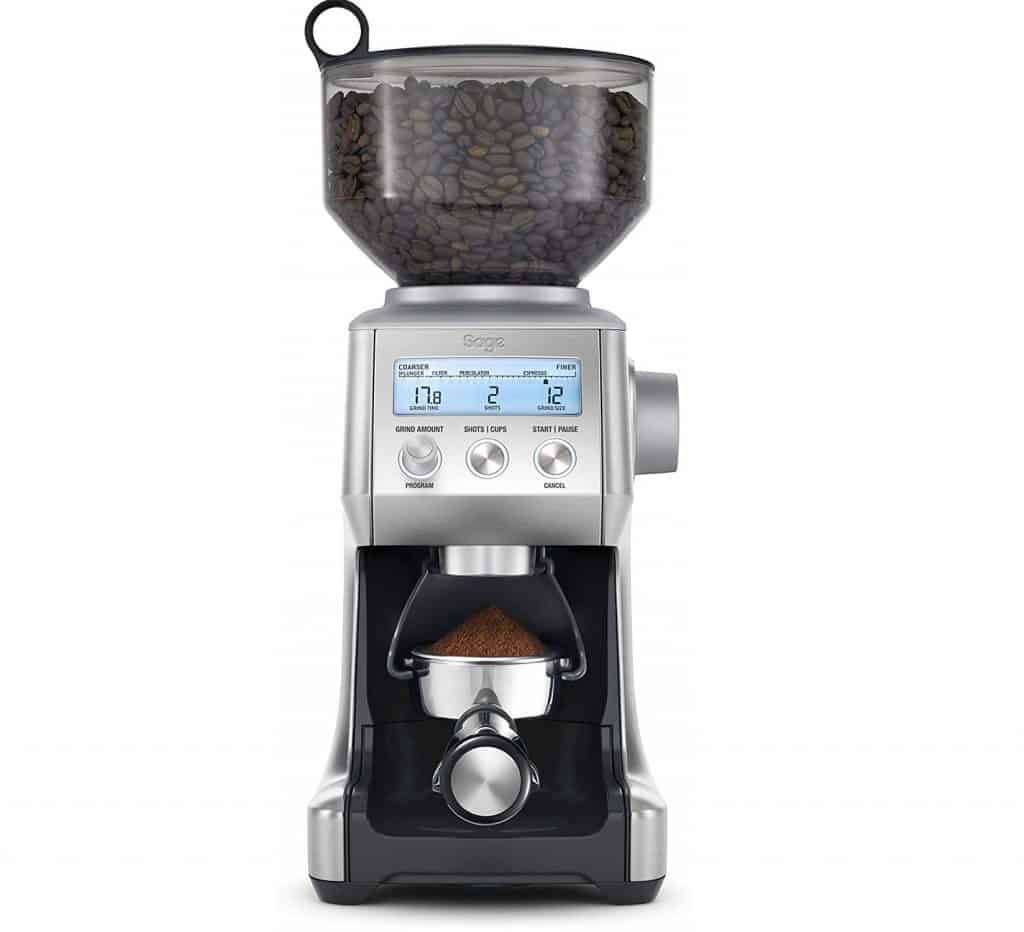 This product is a smart grinder that delivers your coffee grounds directly to a space that could hold your filter basket or an airtight container. It's the most advanced grinder in this article, and it's the most expensive one as well.
This grinder will take up a portion of your countertop, and won't be as easy to store as some of the other products reviewed. It comes with a variety of settings and is ideal for someone who wants more control over the process.
Features
This silver coffee grinder has a hopper with a capacity of 450g, so it can grind large quantities of beans. The display shows you the different settings that have been selected. There dials and buttons on the front to control the burr grinder.
The display comes with a scale from very coarse to extra fine, and you can adjust the settings to move up and down the scale. There are labels for plunger, filter, percolator, and espresso coffee, so you know you what sort of coffee you're going to make before you start brewing. You can choose the number of cups of shots you are getting, and the grind time as well.
Be sure to check out our post on the best electric coffee percolator uk whilst you are here!
Customer Feedback
Customers were pleased with this product's construction quality and the grounds that the machine produces. They were also impressed that the grind could be fine enough for Turkish coffee.
Pros
Precise grind programs
Delivers very good coarse and fine grounds
Large capacity
Delivers directly to filter
Cons
Some background noise when switched on
You can read a more detailed review here: Sage Smart Grinder Pro (BCG820BSSUK) Review
For variety, I included a manual grinder in the reviews. Not everyone wants or needs an automatic or machine powered grinder. It also works well if you're travelling or camping because you want a cup of joe in the morning, but you may not have an electrical hookup. This is a burr grinder that is the most affordable product in this review.
It is an elegant device that is compact. You can adjust the grind, which means it can be used to make many types of coffee, including french press, drip coffee, and espresso. As it is manual, it does require a bit of time and effort to achieve the size and quantity of grounds you need.
Features
This model is made from brushed stainless steel, and the grinders are ceramic burrs. It is a compact cylinder with a handle on top that you use to grind the coffee beans. There is a star-shaped button which you can twist to adjust the grind from coarse to medium, and fine. It can be disassembled to make clean up a breeze, and it holds around 40g of beans for grinding.
Customer Feedback
Customers were impressed with how this grinder produces consistent grounds, although it does take some time to do so. They liked the idea of grinding just enough for one cup, which meant they always had fresh grounds. They were also pleased with how little noise this grinder makes.
Pros
Adjustable grind settings
Compact
Very quiet
Cons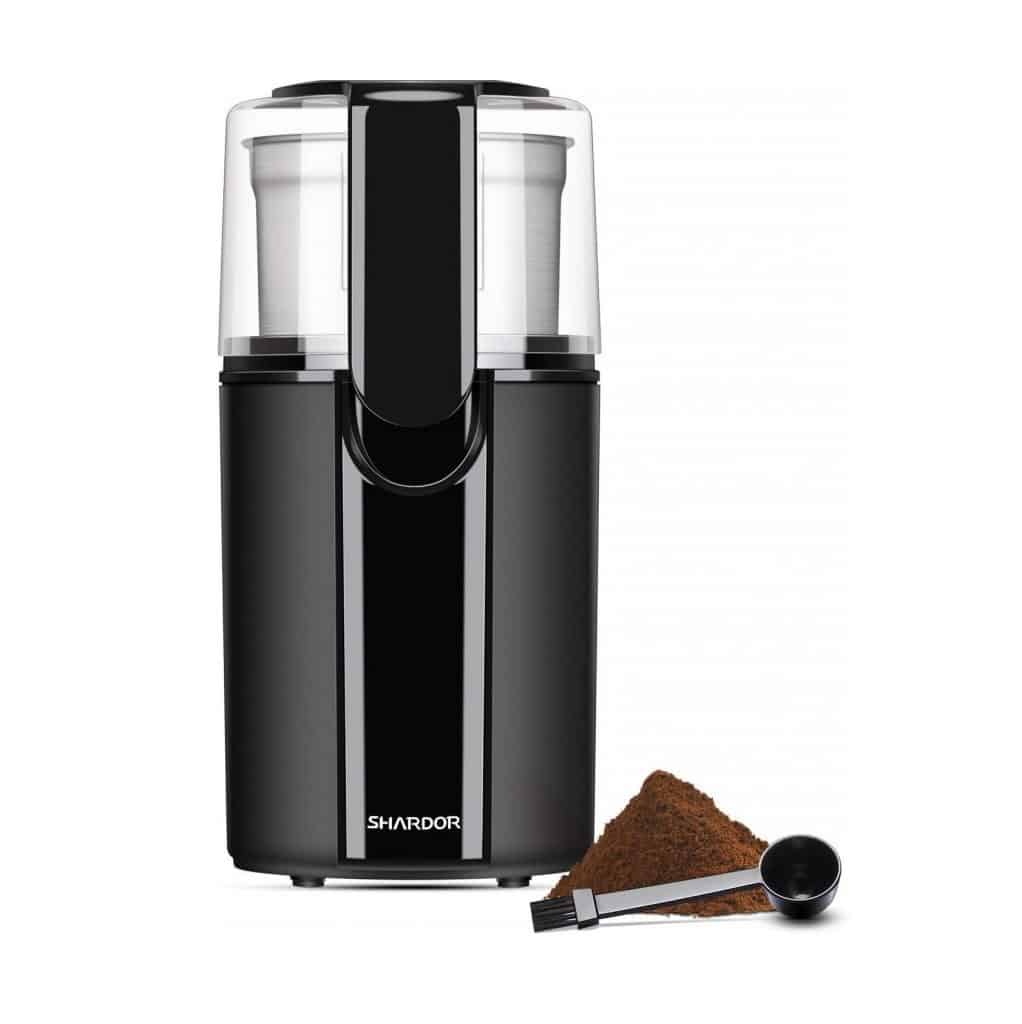 This sleek black coffee grinder sits at the lower end of the price range. It is more affordable than the Sage but costs more than the handheld grinders. Besides coffee, it can also grind things such as nuts and spices.
This is an electric blade grinder that sits on your countertop, and since it measures in at 27.7cm tall 12.7cm wide and 12.7 cm deep, it doesn't take up much space. It works by adding coffee beans to the removable bowl which you then lock into the grinder.
Features
It's a high power grinder, which means that the beans are ground in a matter of seconds. The blade is made of stainless steel, and the bowl has measurement lines to show the maximum capacity and how many cups you can make with the ground in the grinder.
Customer Feedback
Customers were happy with how easy this product is to use, the appearance and how little noise this grinder makes. They are pleased with the quality of the product as well as how easy it is to clean.
Pros
Removable bowl with good volume
Looks nice
Easy to use
Cons
Fine grounds can get trapped in the seal
Best Coffee Grinders UK: Buying Guide
Searching for the coffee grinder means considering several different factors to fit in with your needs and your lifestyle. The kind of coffee you drink can play a role, although if you want to use your grounds for different machines, there are options available.
Burr or Blade
There are two main types of grinder to consider. I have included both in this review as well as a manual one. The difference is how they grind the beans. There are blade grinders, which use one or more blades to chop the beans into smaller pieces.
However, a burr grinder will have two burrs (raised edges), made out of steel or ceramic. The beans are funneled through the burr, and then they are crushed.
Many coffee experts argue that burr grinders provide a more uniform finish, and I agree. When you adjust a burr grinder, you are moving the burrs further apart to achieve a different result, rather than chopping for less time on a blade grinder. Blades tend to be cheaper, easy, and convenient. Burrs provide more consistent results but will cost more.
Control Over Coarseness
The results from your grinder need to meet the needs of your tastes and your coffee machine. Items like a french press work better with slightly coarser grounds, whereas espresso machines will want finer grounds. You'll get a different flavour from each type of grounds too.
It is important then to know how you can achieve different levels of coarseness with different grinders. Many blade grinders will have a time recommendation. This will allow you to count how long you are grinding or pulsing, as well as see the beans to check their size. Manual grinders and automatic burr grinders will have adjustable settings to change the coarseness.
The most advanced machines will have a scale to refine your coarseness in small increments. This is particularly useful if you want to work with medium to fine or very fine grounds. With many grinders, it can take one or two attempts to get it right.
Type of Coffee
You can buy a coffee grinder for many needs and uses; however, it is useful to think about what kind of coffee you will mostly be making. Most coffee machines work best with a particular size of grounds, and you'll find your cup of coffee tastes amazing when you find that sweet spot.
For example, Turkish coffee requires very fine grounds, which can be difficult to achieve with basic or less precise grinders. If you drink from a french press, you may be looking for coarse grounds.
You may find that using a blade grinder for coarse grounds is difficult because to achieve an even consistency among the beans, and you need to grind for a bit longer. The extra time can result in a medium grind rather than coarse one, though.
Time and Money
Two very important considerations are time and money. Time comes into play in two ways. If you use a manual grinder, you can expect it to take you much longer to produce a much smaller amount of grounds.
Time is also a factor when it comes to capacity, although freshness plays a role too. A larger capacity hopper will mean grinding less often, but you will need to store your grounds to keep them fresh.
The prices of grinders vary considerably. If you are looking for a burr grinder, they will most likely be twice the price of blade grinders. You can find many convenient and easy to use blade grinders for an affordable price, but burr grinders produce a more consistent grind.
Verdict
If you are prepared to spend a bit more for a burr grinder, the Sage is an excellent choice for control and consistent, flavorful results. If you are just getting started with your own coffee grounds, you might want to start with a blade grinder at a lower price, in which case, the SHARDOR coffee grinder should suit your needs.
Last update on 2021-01-12 / Affiliate links / Images from Amazon Product Advertising API