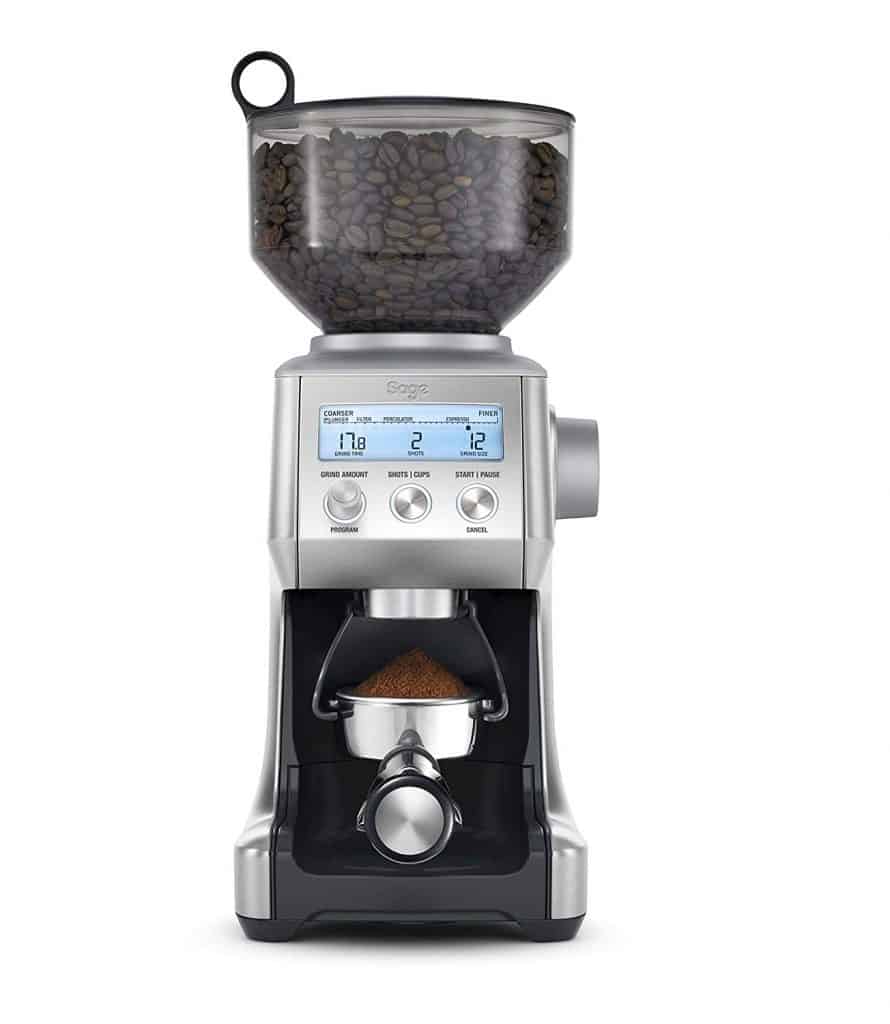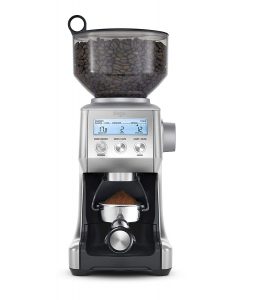 Sage is a high-end appliance brand, known for their espresso machines, food processors, ovens, and kettles. All their products feature neat innovations in the cooperation with a famous chef, Heston Blumenthal.
Sage Smart Grinder Pro is an expensive machine, that much is true. However, I believe that it pays for itself with its incredible quality. After all, as all aficionados know, you need an ideal grinder to create the exact flavour you had in your head for the next coffee experiment.
This machine is super programmable and functional. It boasts high quality and excellent ratings amongst buyers. Let's take a look at what makes it the outstanding product it is.
Sage Smart Grinder Pro (BCG820BSSUK) Review
Let's together take a look at the Grinder Pro through various aspects so you can determine whether it's the right machine for you.
Sale
Sage BCG820BSSUK the Smart Grinder Pro Coffee Grinder - Silver
Free your grind: The Smart Grinder Pro lets you grind directly into the porta-filter, an airtight container, gold tone filter basket or paper filter. The choice is yours.
LCD display: a clear and concise LCD screen shows grind setting, grind time and number of shots or cups you have selected.
Pre-programmed settings: intelligent settings help your grinder achieve perfect results regardless of how fine or coarse you require your beans.
Last update on 2020-02-01 / Affiliate links / Images from Amazon Product Advertising API
The Design
When it comes to its design, the Pro Grinder will astonish coffee lovers. It comes with many different aspects to ease and perfect your grinding process.
First of all, the machine comes with a lavish sixty grind settings – from coarse to powdery fine. The LCD screen will allow you to choose a grind and let you know for what brewing method that option is best.
All you need to do is place your fresh coffee beans in the hopper. It takes up to a generous 450 grams off beans, and since it's transparent, you'll see when you need to top it. Besides, it's airtight, which means that your coffee will stay fresh even when you pack it in the hopper.
Another airtight piece is the grind collector, where your coffee powder goes. It will keep the aroma of your freshly ground coffee, and you can double its use as a portafilter cartridge and turn your espresso-making process straightforward and mess-free.
As a result of this variety in settings, you will be able to use the grinds you get for every type of drink you can imagine, from espresso to filter coffee. The burrs are simple to adjust if they wear over time, so you get a perfect grind for many years to come.
I expected that these many functions would come with somewhat complicated usage. However, Grinder Pro has only three buttons and a dial.
You use the dial to set your preferred brewing method. The machine will automatically set the grind and the time which it will take. The buttons let you set the grind and its time manually if you have different tastes from that on offer.
Finally, the last button allows you to select volume – multiple cups, single, and double shots. Choose one and hold down the button, and your choice will be confirmed.
Ease of Use
As I mentioned earlier, there are four essential functions for you to learn in this grinder – three buttons and a dialer. With the bright LCD screen, you'll be able to see all your choices with ease, which adds to the comfort of usage for newbies in coffee grinding.
Once you unpack the grinder, it will be ready for use in a few minutes. The only parts you'll need to rinse now and again are the hopper and the grain container to prevent any dust from gathering. Besides, you'll find a Quick Setup Guide in the box, with step-by-step instructions.
If you follow the guide, the Pro will also be easy to use. With the handy parts and measurements on the side, it's super simple.
The only thing you'll need to teach yourself is how to control the handle for the grind size. It doesn't require much thought, either, but a little trial and error until you get your coarseness just right.
Consistency & Reliability
The grinder is consistent when it comes to the size of its results. The bigger you go, the less uniform it is, but it's the case with all grinders, and this one delivers on a very satisfying level.
When it comes to its reliability, I'm yet to see for myself. Still, the manufacturer promises that you'll be able to grind 200 kg of coffee before it even needs any adjustments. With these kinds of promises and the two-year warranty that comes with it, they seem to have built the machine to last.
Common Issues Test
In the end, I wanted to test Sage's Smart Grinder Pro against common complaints people have about coffee grinders.
Noise Levels
Some coffee grinders tend to be super loud, a sound you don't want to hear when you're getting started with your day.
Of course, it's impossible to grind coffee beans in complete silence, but this machine produces a mild noise which won't disrupt the family, even first thing in the morning.
Speed
The machine takes 18 seconds to grind enough coffee for a double shot. There are several machines with slightly better results, but they tend to be commercial. Besides, yours may even be quicker if you go for a rough texture.
Statics Issues
Some such machines tend to get charged with statics which makes the coffee powder stick to everything. From reading comments, it doesn't seem like this is an issue with this one.
Mess
Finally, many coffee grinders cause massive chaos in the kitchen. That's not the case with this model, thanks to the airtight removable parts.
Sage Smart Grinder Pros
Sixty coarseness options for all brewing methods
Easy to use with complete controllability and an LCD screen
Airtight parts for no-mess grinding
Smart Shot feature makes it easy to use in an espresso machine
Cons
More expensive than most coffee grinders
Some reviewers faced a faulty delivery and had to return the product
Verdict
As I'm sure you could conclude from my review, the Smart Grinder Pro model by Sage lives up to the reputation of its famous manufacturer. It's straightforward, offers an excellent array of options, and complete flexibility of the process to adjust it to your needs and desires.
The thing I liked most is the fact it's not complicated. Coffee aficionados will appreciate how much this machine offers while keeping a very slight learning curve. The format makes it difficult to dislike.
Again, the price tag will be a consideration for potential buyers, and you could get similar performance with a cheaper model. Still, it won't be the same. So, if you enjoy your grinding process, go for this one – it will be worth the initial investment.