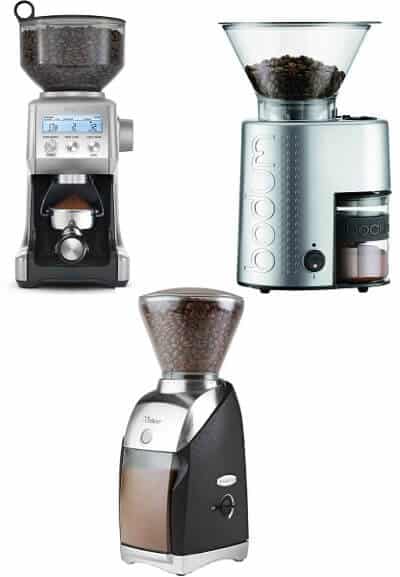 Let's face it, you want to start your morning off with a cup of freshly brewed coffee minus the hassle, subpar taste and cost of going to a shop every day. However, you don't even know where to start. Like most beverages or recipes, the ingredients matter but they can't be used to their maximum capacity without the right equipment.
Even with a great coffee maker and premium coffee beans, without the right grinder, you're missing a lot of opportunities to experience the best flavour with each sip.  Surprisingly, getting the right coffee grinder can be just as difficult as finding the right coffee beans or maker.
So I've decided to help readers find the best burr coffee grinder on the market. Each of these grinders is known for their build construction, performance, and reliability.
It takes research to find what type of coffee grinder works best. And while there are a growing popularity and praise for blade grinders, I'm going to suggest that burr grinders are the only option if you want to have a more "high-end" (finer) result after grinding, which leads to better-tasting coffee.
When it comes to brewing coffee at home, you want to have the best coffee grinder that's available for your price range. You could opt to choose from any number of cheap modern electric coffee grinders, but you won't have as much control as you would with a burr coffee grinder.
The reason why coffee fans tend to use burr grinders is that your beans are grounded in a uniform size. With bladed grinders, its difficult to create a uniform ground, especially if you're trying to make a coarser ground. Because of this, you'll need a burr grinder to make even blends.
While most brewing methods for variant coffees would benefit from a Burr grinder, to craft the perfect espresso, you need to use a burr grinder so it can blend correctly.
Espressos are reliant on having water blend with the coffee grounds at the required pressure.
Also, to get a great cup of espresso, the water has to flow through the coffee at the correct speed. This factor can only be controlled if you can adjust the grinding size within minute increments, which only high-quality burr coffee grinders can do.
Top Rated Burr Coffee Grinders In 2020
---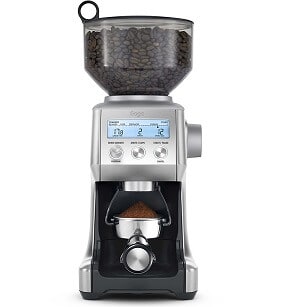 First on our list is the Sage Smart Grinder Pro.  It comes with a Portafilter that's about 58mm. It helps the user by filtering the coffee beans and does it in less than 30 seconds. So if this is your first time shopping for a burr grinder and need something fast, you might want to try this one first.
Specifications
600 Grind Settings
Dimensions: 38 x 22 x 15
Power: 165 Watts
Voltage: 240 Volts
LCD Display
Ease of Use
One thing that I like about this grinder is its ease of use. There is a large knob placed on the right-hand side that helps you control the grinding speed. Plus it helps to prevent waste that you can tell the machine how many cups of coffee you want to grind.
Here's a quick note when dialling the bean. You have to "dial in" to ensure that you get the correct grinding size for each bag of coffee beans. But even if you use the same beans and the same grinder, you'll have to tweak the grinding process from time to time.
For instance, you might be able to find the right grinding size for coffee in the morning and try to make another cup the next day. You might find that you'll have to adjust it slightly because the machine is running too fast or too slow during the grind. Due to Sage's ease of use, you'll have no problem setting the grinding speed to ensure that your coffee tastes well once completed.
Speed
When tested, the Sage Smart Grinder Pro is quick enough to make a double shot of espresso in 17.8 seconds.  Like all coffee grinders, this time can be reduced when making coarser grinds. And with over 60 grinding settings, you'll be able to use its presets to make sure your coffee is freshly brewed to your specifications.
Read More: Sage Barista Express review
Brewing Methods
The Sage Smart Grinder Pro splits their settings into four different categories: coffee percolator, espresso, drip, and press. Some of these options come in handy for particular instances, especially the Drip and Espresso categories.
All of the brewing methods are sensitive to small changes in the process, and it always starts first with the grind.
If you find that the Sage Smart Grinder's settings aren't good enough for you, you can take out the bottom burr to find 10 more micro adjustments. These settings let you fine-tune each setting, and if you do the math, it gives you enough space for over 600 different options.
Grinding Quality
The grinder comes equipped with a "Dose IQ" feature. It starts to adjust the dose when the user presses the "Shots/Cups Button". All you have to do is select your preferred dose by pressing onto the dial, and the Pro will register it. The best thing about this is that it works for every grinding option that's available.
If you're looking for one of the best coffee grinders according to our research, the Sage Smart Grinder Pro is the way to go. It has two different grinding cradles to help dose into espresso portafilters and a storage container. With this grinder, you'll find it easier to get a time-efficient tailored cup of freshly brewed coffee and get a strong kickstart to your day.
[sageSmartTable]
---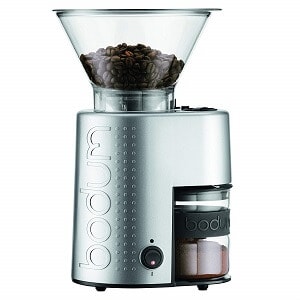 Second on my list is the Bodum Bistro Electric Coffee Grinder. It can brew French Press Coffee, Espresso, and more at the press of the button. With its ability to provide a consistent grind on each setting, static free materials, and its practical design, you'll be able to get reliably consistent tasting coffee each time the button is turned on.
Specifications
Holds over 220g of coffee beans
Friction clutch that prevents
Programmable Timer Function
Durable Design
Coffee Catcher
No Static
One of the most innovative features about the Bodum 10903-01UK is that it's virtually static free. Traditional burr grinders are known for being painstakingly difficult to clean. Competing models will only need to be cleaned once a month, while there are others that need to be cleaned almost every grind.
However, the Bistro rarely needs to be cleaned as often. This is because the grinder is designed to be static free. You can use this Bistro grinder for around 3 months straight, and its brews will come out with the same flavour it did during its 1st week of use.
Build Construction
Since the Bodum Bistro has a conical steel burr, it's better at crushing the coffee beans. It helps preserve the bean's aroma and flavour – resulting in a better brew each time.
The grinder's body is made from a high-quality plastic material that's smooth to the touch and is scratch resistant. Its body has a slightly organic shape and a slim profile. On the face and on the side are red controls that can stand out on its monochromatic wardrobe.
Also, the Bistro is smaller in comparison to other burr grinders. 15.6 x 27.5 x 12 cm, it can easily fit on most kitchen countertops without being cluttered. So, if you have limited space in your apartment, the Bistro can help you immensely.
Grinding Quality
For an entry-level machine, the Bodum Bistro provides great grinding quality. This grinder uses a 160w motor and a 35mm conical steel burrs, and it has the ability to create consistent grinds within its price range.
Speaking of its grinding size, this grinder has over 14 adjustable settings, And since it can hold over 220g of coffee beans, you can continue to keep brewing coffee without having to waste time refilling the machine.
Safety Features
Some machines have the problem of accidentally leaving beans inside of it. But with the Bodum Bistro, you don't need to worry about that. It comes with a small cover that prevents the coffee beans from falling into the machine. This helps reduce wastage and prevents the means from clogging up the grinder.
Ease of Use
A lot of coffee grinders can be a bit complicated to use, and most users don't have the time to worry about an overly-complicated machine. Here's a simple rundown on how the Bistro works. And you'll agree that it's great for first time users:
Once you press the On/Off switch placed on the bottom left side, a red light turns on. Then you can set the timer to provide the appropriate grind time. For instance, if you set the timer for 30 seconds, it will grind your coffee for thirty seconds after you press the red button next to the timer.
The coffee is then placed in the machine's borosilicate glass container that receives the grinds. As a result, there is no mess once the coffee is brewed. Simple right?
[bodum10903ElectricTable]
---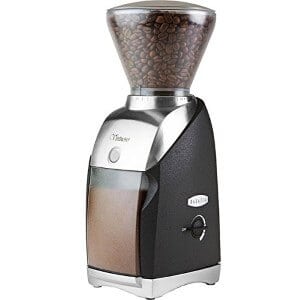 Last but not least is the Baratza Virtuoso Coffee Grinder. The device has a well-rounded engine, that has a grind range of 250-1200 microns. For espresso lovers, you should definitely try this burr grinder, as its settings will ensure that you receive a fresh cup each time.
Specifications
40 Grind Settings
Dimensions: 15 x 6.5 x 13.5 cm
Power: 110 Watts
Voltage: 230 Volts
Anti-Static Bin
Build Construction
The Baratza Virtuoso Coffee Grinder uses conical steel burrs. This makes the burr grinder easier to clean; in fact, the entire unit can be cleaned entirely. I start my cleaning process by washing and hand drying the hopper and collection bin.
To clean the rest of the device, start by running uncooked rice through the machine's fine setting. Once that's step is completed, I scrape off the remaining residue with a small paintbrush that I save for this occasion.
Its compact design is one of its glamorous options. The machine is 33 centimetres high thanks to the 8-ounce bean hopper. I bet that this coffee grinder will clear most kitchen cabinets. On average, most of the coffee I carry is in 12-ounce bags, so I can easily run through a whole bag's worth.
The only issue is that the steel burrs can heat up if you're grinding that much coffee. I recommend that you grind small amounts and give the grinder some time to rest. Since it has a manual 60-second timer, its evident that this machine was made to grind small amounts of coffee.
Another reason why the Baratza Virtuoso Coffee Grinder grinds smoothly is due to the metal casing on the top of the device. It reduces the vibration and helps keep the grinder stable while it's in operation.
Grinding Quality
This grinder activates once you turn on a turn knob on the side of the machine (you can force quit at any time) or press a button on the front of the device (best suited for small quantities of coffee).
Anytime I've used this coffee grinder around my friends; they've all commented on its silent operation. This is due to its slow 450 RPM burr speed. Virtually every grinder makes a little noise, but I appreciate that I can brew multiple pots of coffee without having to alert the entire office.
Also, this machine has low grind retention. When in use, I still have to tap the machine to loosen the tapered grounds. However, I realized that the machine retains around 0.2-0.8 grams depending on the grinding size.
Grinding Settings
With over 40 grind settings, the Baratza Virtuoso Grinder can grind from a coarse French Press to a delicate cup of espresso. Tip: The grinder's marked adjustments come in increments of 2. It has a range from 1 (fine) to 40 (coarse), so keep that in mind the next time you plan on grinding with this device. I've tested the grinder at its coarsest setting and realized that it can be difficult to maintain consistency.
This isn't surprising because the more coarse the grind, the more space that the burrs allow the grounds to escape. I suggest that you keep the grinder within a 20-22 range if you want a more consistent grind.
---
What's Next?
So now that you know what the best coffee grinders are out there, you have to know which one will suit your needs the best. While you can opt for a cheaper one, chances are it won't grind up your coffee beans efficiently. That's why we've created this section to help you.
Things to Consider Before Buying
Although it's a small appliance that's capable of performing simple tasks, there are more than a hundred coffee grinders and machines available. All of them offer similar features at varying price points; it can be rather difficult to select the best coffee grinder to make your morning brew.
Capacity
The coffee grinders you look at will be designed to hold a range of coffee ground amounts each time it's used.
You don't need to have a large coffee grinder unless you're planning on making coffee for a group of people. If it's just you, then you can use a small-capacity grinder. If you have several roommates or coworkers, then you'll want to find something that accommodates everyone.
Read More: Best manual coffee grinder in the UK
Particle Size
This is one of the most important things you should think about when searching for a new coffee grinder. It's one of the factors that relate back to the aroma and flavour you'll get once the coffee is done brewing.
Most burr grinders are great at ensuring the perfect particle size, but there is a variation on how well they will do and how consistent they are. Achieving a fine brew is important, especially for coffee lovers. So make sure to find a coffee grinder that can create consistently even coffee grounds with each use.
Read More: Full review of the AeroPress coffee maker
Heat
After particle size, the heat is another important factor that influences the taste of your coffee. If the grinder makes your beans hot when it's grinding them, the grouds can be burned can potentially ruin the flavour.
The main thing that affects the heat of the machine is how the motor works and the grinding speed. One of the biggest differences between high-end coffee grinders and low-end grinders is their ability to control the speed to reduce the heat that the grinder produces. While this might add more to the initial cost, it can also help improve the quality of your coffee flavour.
Noise
If you have sensitive ears or don't like noisy products lying around in your kitchen, then you should look for a machine that's quieter. Conical burr grinders produce less noise than flat burr grinders. And because of this, burr grinders are more effective than blade grinders.
If you're going to buy a burr grinder online, then you should get a feel for the model's loudness by looking at some of the consumer reviews. Professional reviewers and consumers tend to make a point to mention how loud or quiet they find a product.
Material
Burr grinders can come with ceramic or stainless steel ones.
Ceramic burrs tend to last longer and are better for fine grinding. As a result, they are the desired choice for users who want to create espresso. Finding a replacement for steel burrs is a relatively easy process.
Stainless steel burrs are more common, but you'll have to replace them after using them for a few years. Getting new steel burrs for replacement is an easier process than ceramic burrs, making them the better choice if you're just getting started with brewing your own coffee.
---
Benefits of Using A Burr Coffee Grinder
Ever wondered why your coffee doesn't taste good even when you add high-quality beans? This could be an issue regarding your grinder. While having fresh beans can improve the final result of your coffee blend, having the wrong grinder can destroy the entire brewing process.
As we've stated earlier, there are two main coffee machine types: burr and blades. Blade grinders are inexpensive and compact. However, they can compromise the flavour because of how they cut the beans into different sizes. On the other hand, burr grinders are bulky, expensive, but they create quality results.
Flexibility
With burr grinders, you'll find it easier to adjust the size of the ground particles. This makes it easier for you to achieve the brew you desire. Whether you want to have Turkish, drip coffee, or espresso, burr grinders are able to do it according to your settings.
When using grinding settings, you can make fine grinds for your espresso coffee. Also, if you like drip coffee, you can set the machine only to produce coarse particles. This is virtually impossible to do with a blade grinder.
Maybe you're not interested in the machine's grind size alone. Your coffee might be in different blends, roasts, and beans. These coffee types have different levels of sour, bitter, and sweet flavour compounds. Therefore, they will require other grinds. Turn your grinder's knob to the preferred level, and you'll have your coffee.
Uniformity
Unlike bladed grinders, burr grinders are designed to create a consistent brew each time. This is because there are sharp stones that have been shaped to cut and grind beans to a consistent size.
Over-extracted coffee can create a bitter flavour. On the other hand, under-extracted coffee creates a sour effect. Under-extracted coffee has a flat taste, while over extracted coffee will leave an unpleasant bitter taste in your mouth.
Saves Time
Obviously, you want to obtain fine uniform particles with coffee beans in the shortest amount of time possible. With burr grinders, you don't have to waste time, it's as easy as picking grind size.
You'll never be able to achieve this speed using a blade grinder. When you're preparing a cup for the morning, you have to spend the shortest amount of time possible so you can get to work on time. So use a burr grinder if you're trying to get your coffee ready to go.
---
Conclusion
To conclude, we believe that getting a burr coffee grinder is necessary if you want to make espresso and long-lasting coffee. And if you want my suggestion, I'd say the Sage Smart Grinder Pro. With over 600 custom settings, you'll never run out of space to store your coffee grind presets. Thus, if you're a first-time test taster or a coffee aficionado, you'll get a lot of utility from this device.
Last update on 2021-01-13 / Affiliate links / Images from Amazon Product Advertising API