DeLonghi is one of the most popular brands of coffee machines and comes in many different varieties. I have reviewed many machines and have picked my top 5. I will discuss some of the best DeLonghi coffee machines on offer, the benefits of each one, and why they are liked by customers.
Best De'Longhi Coffee Machines:Our Top Picks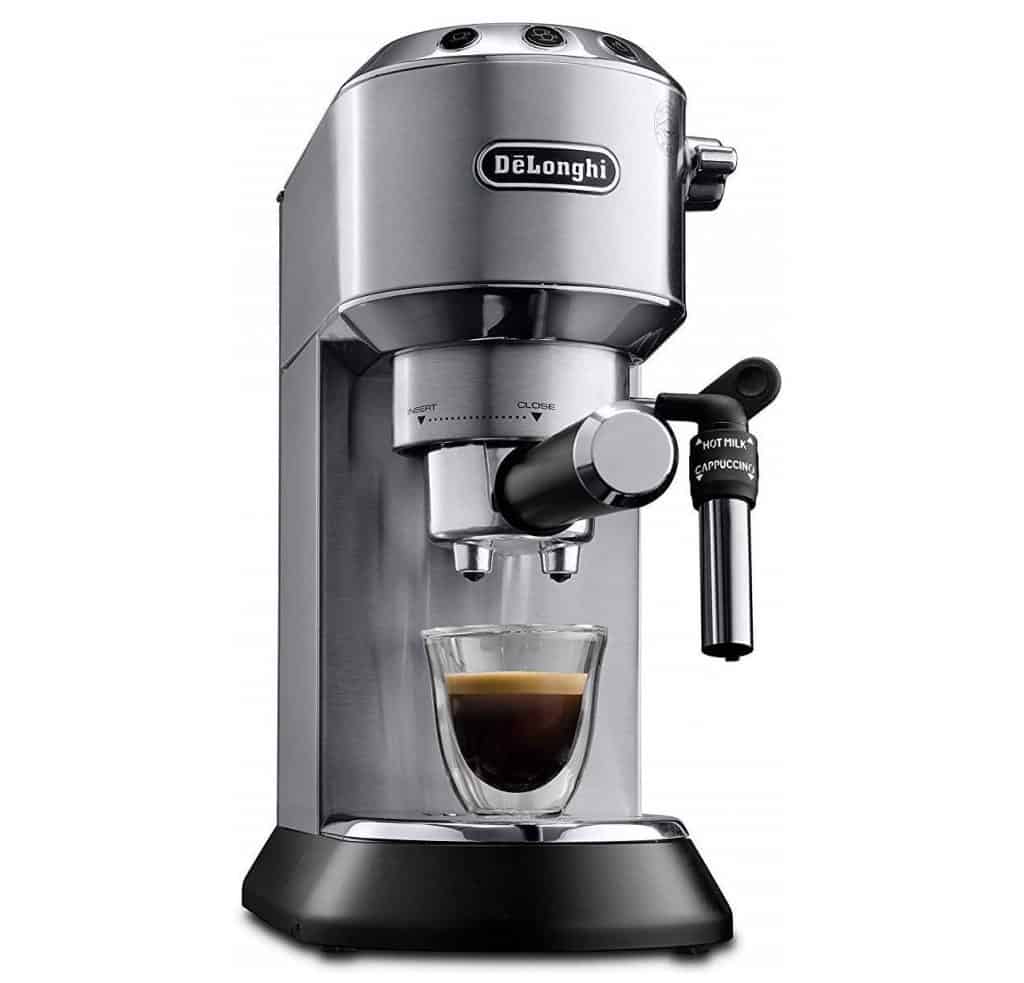 This coffee machine is designed in a 'home comfort' style. It is De'Longhi's slimmest machine at only 15cm wide, designed to fit neatly on your kitchen counter. There are four colour options, white, red, silver, or black. This way, you can fit the machine to the aesthetics of your kitchen. It uses 15 bar pressure to produce espresso with a rich aroma and nut-coloured cream.
Features
This machine comes with a built-in milk frother, to froth or steam milk and make your ideal coffee. It also allows you to customise your espresso with the professional barista technology. You can adjust the tamp, length, and temperature of your espresso-making process.
Customer Feedback
Customers appreciate that they can economise by using whatever coffee they prefer rather than requiring expensive pods. Users commented that it's easy to adjust the settings to prepare the coffee to your tastes. People also said how nice it was to find a machine that fits conveniently onto their counters, without taking up too much space. A few users did mention that they felt like the quality of this particular machine had been compromised in order to keep the price down.
Pros
Easy to clean – manual descaling system which works automatically
One of the most affordable products
More compact size to fit more easily on the kitchen counter
Cons
Some users had issues with the longevity of the product
Inconsistency in the quality of espresso produced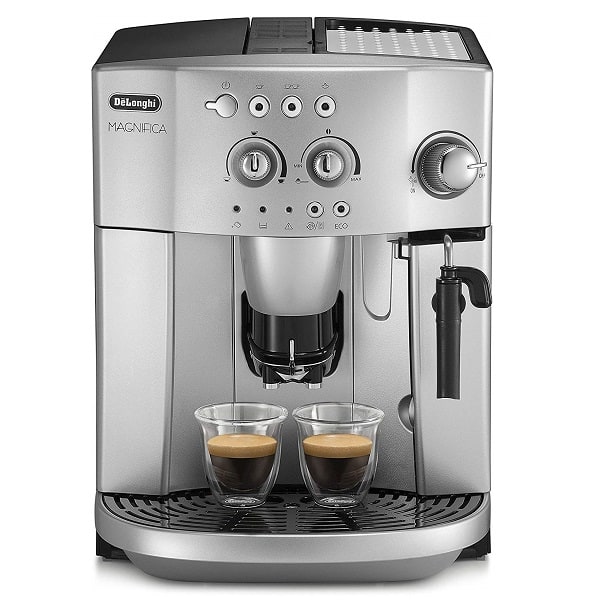 This is a larger machine that can make two cups of espresso at once. It has a more industrial aesthetic and only has a silver, metallic option. It does say that it is intended to have the 'home comfort' design to be a better fit for a home coffee machine. This is in the middle of the price range of devices in this review.
Features
The Magnifica machine again comes with an in-built milk frother and also has an integrated grinder with adjustable coarseness levels. You are still able to customise your coffee to have either an espresso, cappuccino, or whatever your coffee preference is.
Customer Feedback
Many users mentioned that this machine was particularly easy to set up and use. A few users stated that this was very good value for money, as this was much more affordable than other coffee machines they had found, and the quality of coffee produced was excellent. A few customers who experienced issues said that the company helpline was time-consuming and didn't resolve their issues.
Pros
Water settings can be changed for those who prefer hotter coffee
The machine is durable; one user said they had had it for four years
Integrated grinder with adjustable coarseness means you can get a fresher espresso
Cons
Bad customer service experiences
Inconsistency in quality control on these machines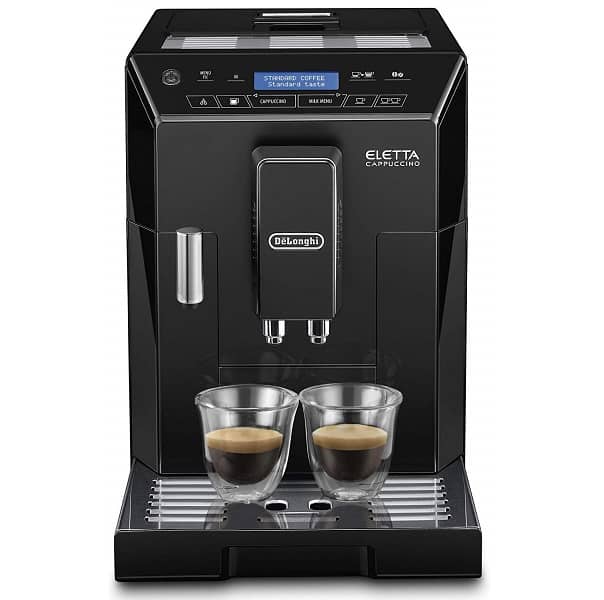 This machine boasts the slim and elegant design of the 'home comfort' range, and again gives you the option to prepare two espressos at once. The Eletta is available in three different varieties; the basic, the cappuccino top, and the Eletta plus. There is also a variation in price for each of these, but all are at the top end of the price range.
Features
The Eletta is a fully automated machine with an electronic display to allow you to select your drink option from the menu. You can also customise the aroma level and coffee length to suit your taste. This machine also has the easy-to-clean feature, with descaling, cleaning, and rinsing programs. The removable parts are also dishwasher safe.
Customer Feedback
Customers like that this machine allows you to use fresh beans instead of pods or pre-ground coffee. People didn't receive a response from customer feedback when they tried to contact about issues with their machine. Several users said that this particular machine had a very elegant design, was sturdy, and seemed high quality.
Pros
Lattecrema system – allows you to achieve a perfectly creamy milk foam for your coffee
Fully automated and you can simply select your drink from the electronic display
Milk frother has various settings to further customise your preferred drink
Cons
Will require maintenance such as descaling, change of filters, etc.
Although the 'flat white' button has been added, the machine has not been adapted to produce this type of coffee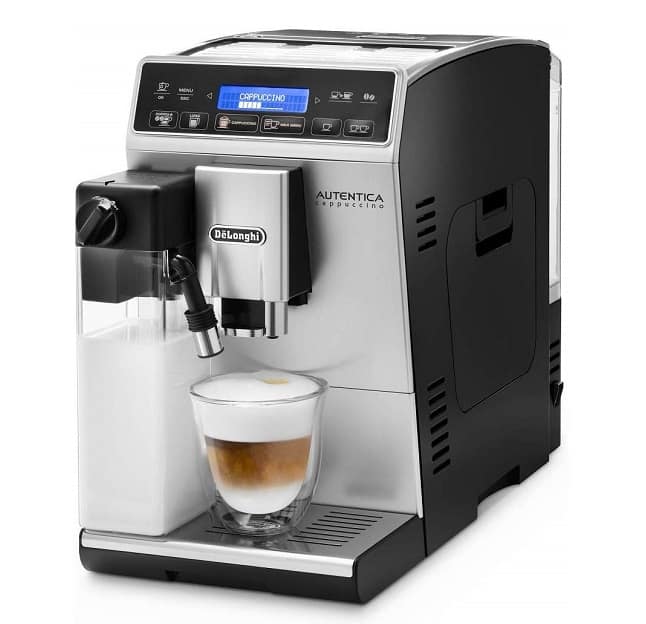 This machine again comes in three different varieties, the most popular being the Autentica Cappuccino, which I will talk about here. All of the variations are again towards the upper end of the price range from the machines I have mentioned. All three versions of the device have a sleek, silver finish.
Features
This is, again, a fully automated machine with electronic display and one-touch technology. The Autentica Cappuccino will produce various styles of either espresso or cappuccino. You have the option to customise both the aroma level and length of your coffee. This particular machine automatically washes all parts that have come into contact with milk after the drink is prepared.
Customer Feedback
Customers enjoy the range of ways that they can customise their coffee, in particular, the different temperature settings. People liked that they can also remove the chill from the coffee cups by using the tray at the top of the machine, although it was mentioned that this can take 5-10 minutes to warm up before you use it. Some customers had an issue with this machine, as it seemed to break down just a few weeks after they had started using it.
Pros
Lattecrema system
Automatic clean function
Cup-warming tray on top of the machine
Cons
An issue with product longevity
Milk frother unit is difficult to remove and replace
Even on highest heat setting coffee was not hot enough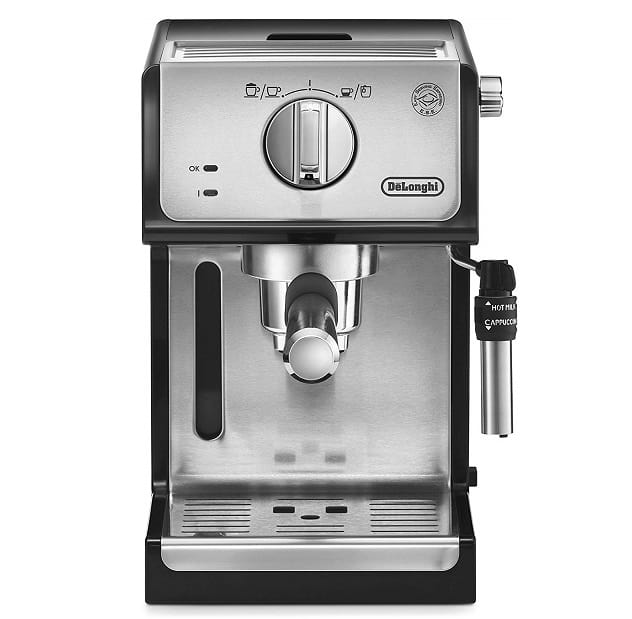 This is the cheapest machine of all that I've mentioned in this review. It's said to have 'premium finishing,' which is the same sleek, silver metal as some of the previous machines. This is a much more basic machine and has a more straightforward switch mechanism rather than electronic display or automated bean-to-cup technology.
Features
The ECP35.31 is slightly different from the other machines mentioned. It still has an integrated and adjustable milk frother for you to have a more customised coffee, but that is about the extent you can change the cup to suit your taste. The switch setting allows you to choose between espresso or longer, frothed coffee. The thing that makes this machine a little different from the others is that you have the option to use ESE coffee pods as an alternative to ground coffee.
Customer Feedback
Customers mentioned that this machine was of good quality, particularly for the low price. They like the sleek design, and a few users said that the milk frother wand works very well on this model. Some users also mentioned that there's a convenient space under the lid to store spare holders. People didn't have a good experience when trying to contact customer service about faulty machines.
Pros
Option to use ESE coffee pods instead of ground coffee
Transparent and removable water reservoir
Double drip tray
Cons
Difficult to change between the one and two cup holders
The water level is not easy to see
De'Longhi Machine FAQs
1. Can you use a regular-sized mug, or does it need to be an espresso cup?
The answers to this suggested that an average-sized mug or any cup under 10cm would fit fine into these machines. There are no adjustment settings for smaller or larger cups.
2. How difficult is it to clean the coffee machines?
Most of the machines mentioned have easy-to-clean and self-cleaning functions to keep the maintenance reasonably simple. The removable parts from what I found are all dishwasher safe, although they don't need to be washed frequently.
3. Is there a warranty with the items?
Although this question was not answered for all of the machines, a couple of them come with a one-year De'Longhi warranty. However, we would say that they would all have the same as they are all from the De'Longhi company.
4. What plug do the machines come with?
From most of the answers I found, and this was mentioned in some reviews too, most machines seem to come with a two-pin euro plug. This is odd for devices sold in the UK, so it may be worth checking the reviews for the product first as to which mains plug it has. It's easy to buy an adaptor plug, though, if necessary.
5. Are the plastic parts BPA free?
According to both the machine manuals and the De'Longhi website, the plastic used in the manufacture of their coffee machines is BPA free.
De'Longhi Buying Guide
With there being such a wide range in the coffee machines available, it's essential to know what you, as the user, want from your coffee machine. Are you just wanting the machine that makes the best espresso, or do you want the more upmarket electronic model that can make you whatever style of coffee you want at a particular time?
Size
If you're buying for a family that drinks a lot of coffee, you may want to select one of the machines that allows you to make more than one cup at once. Whereas if you just need a single espresso or coffee, then there may be other features you want to focus on and get a smaller machine.
Coffee Type
If you're someone who really appreciates the flavour of a freshly-ground cup, then maybe you would prefer one of the bean-to-cup models. This will give you a much greater range of coffees to choose from, as you can buy fresh beans. It will also save you some money, as beans are a much cheaper option than pods or pre-ground coffee.
Research
Once you've decided on your preferences, then you need to determine what machine you want to research further. Always do some more checks to see what kind of experience users have had with a particular device. As the De'Longhi customer service seems to be far from helpful, it's better to find a machine that's more reliable and has less negative reviews. Essentially, always do your research before you commit to buying one of these machines.
Verdict
From my research, I would personally recommend the De'Longhi Magnifica model. This machine gives you the satisfaction of a bean-to-cup coffee, but the manual and non electronic function helps to keep the price down. This particular model was by far the most popular, having the most reviews, and the most positive reviews, by quite a way.
The Magnifica model also had the most features of the machines, giving you the most control to have your coffee exactly as you like it. From the reviews, this machine was also the most durable, with customers stating that they had used theirs for a number of years.
Like all the De'Longhi machines, it has the 'home comfort' slim and elegant design. It's also fitted with all of the easy clean functions with automatic programs to maintain the machine. The tray and grounds container are both dishwasher safe.
So to conclude, the De'Longhi Magnifica is my pick from this review. I am under the impression that this is the best value for money of all the machines mentioned. The Magnifica allows you to have your coffee just the way you like it.