As most styles are suitable for various coffee machines, there are a vast number of easy serving espresso ESE coffee pods available. Using coffee pods means that you can get a delicious cup of espresso from the comfort of their own home
People enjoy the ease of ESE coffee pods. You pop the pod into your coffee machine and then dispose of it when you finish. Much less hassle and mess than using ground coffee and then having to clean out a filter every time.
Most pods are compatible with any machine, so which to buy? In this article, I will review some of the best brands of coffee pods available and share what I found while researching this topic.
Best ESE Coffee Pods UK Reviews: Top Picks
Last update on 2021-01-13 / Affiliate links / Images from Amazon Product Advertising API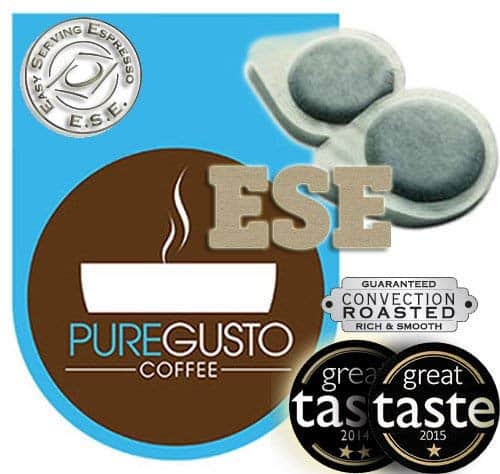 This product is a mixed set of 100 different coffee pods. These ese coffee pods include the 2018 winner of the Great Taste Award. From reading some of the reviews, it seems standard that the pods arrived mixed and loosely packed in one large box, rather than sorted individually by flavour.
Features
This particular pack comes with four different flavours of coffee, allowing you to try a variety of coffee. The coffee is packed within 1 hour of roasting, giving it a higher standard of freshness preservation.
Customer Feedback
Many customers liked the taste of these ese coffee pods. There were mixed reviews on the strength of the coffee. Some said it produced a robust cup, while others suggested they were better suited to those who prefer a weaker espresso  pods.
More than one customer did find that their order was a few coffee pods short and received mixed responses from the supplier. Quite a few customers were pleased with the particularly fast delivery from this company.
Pros
This product has the greatest variety of blends to try
Packed after roasting for freshness
Fast delivery of your purchase
Cons
Coffee pods are tightly packed, requiring you to press on the pod to separate the coffee before use
Inconsistency with coffee strength

Here we have another mixed set, which includes three different coffee blends. Again from reading the reviews, they seem to come loose in one large box. However, one reviewer did mention that the flavours of pods are easily identifiable. The coffee pods come in individual foil wrappers.
Features
These particular ese coffee pods are lactose-free.
Customer Feedback
Customers enjoyed the range of strengths you get from the different varieties. The coffee flavour seemed to be enjoyed by the majority of reviewers. A few users mentioned that these pods make a very smooth coffee.
Several of the reviews suggested that these ese coffee pods work better as for espresso pods, rather than a larger coffee where the addition of milk or extra water will make the coffee weaker.
Pros
Good range in the strength of the coffee to select for your taste
Smooth coffee texture
Lactose-free
Cons
Produces a weaker cup of coffee than other brands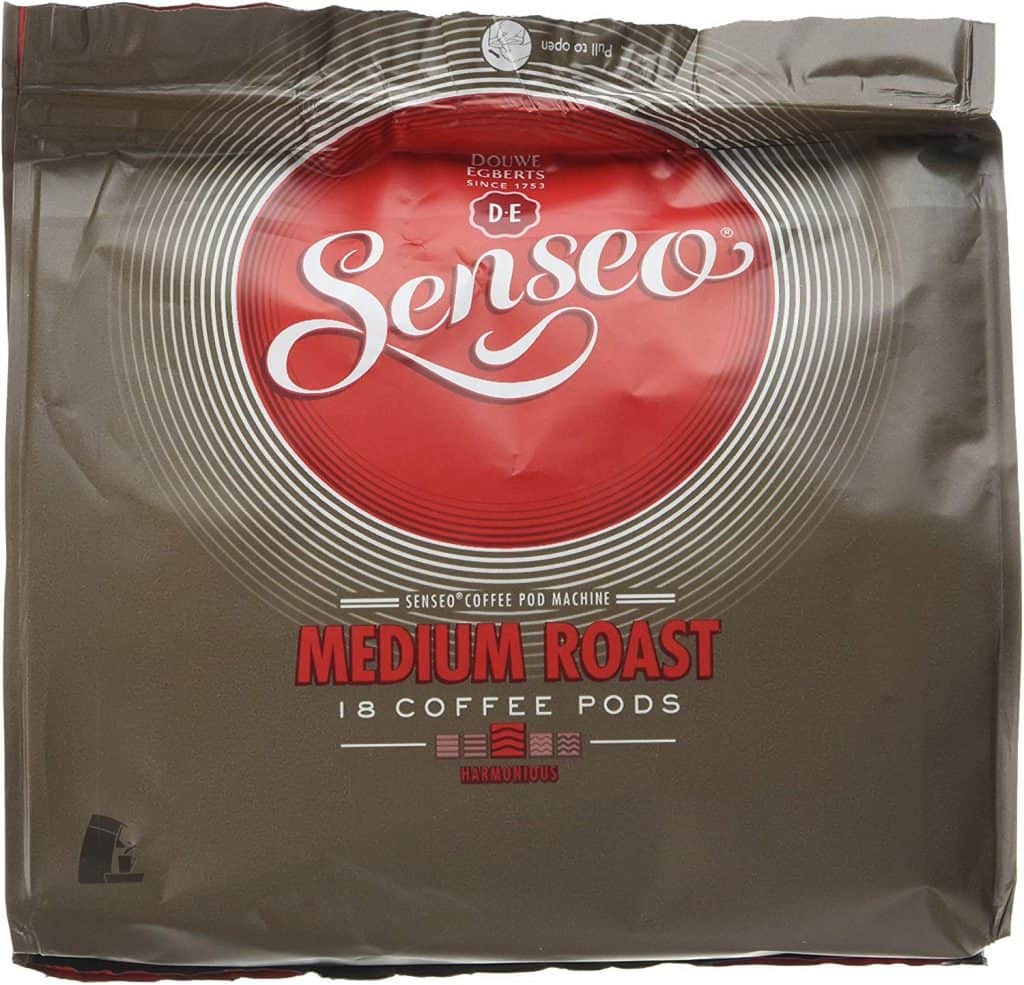 A blend of medium roasted Arabica and Robusta coffee beans. This is a pack of 90 coffee pods, all there all the same flavour.
Customer Feedback
This seems to be a medium strength coffee. A few customers compared it to the dry taste of espresso coffee served in European bars. Some users mentioned the excellent service and delivery from this company.
Pros
Has the best feedback for the company on customer service
Medium strength coffee more likely to please various tastes
Good value for money on price per pod
Cons
Some customers said that there had been a change in the blend flavour on recent purchases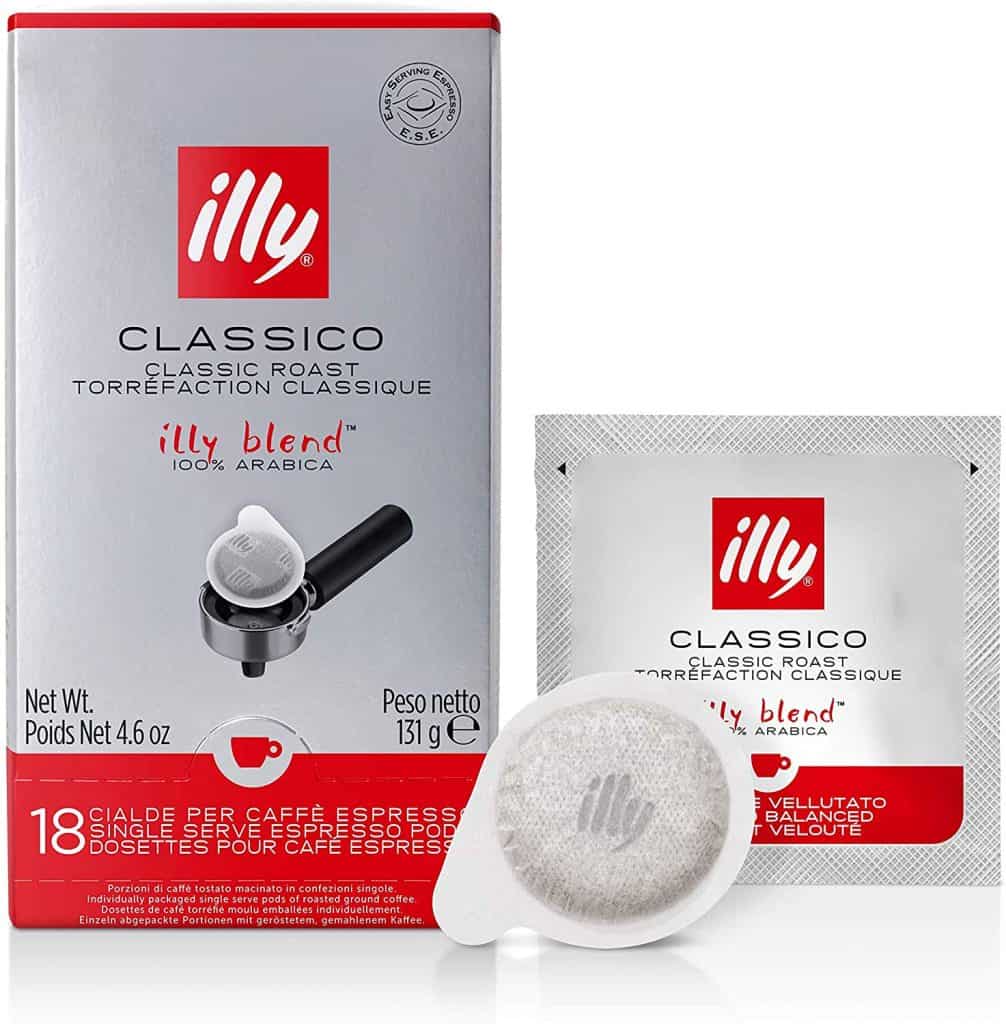 This product is a smaller pack of just 18 coffee pods, and they're all one flavour. They come individually wrapped in foil and packaged in a larger box.
Features
Specifies aromas of chocolate, toast, caramel, and a hint of florals.
Customer Feedback
Customers particularly like the flavour of this coffee. A few mentioned that it was more expensive than other brands, but it was worth paying the difference for the superior quality of the coffee. Also, some people said the water flows through the pod and blends more easily when compared to less expensive pods.
Pros
Much better quality than other products
Best reviews on taste
Water flows better through the pod producing a better espresso coffee
Cons
Most expensive product from this list based on price per pod
Smaller pack size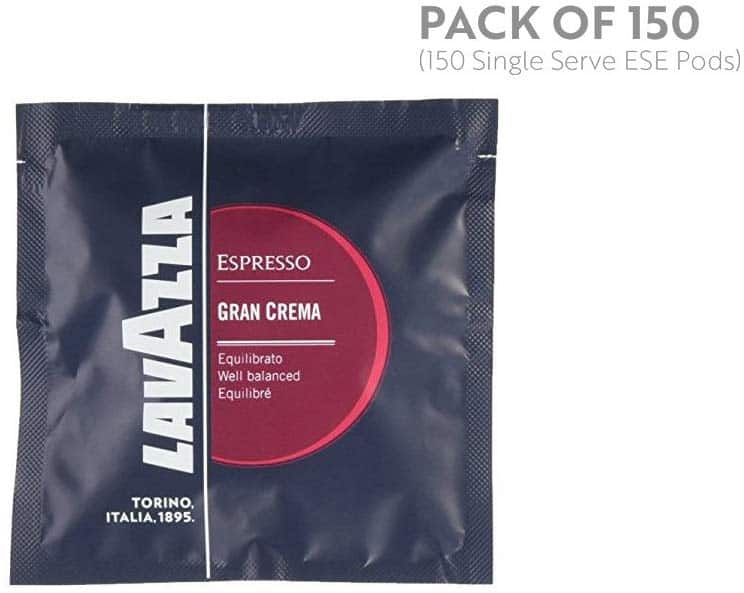 This is a 150 pack of the same flavour ESE coffee pods. These are another more well-known brand, and Lavazza also is known to be "Italy's Favourite Espresso." They are slightly more expensive than the products with a variety of pod flavours.
Features
This product specifically designed to produce a coffee with much more crema.
Customer Feedback
A number of customers said that there was a noticeable difference in the quality of these coffee pods. The easy flow of coffee through the pod was mentioned several times.
A few users stated that out of various pods they had tried, this was the preferred. They preferred both the taste and texture of the espresso coffee produced. People also praised the fast dispatch and delivery service from this company.
Some of the more negative reviewers said that their experience with the coffee pods produced a much weaker espresso coffee than other brands.
Pros
Produce a coffee with a lot of crema
More creamy texture to the espresso coffee
Good service
Cons
More expensive than the other items reviewed
Some users experienced a weaker coffee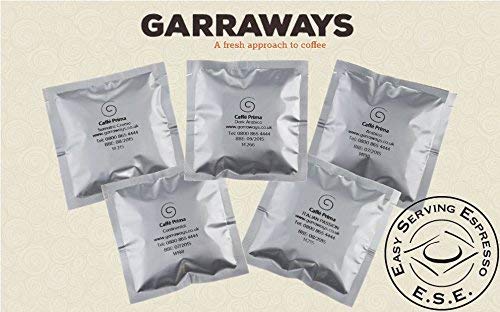 This product contains a mixed pack of 100 pods, with four different flavours of individually packed coffee pods for you to choose from.
Features
This is 100% Arabica coffee rather than a mix of Robusta and Arabica like some of the other coffee pods. This particular blend is also convection air roasted rather than drum roasted.
Customer Feedback
Users liked the variety of strength and flavour in this pack, with options to suit the tastes of different friends or family members. Many reviewers said that there was a very distinct flavour for each variety.
People were particularly happy with the strength of the decaf option, which sometimes can lack flavour. Some customers did say that it could be made easier to distinguish from the packaging which variety each pod is.
Pros
Very distinct flavour to each of the varieties in the pack
Decaf tastes great
Makes a strong coffee
Cons
Some customers had issues using these ese pods in their particular machine
Problems with distinguishing between the varieties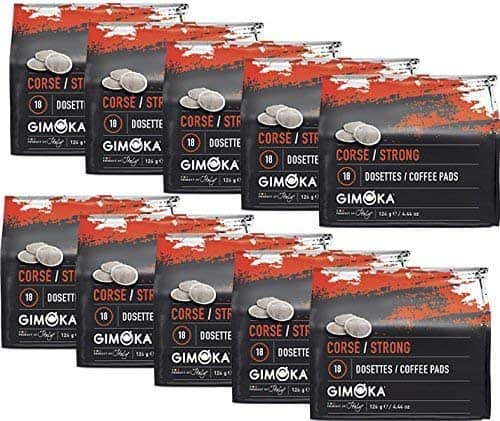 This is a set of 10 bags each with 18 pods. All the same variety of coffee, specifically stated as having a strong flavour. This works out as the cheapest product going off of the price per pod.
Features
A dark and intense blend characterised by a full-bodied flavour. The grinding has been optimised to make a 'clean' cup of coffee with a well-defined taste.
Customer Feedback
Customers love the flavour of this coffee. Multiple reviewers said that the espresso produced was strong but not bitter. People like that because of the strength, these pods can be used to serve a larger cup of coffee with milk or cream added to it, without making it taste weak.
Some users did have an issue with these paper pods as the paper used was thinner than in other brands. The solution to this was apparently to place an extra piece of coffee filter paper in the machine before inserting the pod.
Pros
Dark and robust flavour
Can be diluted to a coffee other than espresso
Makes a strong cup without the bitter aftertaste
Cons
For the Senseo coffee machine and not compatible with 44mm espresso coffee machines
ESE Coffee Pods FAQ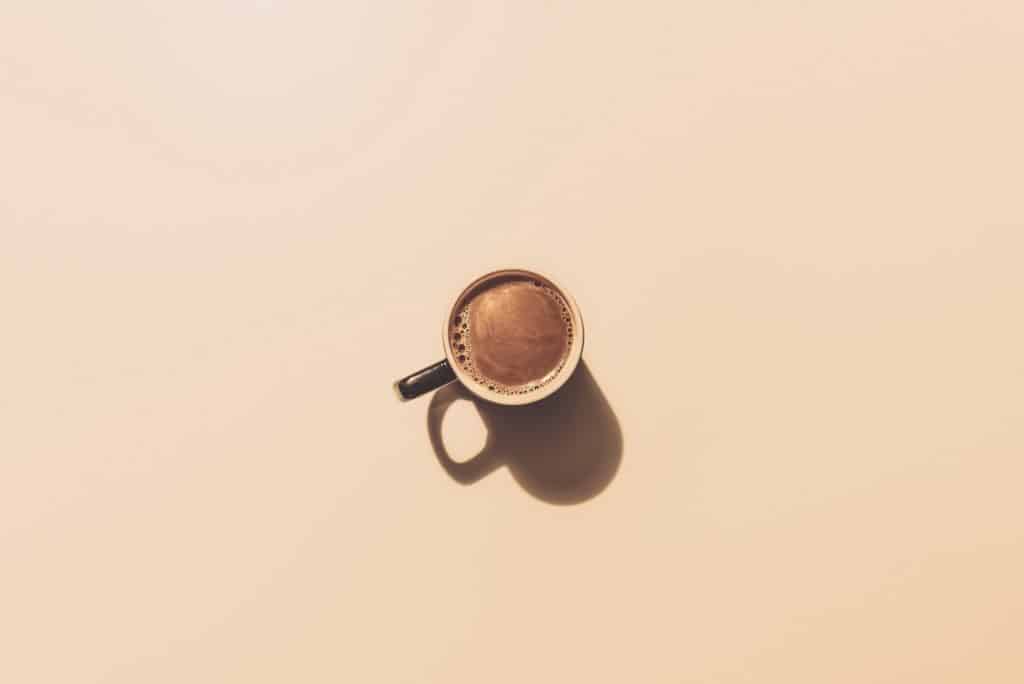 1. What Coffee Machines Are ESE Coffee Pods Compatible With?
This type of paper pod is the kind suitable for most espresso coffee machines, not the larger plastic capsules used for Nespresso or similar models. The standard size of a pod is 44mm, however, do check both your device and the pods you are buying as there are also some 60mm varieties.
2. Are They Recyclable?
ESE coffee pods are compostable and so can be placed into your food waste or compost bin. Some pods also come wrapped in an individual foil, but most of these should be recyclable. If you are environmentally-conscious, then check that the brand you're buying from uses recyclable packaging.
3. Can I Make a Double Espresso With These ESE Pods?
In most coffee machines, you can stack two pods, one on top of the other. This will end up making a double.
4. Do ESE Pods Produce a Crema?
From my research, most people said there was a crema produced, but not a thick one. Several answers suggested that some pods have an 'up' side. If it's not explicitly labelled, then generally you place the pod with the logo side up to be more successful in producing a crema.
5. What is the comparison to a standard (e.g. Nespresso) coffee capsule?
ESE pods contain around 7g of ground coffee, 40% more than the standard 5g found in a plastic cup. This will have an impact on the taste. It also means that it is more cost-effective per cup of coffee.
Buying Guide
I would say that the crucial point when buying pods is to check the compatibility with whatever machine you have. By reading the questions or reviews, you can easily decide whether it is the right pod for the espresso machine you're using.
The most variety between different brands of pods is the flavour. Read about the blend of coffee they use to make the pod. This will help you to understand better the strength and flavour you will get from a cup made with that particular pod.
A lot of customers seemed to love the taste of this coffee. Many seem to prefer this method to make espresso rather than a tall. In general, it seems to produce a slightly weaker cup than other methods.
Most users agree that one of the best things about ESE pods is the ease. They don't produce mess or waste. The pods themselves are biodegradable, and there are options to buy where the packet the pod comes in is also recyclable.
Verdict
Although it was the more expensive option per pod, I would say that the Illy pods are the best option on this list. They had the most positive reviews out of all the products. Many users said that in this case, you do get what you pay for.
Both the quality of the pod and the taste of the coffee were said to be superior by multiple reviewers. Some people also said that these pods used a finer ground  coffee, which allowed the water to move more freely through the pod and produce a better cup.
All in all, the Illy brand seemed to be the best pod in multiple areas. These are my pick for the best ESE pods, based on what I've read.
Last update on 2021-01-13 / Affiliate links / Images from Amazon Product Advertising API