Hard water is a significant and still ongoing problem in the UK. In fact, 60% (mostly in England) of the entire UK contains hard water.
So what is hard water? Hard water contains a higher than average content of some minerals, mostly calcium, magnesium, and limescale. While none of these minerals are dangerous to drink, they do affect the taste of the water, especially the limescale, which gives it a mild chalky flavour.
Hard water can leave a film on your hands after washing them, as the high calcium reacts with soap. This film can also appear on the top of a cup of hot drinks like tea or coffee.
Poor tasting water affects everything you drink – a problem this pressing needs a solution. The simple act of boiling the water via a filtration system removes the bulk of these minerals.
This means choosing a kettle that will not only boil water but filter out these minerals. So which kettles are best suited for boiling hard water?  Here are my top 3 choices:
Best Kettle for Hard Water UK: Top Picks Reviewed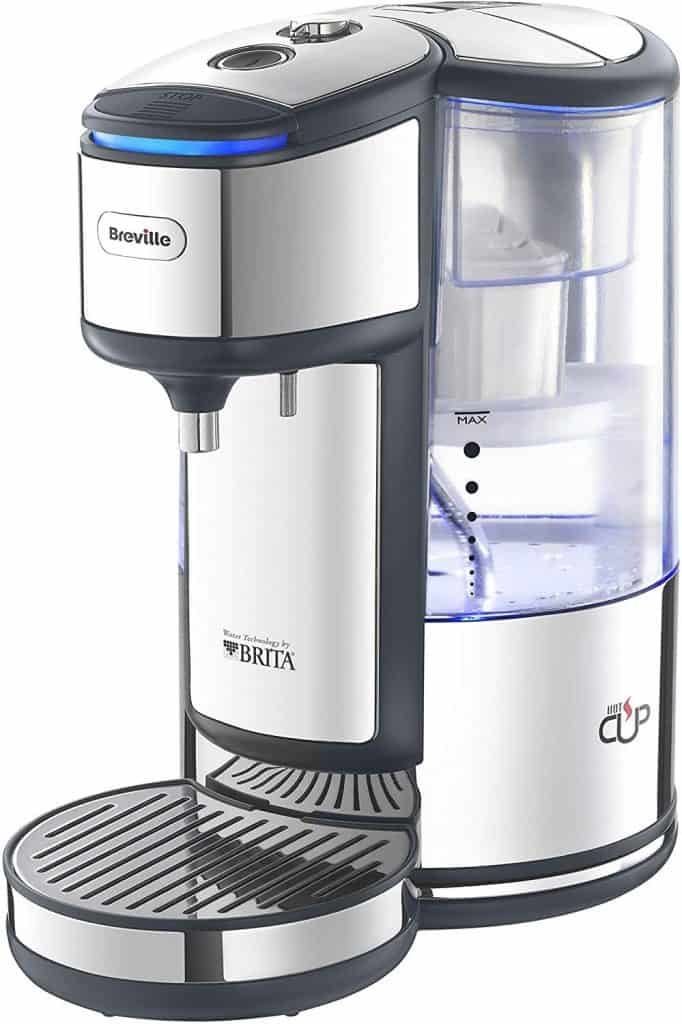 Breville is one of the market leaders of home appliances, so it comes as no surprise that the BRITA HotCup Hot Water Dispenser is an ideal choice for people living in hard water areas.
The unit has a polished stainless steel appearance, so it looks very appealing, and because of its compact size, fits comfortably in any kitchen space. The best part is that it can produce filtered boiling water in under a minute.
The product is user-friendly and straightforward, is easily cleaned, and requires little maintenance except for replacing the filters when they expire.
Features
The Breville BRITA HotCup Water Dispenser has some useful features. It boils your water while at the same time filtering out the hard water minerals, all in under 50 seconds. It has 9 cup settings, conveniently located on the top of the unit. It is fast and easy to get the exact amount of boiled water at the turn of a dial.
The generously sized tank holds enough water to boil up to 9 cups. This tank is transparent, which makes it easy to determine how much water to add, and when it is in boil mode, it lights up for convenience.
Pros
Boil and filter mineral-filled water in under 50 seconds
9 different cup size settings
8-litre tank – enough for 7-9 cups
Removable drip tray
Cons
Cup size settings only, no free-flow button
Maximum cup size is 300ml
Customer Sentiments
The general response from users is how fast the speed of the unit is. Customers love the easy cup settings, and despite having no free-flow button, there is a manual stop button, and users suggest choosing the largest cup size and monitoring the water content with this option. While the product isn't suitable for large mug size drinks, it's convenient for most standard size cups of coffee and tea.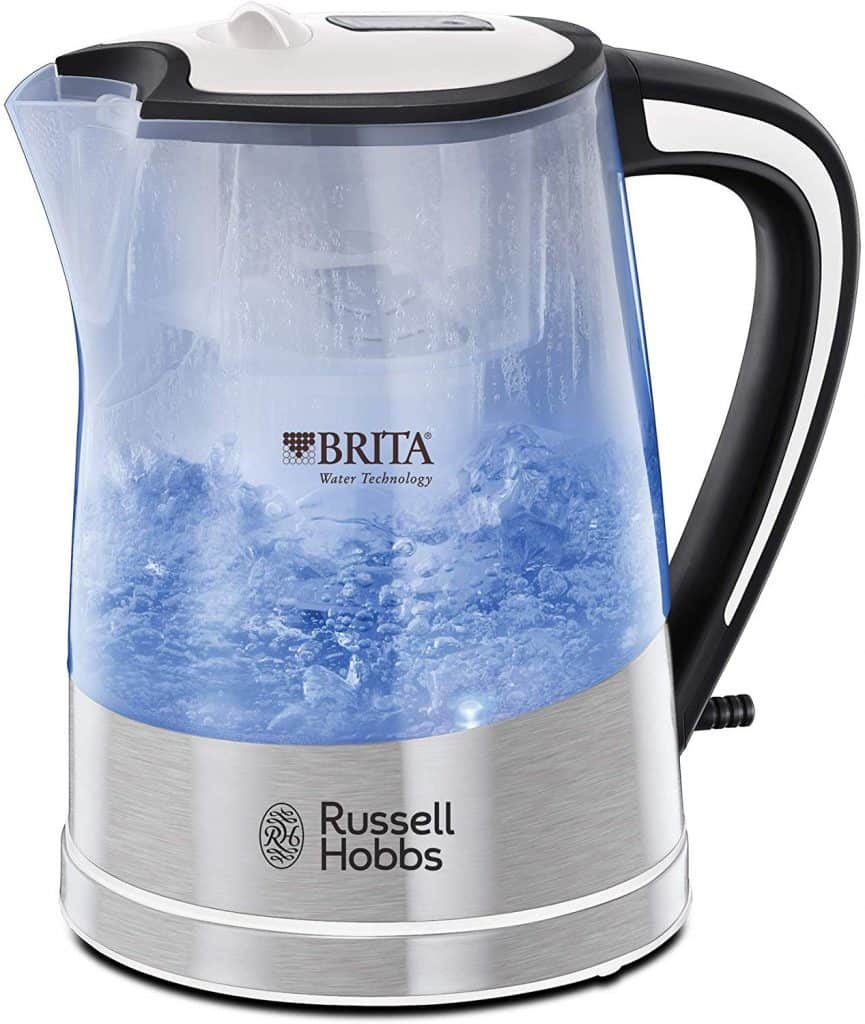 For those on a budget and in a smaller household, the Russell Hobbs 22851 BRITA Filter Purity Kettle is spot-on. This charming and stylish hot water kettle can boil up to 2 cups of mineral-free water.
Features
Perfect for small households in hard water areas, the Russell Hobbs 22851 BRITA Filter Purity Kettle will remove minerals from up to 2 cups of boiling water in a short time. The product looks classy and will suit any kitchen environment. A blue LED brightens up as it boils, and it automatically switches off when done.
There is no need to keep tabs on when to replace the filter cartridge as the device will alert you when it's time. And to protect the environment, the cartridge is 100% recyclable.
Pros
High-quality glass body and design
Water comes out extremely clear
Ideal for singles or couples
Filter cartridge replacement indicator
Cons
The smaller device makes up to two cups at a time
Be gentle when pouring to avoid splashing.
Customer Sentiments
The almost unanimous customer comment is how clear the water appears after being boiled, with all the hard water elements gone. Most users recommend this item for couples or single users and not necessarily for families or tea parties.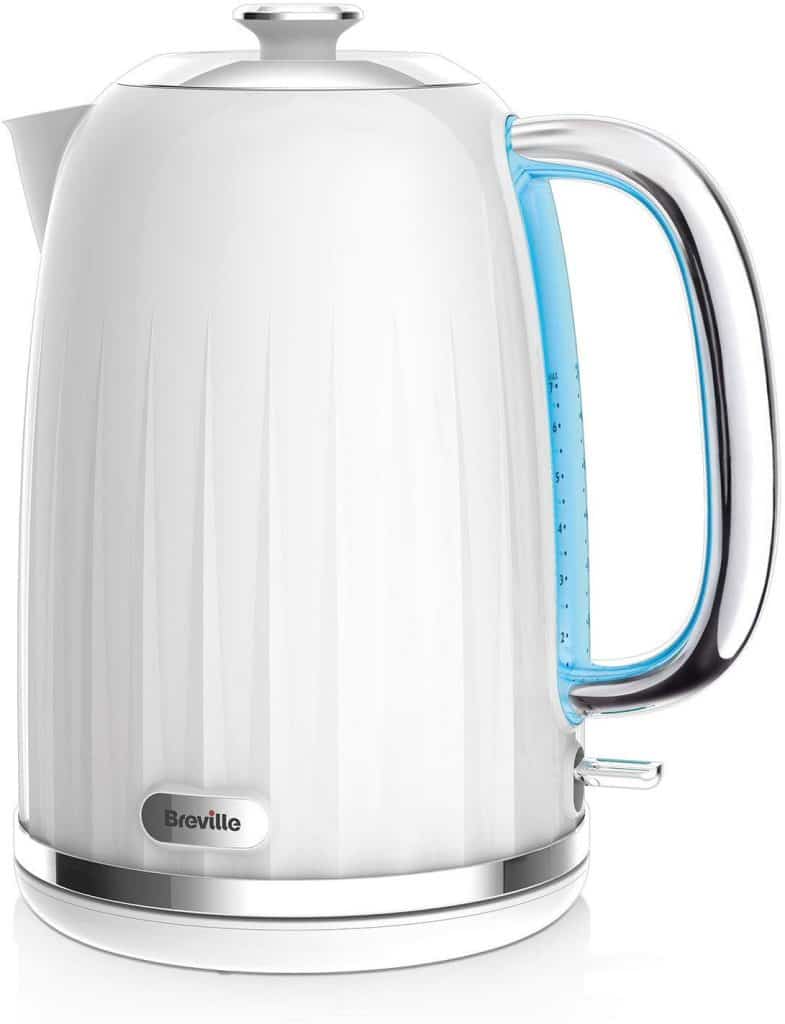 For a modern and stylish looking hot water filtration device, it's hard to go past the Breville Impressions Kettle. Surprisingly, the unit is made of plastic, despite looking like stainless steel, so it's light and easy to carry. This helps to make it look more expensive than it actually is.
There are four colour choices, black, white, red, or cream. This provides a colour scheme for any kitchen. The device also has a handy cord storage feature for a clean bench space.
Features
The Breville Impressions Kettle has a practical 360-degree rotational base which is suitable for left or right-handers. The water tank stores enough for up to 8 cups of boiling water, and there is a transparent rear window, which makes it easy to fill. It is recommended to operate the unit at least three times before drinking the final product, just to remove any 'new product' taste.
Pros
High-gloss finish makes it look attractive
7litre capacity – enough for 7-8 cups
Rotational base, 360 degrees
Clear and easy to read water gauge
Cons
For best results, boil the kettle three times before drinking
The base is a bit light
Customer Sentiments
Customers really enjoy how lightweight the product is and how easy it is to use. They suggest being careful when lifting it as the base sometimes comes up as well due to it being so light. And of course, they all love how smart and stylish it looks in their home.
Hard Water Kettle: Buyers Guide
Hard water is a common complaint in the UK. The minerals, calcium, and magnesium aren't harmful; in fact, they are required in any diet. The biggest issue is the foul taste that the excess limescale puts into the water.
Like many of you, I like a hot cup of tea, without the taste of limescale. But, the other issue is that these minerals can cause havoc with the brewing process. The calcium can actually stifle some of the different flavours from coming out.
That's why it's essential to have a kettle that removes these minerals and at the same time boils water without having to wait for ages for it. Choosing the best hard water kettle takes a bit of time, but it is worth it. Having done my research, I presented you with my top choices. But the final decision needs to be a personal choice.
Things to Consider
Speed and filtering aren't the only things to decide when choosing the right kettle. The number of cups it can produce, how it looks in your home, and whether everyone can use it should be considered. There is also the expense of replacement filters, and thinking about who provides after-sales service if anything should go wrong.
Capacity
How big is your household? The number of cups that you need to make at a time should be one of the first questions you ask yourself. Some of the products, like the Russell Hobbs 22851BRITA Filter Purity Kettle, is ideal for singles or couples, while the Breville items are more suited for larger families.
Appearance
For some people, they just want a practical kettle that can boil water quickly and remove the unwanted minerals in hard water. For others, they want a stylish and expensive-looking product to match their current environment. This needs to be decided when choosing the right item, and Breville has this covered.
Practicality
Left-handed people don't always appreciate having to pick items up from the right. Many kettles come with a 360-degree rotational base making it ideal for anyone to be able to pick up the device from any position.
After-sales Expense
Removing unwanted minerals from hard water requires a filtration system. Filters in hard water kettles are usually disposable and replaceable, often every month. This ongoing expense needs to be factored into the decision-making process of which kettle to buy. Some products provide these initially, but most often, they need to be purchased separately.
Brand
When choosing which household appliances to buy, is it essential to purchase well-known and respected brands. This is why I chose Breville and Russell Hobbs products for your consideration. Both are market leaders in kitchen appliances and offer excellent pre and post-sales service.
Water Softeners
A commonly asked question is: Aren't water softeners just as good an option?. Water softeners are a great solution in bathrooms where drinking the water isn't required. Water softeners remove the calcium and magnesium by adding minerals salts, so are great choices for showers and bathtubs, but they can't remove the nasty lime taste. In fact, some water softeners actually add a salty taste.
Conclusion
The two biggest challenges I face when boiling water is the removal of the lime taste and the urgent need for a cup of tea. Hard water is an issue here, but it shouldn't prevent anyone from enjoying their favourite cup of tea or coffee.
This is why, for me, the Breville BRITA HotCup Hot Water Dispenser is my first choice. To get mineral-free boiling water in less than 50 seconds puts this one at the top of the list. It looks great in any kitchen and comes from Breville, so it has fantastic after-sales support.
It is not the most budget-friendly choice of the three, though. So if that is the primary concern, and there are only one or two of you in the household, then the Russell Hobbs 22851 BRITA Filter Purity Kettle may be a better choice. This compact unit will give you up to two cups or crystal clear water whenever you need it.
Buying the right kettle is ideal with this hard water situation. My advice is to do your research by checking out the product specifications and make sure you are choosing the right kettle for you and your home.
I hope this has helped you make the best choice for you. Sadly it seems that hard-water is an ongoing fact of life for people in the UK, but don't let it stop you from having the perfect cup of tea when you want it.