Caffeine in the morning is a necessity for many of us, and we're not quite the same without or tea or coffee before the day kicks off. Unfortunately, the morning tends to be a relatively hectic time when we're often in a rush, and things can be overlooked, including your daily dose of caffeine.
Coffee is gaining popularity in the UK at a breakneck pace, as more and more people want to find out what's all the rage across the pond. People who used to take a tea in the morning are now converting to the bitter brew, and some are even finding that they prefer it, but what if you don't have enough time in the morning?
If you wake up late and find yourself in a rush, you likely won't be able to sit around, wait for your coffee to cool down, and drink it in a single gulp. For those looking to indulge in a cup of coffee every morning, a travel coffee mug may end up being a worthwhile investment.
Today, I'll be presenting a buying guide for the best travel mug so that everyone can find the right one for their needs. I've gone over three different options, all of which excel in different areas; this will help ensure that every reader will find at least one mug that's to their liking.
After I go over the three best travel coffee mugs in the UK, I'll also cover a few other things you should know about these cups, including how to find the best one and more. For now, let's move on to the three travel mug reviews.
Top Rated Coffee Travel Mugs In 2020
---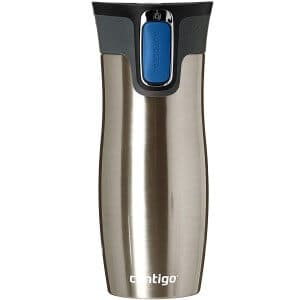 The Contigo Autoseal West Loop is one of the most impressive and best travel mugs I've seen, and it has quite a few features that put it a cut above the competition. When it comes to finding the best travel mugs, by far the most crucial aspect is the level of thermal insulation, and the vacuum seal of this model provides impressive results.
Specifications
Vacuum insulation provides superior heat retention
Keeps drinks cold for 12 hours and warm for 4 hours
Autoseal keeps this mug closed until you take a sip
Double-wall design features stainless steel construction for improved durability
Can be used with one hand
Synthetics used in this coffee mug are BPA free
Resistant to both leaks and spills
Holds a volume of 470 ml
This travel mug can keep a cold beverage at that temperature for up to 12 hours, and its insulation can keep your coffee warm for up to 4 hours. There are a few features that contribute to this impressive degree of thermal insulation, though the price tag is also an indicator of this model's advanced design.
Made of stainless steel, this travel mug features a double-walled design that is resistant to both impacts and corrosion. The Tritan Copolyester used in this coffee mug is also free of any BPA, so you can rest assured that this travel mug won't end up transferring toxins to your coffee.
This mug also uses Autoseal technology, which ensures that the cup is vacuum sealed up until you press the button near the top so that you can take a sip. Autoseal technology helps ensure that as little heat as possible escapes the coffee mug when you go to take a sip and allows for one-handed use.
Most other vacuum travel coffee mugs will feature a secure cap that will have to be detached before taking a sip, resulting in lost heat and necessitating the use of both hands.
[contigoWestLoopTable]
---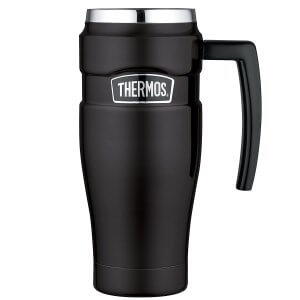 Available for a slightly lower price than the first option, the Thermos King Stainless Steel travel mug retains a vacuum sealed design but replaces the Autoseal button with a Drinklock lid. This lid ensures a vacuum seal and can be slid out of the way with ease. The lid on this travel mug is also leakproof and spillproof.
If you only want to take a single sip, you can even turn the lid a quarter of the way so that it doesn't come off entirely and let the heat or cold escape.
Specifications
Vacuum insulated design helps maintain the temperature
Hot beverages will stay like that for 7 hours and cold ones for 18 hours
Drinklock lid is easy to open and seal and helps retain heat
Features an integrated tea hook for use with tea bags
Available in five colours: copper, gunmetal, midnight blue, matte black, and cranberry red
Comes included with a 50-year guarantee
This travel mug features impressive performance for its price, as it can keep cold for up to 18 hours and can keep warm for 7 hours. As you can see, this travel mug is more suitable for keeping your coffee hot, whereas the first option was ideal for iced coffees and other cold drinks.
Made of stainless steel, a material which doesn't rust and provides additional durability, this travel mug will be with you for a long time to come. This model even comes with a 50-year guarantee that it will keep working.
The inclusion of a tea hook on the interior means that you can use this travel mug for both coffee and tea, depending on what you're craving. You can even find this travel mug in five different colours, allowing you to pick the one which matches your style best.
[thermosKingMugTable]
---
The Camelbak Forge is the most affordable option of the bunch, and it is also the most versatile, as you have a range of choices at your disposal when you're buying it. First off, you can find the Cambelbak Forge available in 354 ml and 473 ml sizes, depending on how much coffee you'll need.
Both varieties of this mug come available in seven different colours, allowing you to find a cup that lets you express yourself. Moving on to the performance, the Forge is equipped with a double-walled vacuum-sealed design that is made out of stainless steel, and it offers excellent heat retention.
Specifications
Available in two sizes: 354 ml and 473 ml
Comes in seven colours: blaze, black smoke, blue steel, deep sea, slate, bronze, and aubergine
Features an opening lever which can be used single-handed
Equipped with a button to lock the top open
Vacuum insulated design provides enough insulation to keep warm for 6 hours
Cap is designed to resist impacts and prevent leaks
Double-walled design helps keep the exterior from getting hot
This model can keep your drink warm for up to 6 hours, and the design of the lid helps maintain the vacuum seal. When you use the lever (which can be used single-handed), the top of the cup will open up and then automatically lock back into place so that you lose as little heat as possible.
There is also a button at the top of this travel mug that allows you to lock it open so that you don't have to keep using the lever so that you can take repeated sips. While there is obviously a chance of a spill when the lid is locked open, it is designed to prevent leakage when in the closed position.
[camelbakForgeTable]
---
Buying Advice
Choosing the best travel coffee mug will be far simpler if you know more about them in the first place. In this section of the guide, I'll cover some of the most crucial aspects to search for when making your purchase as well as why it is important to get the best coffee mug around.
What to Look for in the Best Travel Coffee Mug
Material
First off, you should take a look at what your travel coffee mug is made out of, as that will help determine a few other characteristics. For example, a stainless steel travel mug will be able to retain heat better than one that is made out of plastic due to the materials' varying levels of thermal conductivity.
Of course, the material that your mug is made of will also affect the price, as a metal mug will be more costly than one made of plastic. Keep in mind that various parts of your cup will often feature different materials, with the vast majority using a stainless steel body and a synthetic cap.
Closure Type
Speaking of the cap, you'll also want to take a look at the closure system of your travel coffee mug, as that will also affect thermal insulation. Every moment that your coffee mug is open, it will start transferring heat to the surrounding air, so you'll want a closure which stays sealed until you take a sip.
There are many different options when it comes to the type of closure used on travel mugs. Some will be equipped with a simple button that you press down to open and will automatically seal when released where others use a turning lock. You'll also want your closure to be resistant to leaks and spills.
Durability
The durability of your coffee mug will be another critical feature, as that will ensure that you can use it reliably without having to replace it. Improved resilience also reduces the likelihood of your coffee cup breaking while in use and spilling hot coffee on you, which is a genuine concern.
Whether or not your coffee cup is resistant to impacts and other damage will be up to its build quality and the materials that it's made out of.
Read More: AeroPress review
Size
Finally, you'll also want to consider the size of your coffee mug, as that will allow you to take more or less coffee with you to work or anywhere else. If you're going to need enough for the whole day, then you'll want a mug which is larger, but keep in mind that it will also be more costly.
Why You Need the Best Travel Coffee Mug
As with anything else that will come into contact with your food and drinks, you have to take care when buying your travel coffee mug. Beyond issues of reliability and functionality, a low-quality travel mug can end up being harmful due to the substances used in its construction.
For example, some of the cheapest mugs may be made with BPA plastics which can leach toxins into your drink. Even if a cheap coffee mug isn't unsafe, an unreliable model can end up opening up in your bag and can dump coffee all over your possessions.
---
Conclusion
As you can see, there is a bit more to finding the best travel mug than you would first assume, and finding the right one can prove to be a bit of a challenge. Since you won't know how well your mug retains heat until it arrives, ordering one is like a shot in the dark, but with the help of these reviews, I hope it can be a little simpler.
For those of you that want the best overall coffee mug, I'd recommend the Contigo Autoseal West Loop on the condition that it's within your budget. With a higher price point than the other two models on this list, you'll have to consider whether the improved performance is worth it.
If you'd rather save money, the Thermos Stainless King is more than capable enough to keep your coffee warm or cold for most of the day. While it may not feature the convenient push-button design of the Contigo Autoseal, it has a traditional design that some may feel more comfortable with.
Finally, there is also the CamelBak Forge, which is the most unique option on this list. This travel mug features a lever release mechanism as well as a lock-open button. Combine these features with an affordable price point, and you have a travel mug which is highly convenient, though it may take some getting used to.
Each of these travel mugs has its own advantages, so you'll have to consider which type will work best for you. If you are more active, then you'll likely prefer a push-button design that is simple to use while on the go. Others may prefer a traditional mug design with a handle. In the end, it's important to find what's right for you and let you decide what the best travel mug is.
Last update on 2021-01-12 / Affiliate links / Images from Amazon Product Advertising API