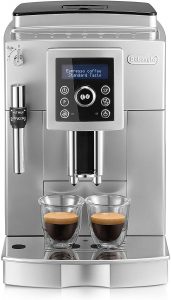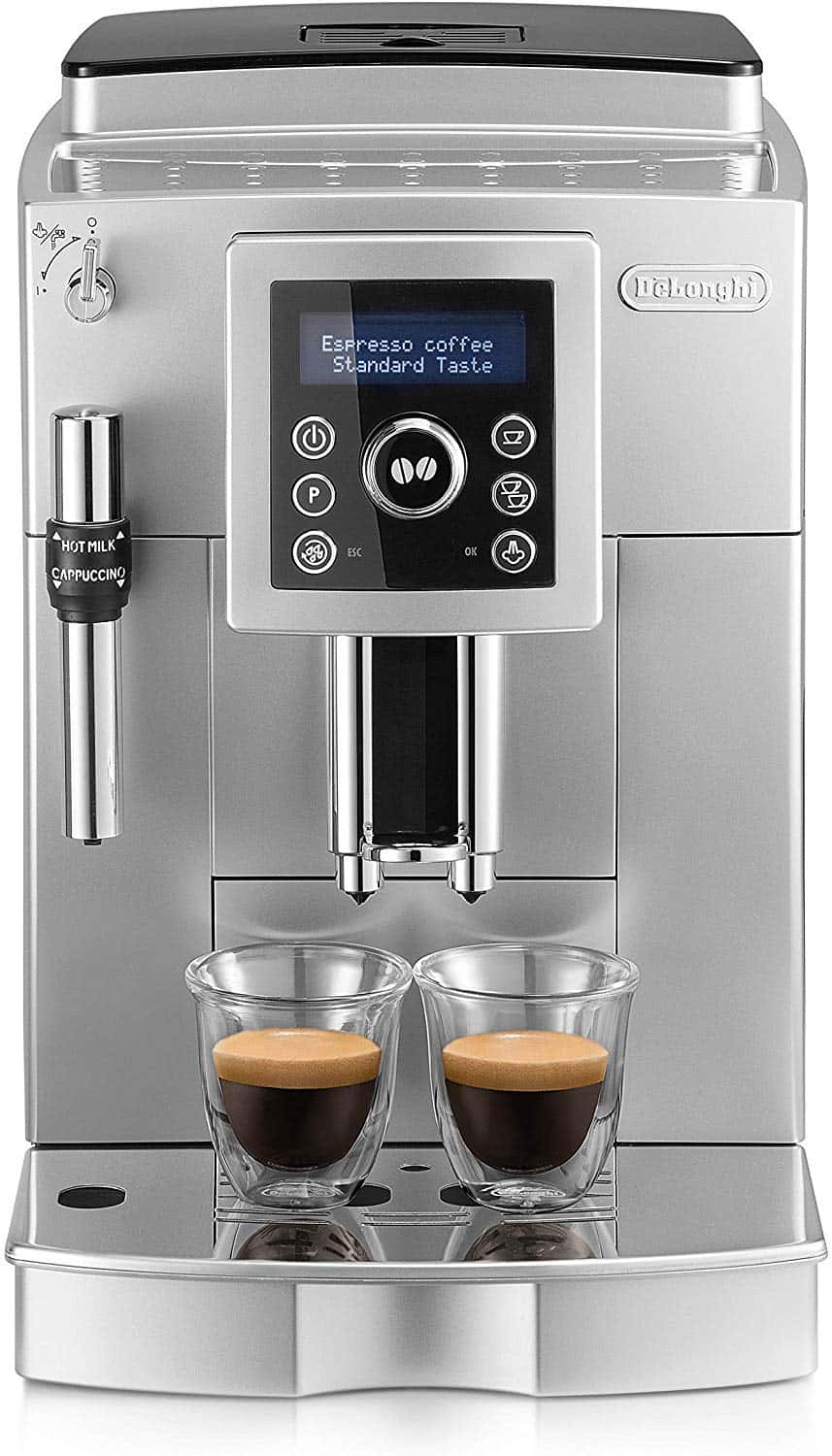 As a serious coffee drinker, I have to have a fresh cup ready at a moment's notice. Like many, I want the cafe bought quality, but going out to get it every time is both inconvenient and expensive. The next best thing is getting a coffee machine that will produce the same result. With so many to choose from, how do we know which one is the best?
In this review, I will be discussing one widely talked about product – the Delonghi ECAM23.420. It is a compact stainless steel bean-to-cup coffee machine, one of the most popular espresso machines by De'Longhi. Let's take a quick look at its unique features, pros and cons, and decide if it is worth the money.
Delonghi ECAM23.420 Review
At first glance, there are a few crucial features that make the Delonghi ECAM23.420 stand out from the rest.
DeLonghi ECAM 23.420 SB
Pressure:15 bar
Coffee Bean Container Capacity:150 g
Coffee Makers Features:Auto-Cappuccino system, adjustable grinding degree, removable water tank, removable drip tray, auto shut-off, aroma selector, adjustable steam emission, Thermoblock system, cup...
Last update on 2020-03-27 / Affiliate links / Images from Amazon Product Advertising API
Auto-Cappuccino System
The Delonghi ECAM 23.460 coffee maker has an integrated milk frother and an additional reservoir for storing fresh milk, a feature not found in other models of the same brand. With one push of a button, it will prepare milk mixed drinks for you, like cappuccinos, lattes, macchiatos, or regular coffee with normal milk.
Your next concern must be the hygiene of a milk reservoir. Trust me, the thought of having to clean it crossed my mind too. The auto-cappuccino system feature also comes with automatic milk circuit cleaning abilities.
I love the fact that it does all of the work for you. The Delonghi ECAM23.420 saves you from the trouble of manually preparing and cleaning it yourself.
Integrated Coffee Grinder
If you never brewed freshly ground coffee, you don't know what you're missing. The majority of coffee drinkers tend to use pre-ground coffee, but once you grind your own coffee beans, it's difficult to turn back. If you find out that it isn't your cup of tea (no pun intended), you can still achieve amazing results with already prepared ground coffee.
The silent integrated coffee grinder has up to 13 types of settings to get the personalized perfect brew. This is essential because a higher number of grind settings gives you more flexibility when choosing the fineness of your ground coffee. A grind that is too thick can result in a weak espresso, whereas a grind that is too fine will be more bitter.
Adjustable Water Hardness and Brewing Temperature
If you live in a hard water area, the Delonghi ECAM23.420 helps filter the water to reduce scaling. You can also brew with any temperature without worrying about burning your coffee.
Dump Box Capacity
The machine automatically deposits the used coffee grounds or pods into the dump box after extraction. The dump box capacity shows how many drinks you can create before it is full. As someone that already has a lot going on, it's nice to have one thing less to remember.
---
Delonghi ECAM23.420 Pros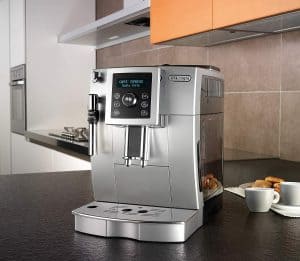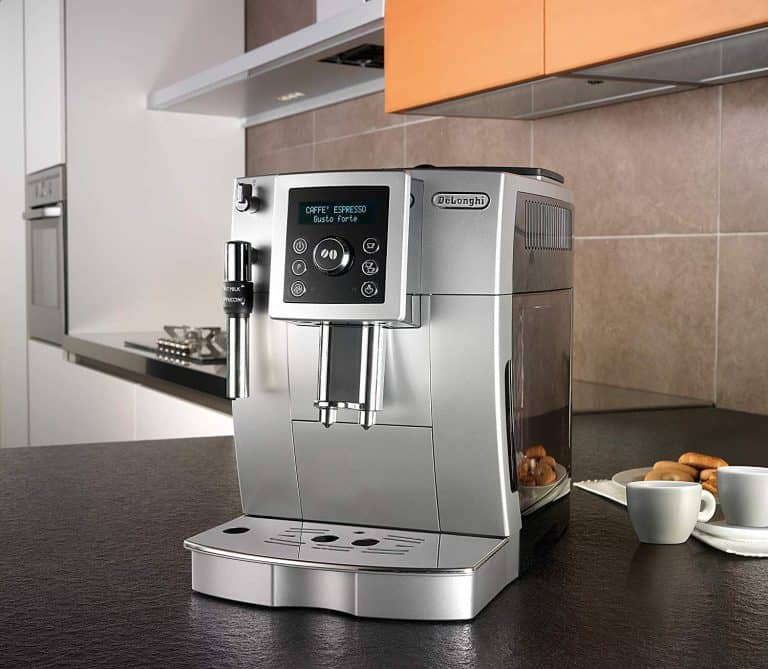 There are so many perks that come with this device. Here are some that reached the top of my list.
Easy To Use
If you know how to push a button, that is all you need to know when it comes using the Delonghi ECAM23.420. This feature is excellent, especially in the wee hours of the morning when you are barely awake. It's very user-friendly, and many of its features are hassle-free solutions, such as auto shut-off, sleep-mode, cup warmer, and the waste container full indicator.
Versatile
There are plenty of features adjustable to your needs. It allows you to select aroma, and have control over the grinding degree, steam emission, five different brew strengths, and more. Many of its components, like the water tank and drip tray, are easily accessible and removable for quick cleaning and maintenance.
Another thing I love about it is that you can prepare two cups of coffee with a single brewing. You can also use a variety of cup sizes – it has an adjustable cup clearance for taller cups or mugs for drinks like a latte macchiato. With the Delonghi ECAM23.420, there is no limit on how you prepare your ideal coffee beverage.
Easy To Maintain
The self-cleaning circuits are by far one of my favourite things about the Delonghi ECAM23.420. The automatic milk circuit cleaning and coffee circuit rinse make for minimum cleaning effort and will make a difference in anyone's busy life.
Indicators of the drip tray also alert you, so you don't have to remember to empty it, plus it's a quickly removable component. No one likes doing chores, which makes the Delonghi ECAM23.420 all the more appealing.
Up-to-Date Control Panel
The LED panel is trendy and more straightforward compared to its counterparts. There's the digital display of two lines where you can get a clear reading of the texts and functions for each action – available in many languages. It gives you information and updates on how your machine and the resulting brew is faring. You can also customize the settings for a default coffee setup and timer for those early groggy mornings.
---
Delonghi ECAM23.420 Cons
I had a hard time trying to find something wrong with it, but no machine is perfect. Some users have expressed their concern on a couple of things that could be better.
Expensive Refills
The quality of Delonghi ECAM23.420 does come with a price. While it does have a built-in filter, the refills need to be changed every couple of months, and users find it costly. I don't mind the expense; I believe that brewing with clean water is more important and is worth the upkeep.
Sensitive Knob
In the control panel, there is a knob that adjusts the size of the drink. If you're not careful when turning it, you can easily skip a couple of levels. It takes some getting used to, but it's easily resolved.
---
Verdict
Bottom line, the Delonghi ECAM23.420 is an excellent machine for any coffee lover. Customers have expressed overall satisfaction in the coffee-making process and taste. When you compare its price and the quality it offers, I believe it is worth every penny.