Who doesn't love a fresh cup of coffee in the morning? It can be a real pain dragging yourself to your nearest cafe just to get that sweet brew. And sometimes instant coffee at home just doesn't do the job.
Luckily for you, the DeLonghi KG79 Coffee Grinder may be the answer to your coffee dilemma. It has different settings for grinding coffee beans, so you'll be able to perfect your barista skills. Plus, you can make up to twelve cups at once. You can never have too much coffee, right?
Don't waste time and money going to coffee shops, and don't settle for a mediocre coffee, either! Get the perfect cup of coffee in the comfort of your own home, made to your taste.
I'm going to walk you through some of the key features that this professional coffee machine offers.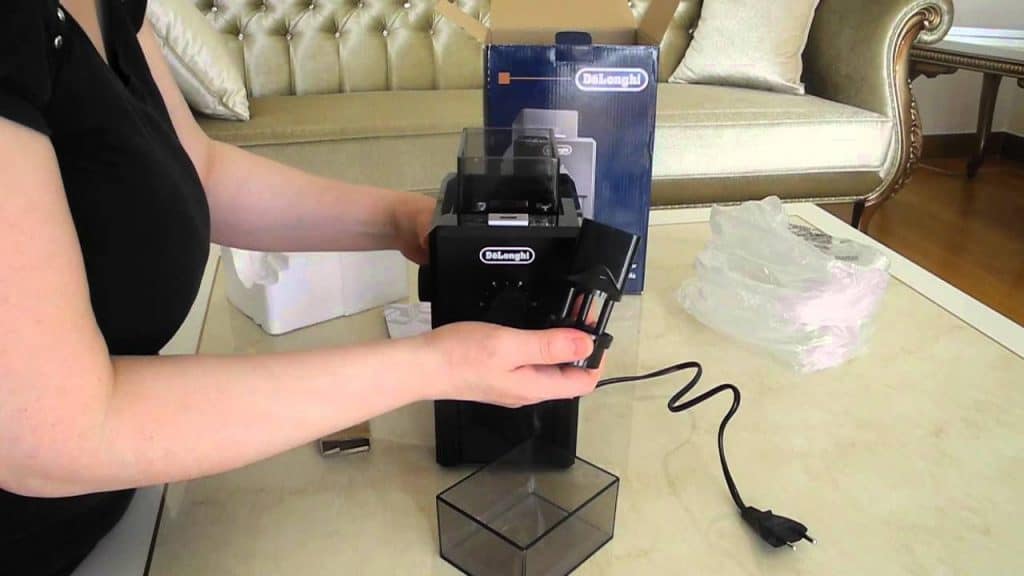 This coffee machine is an excellent purchase for you or any coffee lovers in your life.
Great Design
Last update on 2021-01-12 / Affiliate links / Images from Amazon Product Advertising API
The small and sleek shape of the DeLonghi Coffee Grinder fits snugly in any kitchen. The colour is modern, and it won't be a huge eyesore. It has built-in cord storage, as well. You won't struggle to store it away neatly or worry about the cord getting damaged.
It's compact and can go pretty much anywhere with you. Its small size means you could even take it to work. It can sit on your desk or in your staff kitchen. Your colleagues will be jealous!
Different Grind and Cup Settings
Got company? Wow them with a tasty brewed coffee. The different grind settings on the DeLonghi Coffee Grinder let you find a blend to suit everyone's taste. You can place 120g of coffee beans in the machine, and make up to twelve cups. Just select how many cups you want to make, and the device will grind the right amount automatically.
Everyone can get their caffeine fix without waiting. Your friends and family will think you're an expert coffee maker when really, it's just a straightforward machine!
Quiet and Long-Lasting Grind Wheels
The grinding wheels are built to last. Instead of just one wheel, the DeLonghi Coffee Grinder has two. This means that the grinder will never overheat, or fail to ground beans correctly. You'll have the right consistency every time.
According to some users, the machine is relatively quiet, as well. It's a great way to get freshly ground coffee without waking up everyone in the house. This is perfect for weekends when everyone wants to lie in, but you find yourself up at the crack of dawn.
Easy to Clean
Coffee grinders are notoriously hard to clean. The DeLonghi Coffee Grinder makes this less of a chore. The upper grinding wheel can be removed easily for cleaning, so no stale coffee beans are stuck to it. The powder compartment is transparent and can also be removed with no hassle.
Clean it as many times as you want, especially if you plan on using it all the time. Most buyers have said they didn't need to clean it often, which I like the idea of. The material lets you wipe away any old coffee residue pretty easily.
Pros
If you're still on the fence about the DeLonghi Coffee Grinder, here are some advantages of buying this machine.
Easy-to-use
You don't need to assemble it or be a barista to use the machine. It has two notches for adjusting the grind setting and how many cups you want to make. The grinder takes care of the rest.
Affordable
Most coffee grinders are quite pricey, and this puts people off buying one. Luckily, the De'Longhi KG79 is a reasonable price for the quality and features that it offers.
Lightweight and Small
You probably don't want a big industrial coffee machine in your kitchen. The size and weight of this coffee grinder make it perfect for even small kitchens. I like how it can easily fit into any space you have free.
Transparent Powder and Bean Compartments
You don't need to guess how well ground your coffee beans are. You can take a look inside the compartment and grind it further if you need to. Same goes for the coffee beans. You'll know when you're running low and need to refill. I, for one, don't like to find that mid-grind there are no beans left.
Cons
Even the best coffee grinder can have a few flaws. I want to make sure you're entirely happy with the product, so here are a couple of negative aspects of the device. This way, you can decide if it's the right purchase for you.
Doesn't Come With a Cleaning Brush
This might be an issue if you want to clean the inside of the machine, but the wheels and compartments are removable. You can always purchase a brush afterwards if you're not satisfied with cleaning the parts separately.
Might Be Too Simple
There are no fancy settings or options on the De'Longhi KG79 Coffee Grinder. It's quick and easy to use but may not have the choices that some coffee lovers are after. I think that if you want a simple product that does the job, this a great option.
Conclusion
So there you have it. If you didn't know much about the DeLonghi KG79 Coffee Grinder before reading this, you sure do now. It's a simple solution to every coffee addict's dilemma. No more rushing to the coffee shop before work, or settling for watery, instant coffee at home.
As I've mentioned, this coffee grinder can make several cups at once, and grind beans to your taste. Plus, you can store it away whenever it isn't used. Although, I doubt that'll be the case. What more could you want from a coffee machine?
It's the ideal Christmas gift for your loved ones. Or just treat yourself and say goodbye to bad coffees forever.
Last update on 2021-01-12 / Affiliate links / Images from Amazon Product Advertising API