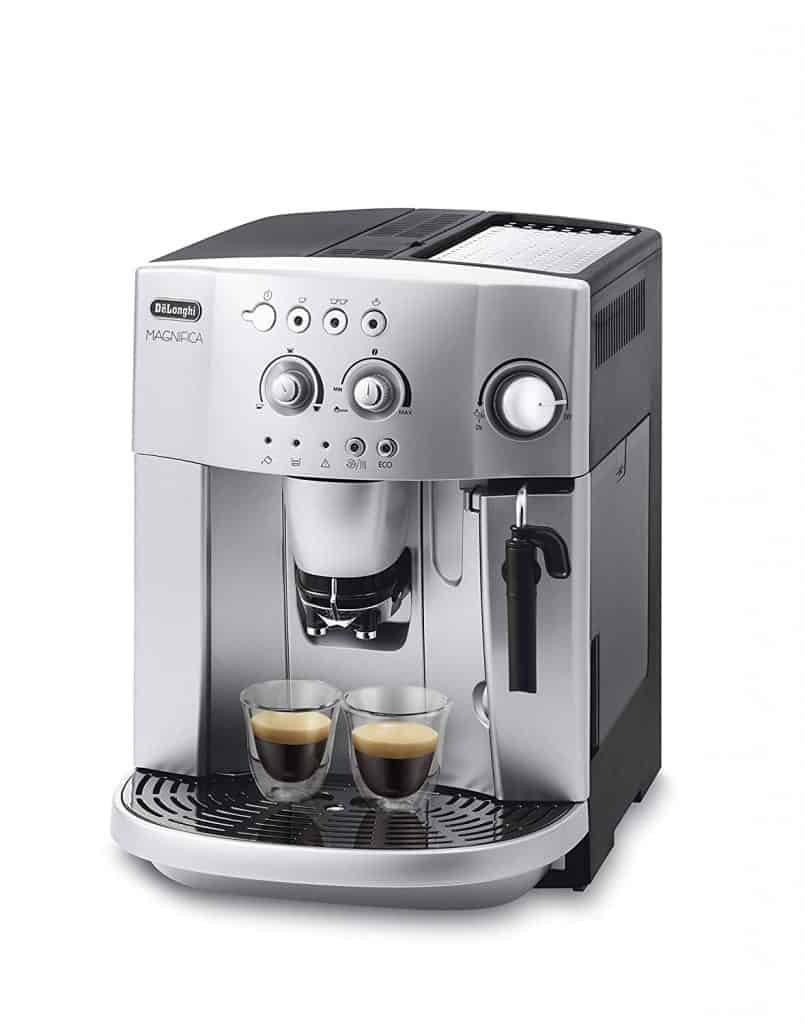 Brits are big coffee drinkers, and the majority of them prefer to drink it at home, most of the time. The problem is that instant coffee doesn't taste anywhere near as good as the java made in a machine. It's nothing like the fresh product in the cafes, has led to  more and more people buying coffee making machines for their kitchens at home.
Is the Delonghi Magnifica the right coffee machine for you?
Today I'm going to be taking a closer look at the cappuccino/espresso making machine, the Delonghi Magnifica (ESAM 4200.S). I'm going to see how well it performs and if it's worth the money. I'm also going to see what customers have said about the product to give me an idea of how popular it is and if they liked it.
It has a stylish design and a lot of premium features. The machine simplifies making an espresso or cappuccino with just the click of a few buttons. It will definitely speed up your coffee making in the morning and improve the quality of your favorite drink.
I'm starting by looking at a few of the most important features this machine has that might make you choose it over the competition.
Sale
De'Longhi Magnifica, Automatic Bean to Cup Coffee Machine, Espresso, Cappuccino, ESAM 4200.S, Silver
INTEGRATED GRINDER: Includes an integrated Coffee burr grinder with 7 adjustable coarseness levels; the beans are ground instantly for fuller flavour and a fresher cup of Coffee
MILK FROTHER: Be your own barista and prepare your idealy Cappuccino with the adjustable MILK FROTHER - warm-up milk or easily prepare a creamy and dense foam
CUSTOMISE Coffee: Make all your Coffee shop favourite drinks with the Magnifica ESAM 4200; whether you like a strong espresso or long frothy cappuccino, this machine will deliver the ideal drink
Last update on 2021-01-12 / Affiliate links / Images from Amazon Product Advertising API
Incorporated Quiet Grinder
First off, having a grinder built into the machine is a must for the coffee connoisseur. Whole beans make it taste beautifully fresh, just like the versions brewed by your local barista.
There are seven different grinding settings so that you can adjust the coarseness of your grinds to suit your personal preference.
It's also very quiet so you won't wake up the whole family when you are up early and want your morning cuppa. You can still hear the grinding process, but it is reduced to a quiet hum.
You Can Make Two Cups at the Same Time
For me, this is a great feature. There are so many machines that only allow you to make one cup at a time. This can be frustrating when you want to get moving quickly in the morning or have friends over for dinner. If there are a lot of you, brewing them one at a time is going to entail a frustratingly long wait.
Make Any Kind of Coffee
There's a built-in milk tank for those who love cappuccinos, lattes, and macchiatos. Every day you can enjoy something different, so you don't need to drink the same drab mericano coffee that so many machines pump out.
I like that it's simple to program the size of your cup, the strength of your coffee, and also the temperature you prefer. It's easy to customize your coffee to your personal taste and make it as piping hot as you wish.
Cup Warmer
One of my pet peeves is being distracted and forgetting about my coffee for a few minutes, so it's cold when I get round to drinking it. The machine comes with an integrated cup warmer, so before the coffee gets poured, the cup is already hot. This makes it much less likely to go cold over a short period of time, so you can still enjoy a hot cup of coffee.
Pros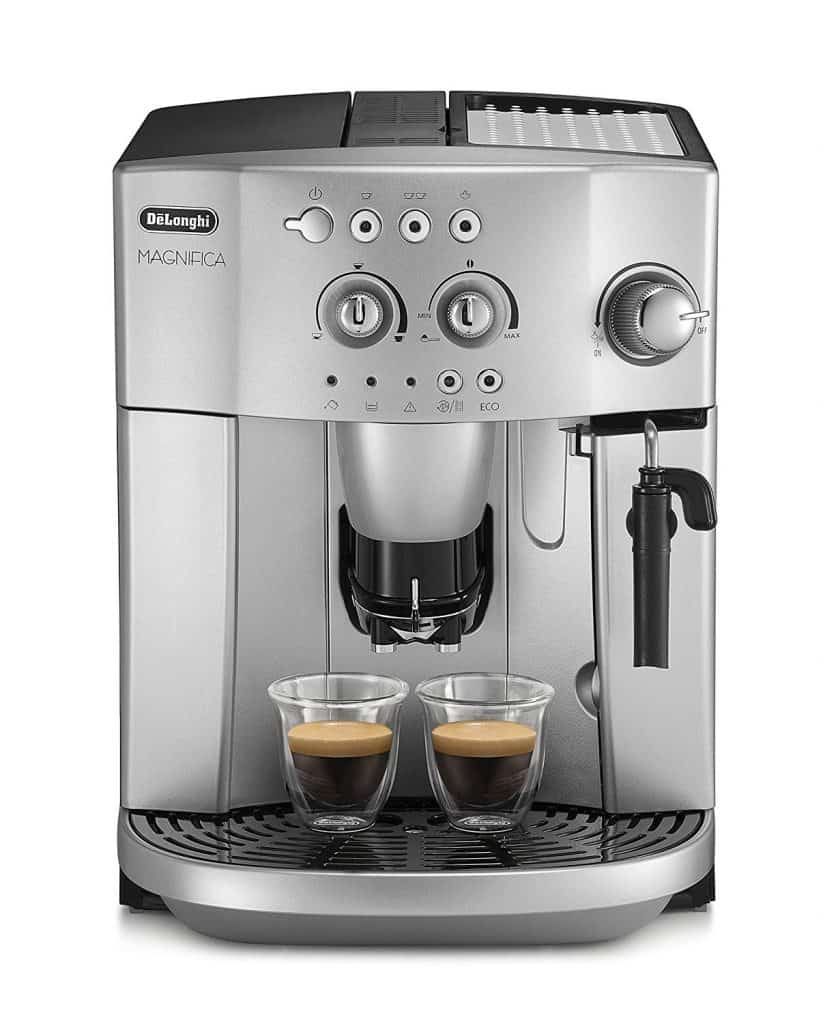 There's quite a lot I liked about this machine. Here are my top four pros to help you make a decision.
The Price
If you research the market, you will find that this one is very well priced. It's perfect for families and won't break the bank. For what the machine can do, I think it's very affordable.
Versatility
One of my favourite aspects is how much you can do with the machine. You can make all the different varieties of coffee, select the size, temperature, and also even select how fine you want the beans ground. It does the lot!
Two Cups at Once
This is another great feature, and it makes mornings so much faster and more convenient. Being able to put two cups under the drips and let them fill up while I do something else is a big bonus at the beginning of a hectic work-day
Removable Milk Carafe
I like this because it means you don't waste any milk. You can remove it and keep the milk in the fridge until you need it. You will not have to endure soured milk and the inevitable clean-up required.
Cons
It's tough to come up with negatives, but here's a couple.
Not for Larger Mugs
I do enjoy a big hit of coffee now and again, but you can't achieve that with this machine. Yes, you can select the size, but for those who like to indulge in a huge mug, there is no option for you.
Drip Pan Fills Too Fast
One of the hazards of leaving the machine to make your coffee while you do something else is that the drip pans beneath the cups tend to fill very quickly. It's a good idea to empty these after each use, so there are no annoying spillages.
Conclusion
Overall, this is an excellent little machine that'll do the jobs it claims. You can make two cups at once, grind quietly, and change the settings to make the type of coffee you prefer, just how you like it. The price is also very reasonable for what it does.
Customers were very pleased as a whole and said it was straightforward to understand, too. I think this is a perfect choice for any coffee lover who wants a hassle-free, quality cup of coffee in just a few minutes.