Using a coffee tamper allows you to compress your coffee grounds before making your espresso. This means that you pack the coffee grounds evenly for a better quality shot. A more tightly packed coffee basket means that the water has to force its way through the coffee, getting more flavour from the coffee beans.
Top 5 Best Coffee Tampers in the UK Review

The Vicloon tamper is a 51mm, stainless steel coffee press. It comes with a stylish mirror finish and a mat to stand it on when not in use. It was rated well by many users.
Features
The fact that this tamper is made from stainless steel with a smooth finish makes it particularly easy to clean. It comes with a ridged silicone mat that perfectly fits your coffee tamper. This is great to store your press when it's not in use, and it won't slip off of the mat. It is an entirely flat press to really pack the coffee grounds together well.
Pros
Easy to clean
Comes with a storage mat
Heavyweight to produce a more even tamp
Cons
Screws together, easy to lose parts
Some users suggested that it wasn't made of stainless steel but is chrome plated
Customer Sentiments
A few users commented on the fast delivery service. They liked the weight of the press because of the good tamp it produced. Some reviewers mentioned the fact that the tamper arrived in two parts, and is then screwed together. Most users seemed very happy with the quality of espresso and the large amount of crema produced with the Vicloon tamper.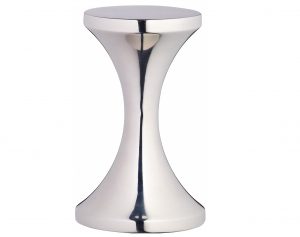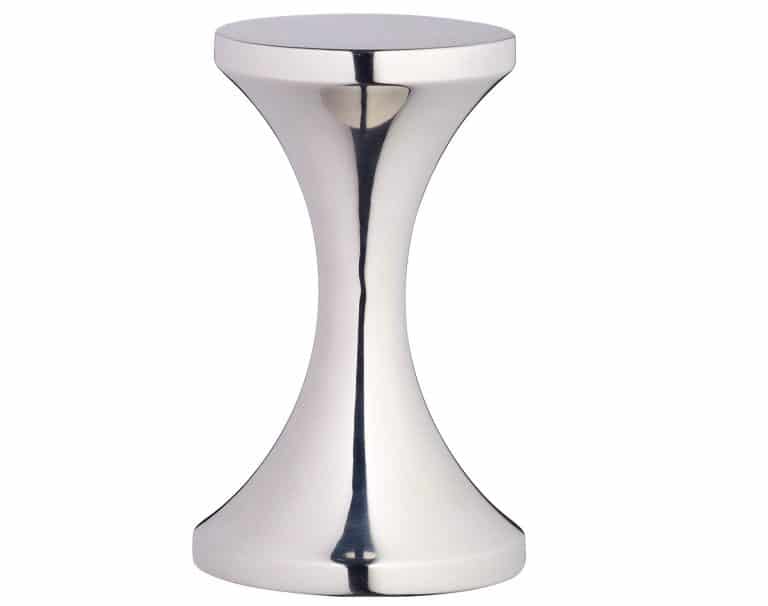 There are two size options for this tamper, either 52 or 58mm, and both are in stainless steel. The tamper is double-sided, allowing you to use both ends for pressing the coffee. KitchenCraft says that these tampers are built to last, and have a stylish finish.
Features
A double-ended tamper which allows you to utilise both ends. The stainless steel finish makes this tamper both rust-resistant and dishwasher safe. The tamper also comes with a 12-month manufacturers' guarantee. Reviewers indicated that each end of the tamper was a different size, working better depending on which coffee machine you have.
Pros
Comes in various sizes to fit your machine
Rust resistant
Dishwasher safe
Comes with 12month guarantee
Cons
Some users stated that the sizing advertised was incorrect and that either end of the tamper was respectively too big or too small
One end is rounded and therefore is more like a handle than another end of the tamper
Customer Sentiments
Customers were disappointed in the incorrect sizing advertised for this press. They liked the stylish finish of the tamper. Most users agreed that this was a well-priced tamper and good value for money. Again reviewers commented that the tamper had a good weight and therefore produced a well-packed press.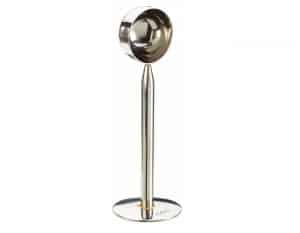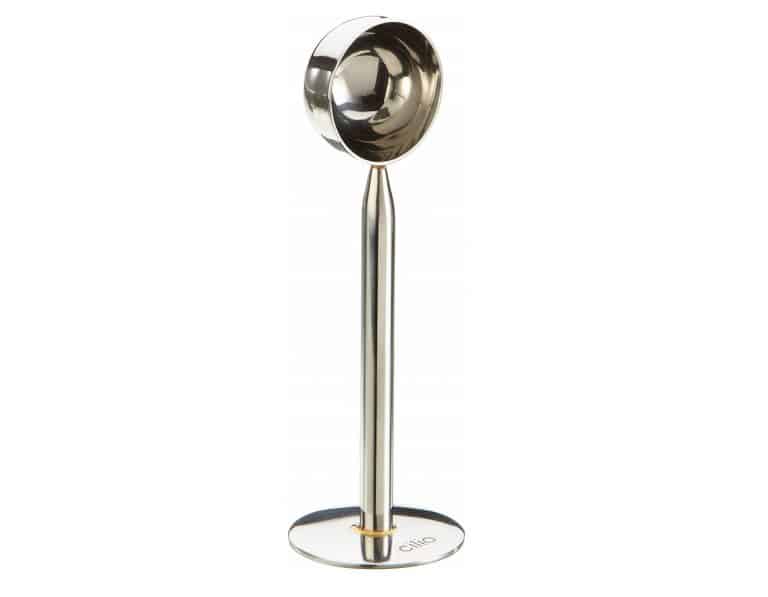 Again in stainless steel, this is a double-ended device with a tamper at one end and a measuring spoon for your coffee grounds at the other. People appreciated this product as a replacement for a similar plastic device that usually comes with coffee machines.
Features
The double-ended design allows this to be used as both an espresso tamper and a measuring spoon. The polished, stainless steel is a more stylish alternative to the plastic version of the same product. Again, a nice weight to allow for a decent tamper.
Pros
Espresso tamper and measuring spoon in one
Weight allows for a well-pressed stamp
Stainless steel makes it easy to clean
Cheapest product on the list
Cons
Measuring spoon is slightly smaller than a standard coffee scoop
More practical and less stylish than the previous two products
Dual function means that it is less weighty and smaller so won't be quite as efficient when pressing the coffee grounds
Customer Sentiments
Customers gave very straightforward reviews in regards to this product. They didn't have either high praise or anything particularly negative to say. The overall feeling was that the product does the job it was designed for and was definitely a better option to the plastic devices that most people received with their coffee machines.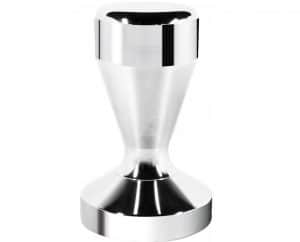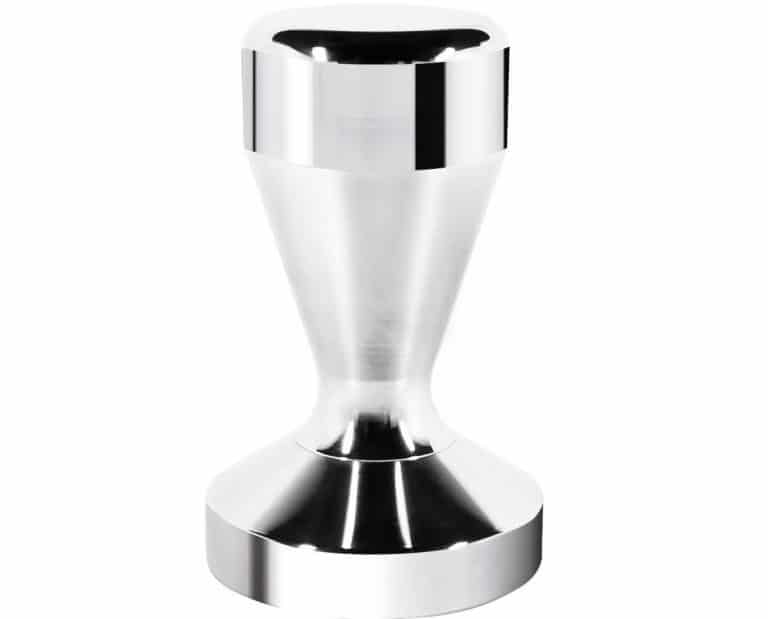 This coffee tamper is the same size as the first product, with a 51mm diameter. It is again made of stainless steel, making it easy to clean. It doesn't have the same quality in design as the first two products, looking more functional than fashionable.
Features
This particular tamper is made to have a convenient grip on its handle. The flat base made from stainless steel is designed to distribute the pressure well and produce an even press. It is a more affordable option in comparison to the first two products.
Pros
Handle designed to be easy-grip
More affordable than previous products
Good weight and fits well in most coffee machines
Cons
Again one reviewer said that this wasn't stainless steel, but chrome-plated soft steel
Not as stylish as the previous options
Customer Sentiments
Most customers were very positive about this item. Again, it seemed to do the job well. Users liked the weight of the tamper, which assured a very even coffee press. People also stated that this coffee tamper actually did have a pleasing look to it when stood next to the coffee machine.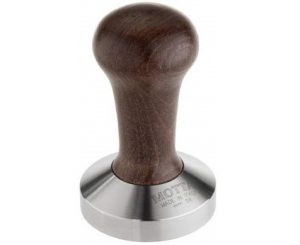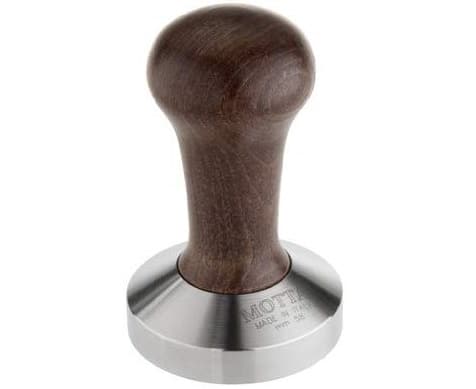 This is a slightly larger coffee tamper at 58mm. It is again a 2-part tamper that requires you to screw the handle and the base together when it arrives. It is a different style to all of the others, with the wooden handle giving it a more traditional look. If you have a more rustic kitchen and you want to match the aesthetic, then this may be the tamper you would choose.
Features
The wooden handle fits comfortably in the hand, allowing you to get a good grip. The combination of the wooden handle with the metal base gives a good weight to the product, allowing for an even press. People particularly like the look of this tamper. However, it is the most expensive of all the products on this list.
Pros
Wooden handle for a more traditional aesthetic
Fits comfortably in the hand and allows for good grip
Has a good weight to it and is excellent quality
Cons
Most expensive item listed
Has multiple parts which may get lost
Isn't dishwasher safe
Customer Sentiments
Customers particularly liked the wooden handle on this product as it was comfortable to use, but also looked stylish in their kitchens. Although this was the most expensive option, users did say that it was good value for money as they felt that they had received an excellent quality product.
Coffee Tampers: Buying Guide
There isn't too much variation when buying a coffee tamper, so it is mainly on personal choice. However, the main thing you do need to check is what size fits best for your coffee machine. You will need to measure the size of the basket where the coffee grounds are placed. Also, read the reviews for products you are looking at to make sure reviewers said it was true to size.
The other main difference is in the style of the product. It's up to you whether you would prefer to go for form or function, but both are available to you depending on your budget. Most products seem to come in stainless steel. This means that they will match most coffee machines, but are also machine-safe and easy to clean. Depending on your preference, I also found various tampers available with wooden, plastic, or silicone handles.
When buying a coffee tamper, the primary purpose is that it gives a tight, even press. This seems to rely on the weight of the tamper. Again, it can be a good idea to check the reviews to see what other users thought of the quality. This will give you an idea of the quality of the product and whether it's going to do the job.
Verdict
Overall, I would say that the DLAND coffee tamper machine is the best option on this list. It is a more affordable option than the other three solely tamper devices. While the Clio espresso stamp may have been the cheapest option, the fact that it is dual-purpose makes it less effective as a tamper, due to it having less weight.
While the DLAND is designed more for purpose than for its aesthetic, customers still appreciated the stainless steel finish. Most users seemed happy to leave it out on display. It seemed to have the most positive reviews concerning it being the right size for people's machines. Lots of reviewers agreed that it was a high-quality product and excellent value for money.