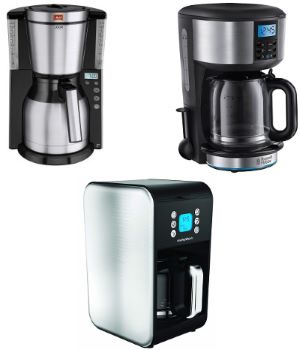 If you enjoy having a delicious cup of coffee in the morning, you'll likely want a quality coffee machine that you can easily use at home. You can also use many of the newer coffee machines on the market in an office setting to provide your colleagues with coffee beverages they can customise during the workday.
You may also be looking for a coffee machine that will keep your beverage warm for an extended period so you can enjoy coffee all throughout the day. If you're searching for the best filter coffee machine, there are several products to choose from. Some of the top ones include machines from Melitta, Russell Hobbs and Morphy Richards.
With these machines, you can avoid having to go to the coffee shop each morning, which can save you a considerable amount of time and money. These filter coffee makers have innovative features to help you prepare your coffee to your liking.
Top Rated Filter Coffee Machines 2020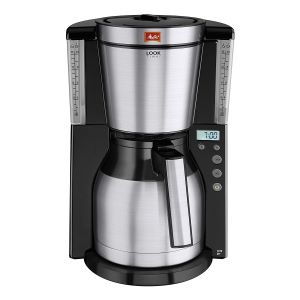 The Melitta Look IV is a quality coffee maker that has an insulated mug to keep your coffee warm for longer after you've brewed it. The machine is great for large families and office breakrooms since you can easily make 15 small cups of coffee or 10 large cups.
Since the machine isn't terribly large, it will conveniently fit on the kitchen cabinet without taking too much space. However, the machine is also visually appealing and will make a great addition to your design scheme. The Melitta Look IV also makes it easy to prepare a tasty cup of mild or strong coffee, since the timer feature will let you know when the coffee has finished brewing.
The coffee maker also has attractive stainless steel panelling, which means it matches with any kitchen décor. You'll also be able to take advantage of the calcification display so you'll know if water or coffee is settling in different parts of the machine. The filter is dishwasher safe for your convenience and the machine has an auto-off feature, which is helpful for ensuring that the coffee maker doesn't overheat.
Melitta Look IV Pros and Cons
The Melitta has several great features that you'll want to take advantage of, including:
The anti-drip filter for mess-free coffee preparation
A jug that is easy to handle with one hand
Jug lid for easy storage
A heating feature that keeps coffee hot for up to two hours
The ability to make coffee without the filter
There are some things to watch out for if you're considering the Melitta Look IV as well. For instance, the coffee may not be piping hot minutes after preparation, but the stainless steel will ensure the coffee stays fresh for a considerable period. Be sure the lid on the jug is secure before you pour coffee since it can drip from the top if the lid is not in place.
Keeping the Melitta coffeemaker clean regularly and rinsing the jug after use will keep it working properly.
[mellitaLookIVTable]
---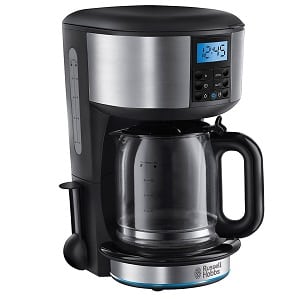 The Russell Hobbs 20680 Buckingham coffee maker features showerhead technology to ensure that the most flavour is extracted from the coffee beans. This gives you a rich, bold coffee if you prefer, or you can add fewer beans to the brew for a milder cup.
You won't have to buy paper filters for this coffee machine since the Russell Hobbs 20680 has a permanent filter that you can remove and wash. However, you still have the option of using paper filters if you prefer.
The Russell Hobbs 20680 Buckingham allows you to make up to 10 cups of coffee at one time and the carafe is 1.25 litres. You can also programme the machine to make 1-3 cups if you're not preparing coffee for a crowd. The coffee maker has a water level indicator so you'll make the perfect cup each time, along with auto-clean, pour and pause features that keep the machine looking and functioning at its best.
You can easily wipe the machine clean with a damp cloth to keep it in pristine condition. When your coffee is finished brewing, you'll see a blue indicator light at the base of the machine; the light also means that the coffee maker is keeping your beverage warm.
The Buckingham series of coffee machines from Russell Hobbs is designed to make coffee 50 % faster and the technology allows the coffee to reach its maximum temperature, so you won't have to wait as long for coffee when you're on the go.
Russell Hobbs 20680 Buckingham Pros and Cons
The machine heats your coffee faster than previous models
The coffee maker has a keep-warm feature so you'll never get a cup of cold coffee
You can pause and pour using these features on the carafe
The machine is easy to clean and use
Keep in mind that most of the components of the coffee machine are made of plastic, which may be of importance to you depending on the aesthetic appeal you want. It's also best to keep the coffeemaker from other heat sources to prevent damage. The non-drip function may drip once or twice, but the drip is not significant enough to cause stains on the hot plate.
[russHobbsBuckTable]
---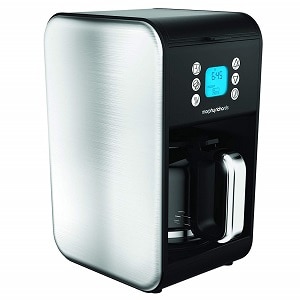 The Morphy Richards 162010 is an aesthetically pleasing coffee machine that makes 1.8 litres of coffee and you can programme it so you'll wake up each morning to coffee prepared just the way you like it. The programming feature also means you can use the coffeemaker as an alarm.
You can also pour your coffee over a showerhead feature that is positioned over the jug to intensify the flavour of the coffee. If you prefer a smoother cup of coffee, you can utilise the reusable cupcake filter to ensure your coffee has the right consistency.
Morphy Richards 162010 Pour Over Filter Coffee Maker Pros and Cons
Pros of purchasing the Morphy Richards 162010 Coffee Maker include:
Selectors to customise coffee strength
A shower spray that makes a huge difference in the flavour of the coffee
Easy filling feature
Bean strength is adjustable with the push of a button
A keep-warm function that works for 25 minutes
The machine doesn't keep the coffee especially hot when it's in standby mode, so you'll need to monitor the coffee maker in between drinking your beverage to make sure the coffee isn't over-prepared or bitter. Pay special attention to the waterline mark on the pitcher to ensure you're not pouring too much or too little water into the jug before brewing the coffee. If you plan on using the machine every day, the coffee may take a few minutes longer to warm after a few months, but you can likely remedy this with a call to the manufacturer.
[morphRich162010Table]
---
Best Filter Coffee Machine: A Complete Buyer's Guide
All of these coffee machines are ideal if you want a reliable coffeemaker that you can use for a few years without having to worry about any major issues. All the machines have a warmer feature of some sort, but the Morphy Richards may be the best choice if you want to keep your coffee warm for long periods. If you like the visual appeal of knowing your coffee is being kept warm, the blue light on the Melitta machine is the way to go.
When it comes to automatic features, the Russell Hobbs machine stands out since it will turn off and on as you need it and will pour and stop according to your settings so you'll get the exact amount of coffee you want each time. Russell Hobbs coffee makers are ideal for daily use, even if you brew coffee three or four times a day. The displays on all three coffee machines are easy to see, so you'll know how long it will take to prepare your coffee and how long it will stay warm.
These filter coffee machines are budget-friendly for the most part, particularly if you're not looking to spend hundreds of pounds on a coffeemaker. The Morphy Richards is often the most affordable option and is often the most striking machine of the three since it has a modern, square shape that stands out on kitchen cabinets. All of the coffeemakers have stainless steel features, which means they will coordinate well with all colours of kitchen décor. Keeping up with all manufacturer information is recommended for each item, so you can contact the creators of the product if you run into any issues or have questions about the coffeemaker features.
Best Filter Coffee Machine: Final Thoughts
There are a few great options on the market when you're looking for a filter coffee machine. Finding the right machine for you is a matter of your style and preference, and whether you want to make huge batches of coffee at one time or only need a cup or two at a time.
If you like to plan ahead or you're multi-tasking while your coffee is brewing, you'll enjoy the timer features on the machines to avoid making bitter or acidic beverages. These coffee machines allow you to make coffee according to the temperature and strength you prefer, so you'll definitely be even more excited to make a fresh brew in the morning.