Looking for the best bean to cup coffee maker within your budget?
Caffeine and drinks that contain it are beloved for various reasons, depending on who you ask. The college student frantically studying at the last moment will tell you that they love coffee for its stimulant effects. On the other hand, the afternoon just wouldn't be the same without a piping hot cup of tea.
However, I'm going to be focusing on coffee today, which is admittedly not as popular in the UK as it is in the US and Canada. However, people do tend to grow curious, and that very curiosity is seen as the driving force behind the rising number of coffee drinkers in Britain.
Of course, if you're going to drink coffee, you're going to need to prepare it in the first place, and buying a cup from your neighbourhood cafe can quickly grow costly. There are many different types of coffee machines on the market, but I'm going to be searching for the best bean to cup coffee machine in today's buying guide.
The bean to cup coffee machine is seen by many coffee drinkers as the pinnacle of what you can reasonably fit in your home so that you can prepare coffee. Short of a commercial-style espresso machine, there aren't many types of coffee machines that can hope to compete with a quality bean to cup coffee maker.
Of course, "reliable" is the key term in that sentence, and you'll want to be sure that you're getting the best bean to cup coffee machine around, especially since they tend to be rather pricey. However, let's move on to our reviews so that you can see what to expect from these machines first-hand.
Top Rated Bean To Cup Coffee Machines 2020
---
Specifications
Works with beans and ground coffee for maximum versatility
Features a memory feature that remembers your preferred milk and coffee volume
Automatically rinses and descales for enhanced user-friendliness
Capable of automatically preparing cappuccinos and lattes
Burr grinder features 13 different settings
Features a digital display
15 bar pump ensures reliable extraction
Overview
De'Longhi has come up with an impressive machine in the Eletta ECAM 44.660.B, making for one of the best bean to cup coffee makers that I have ever seen. As you would expect, this coffee machine comes with an equally imposing price tag, but if you have the budget, this model is worth your money.
First off, this machine is more versatile than other bean to cup coffee makers as you can use both coffee beans and grounds with it. While grinding fresh coffee beans is preferable, there may be situations where you only have ground coffee available, but that won't be a problem with this appliance.
The versatility doesn't end there, as this coffee machine is designed to make a wide range of different coffee types. For example, you can make a single or double espresso, a ristretto, lattes, cappuccinos, and much more. The wide variety of drinks that you can prepare is due to the inclusion of an automatic milk frother.
The frother on this machine features a unique design in which it is attached directly to a jug that can then pour it right into your coffee. This eliminates the potential for messes that is unique to wand-style frothers, and it also means that you can place your milk in the fridge until it's ready to be frothed.
Read More: Delonghi ECAM 44.660.B bean to cup coffee machine review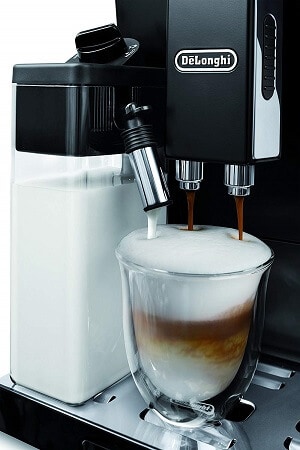 This is a relatively large coffee maker, so you may end up having to make some space for it on your countertop. However, the large size of this machine has its benefits, as this coffee maker features a bean container with a capacity of 400 grams and a water tank with a volume of two litres.
When it comes to actually making the coffee, this machine allows you to personalise a variety of variables so that you can have the ideal brew for your tastes. For example, you can precisely adjust the size of your coffee, alter the strength, and even adjust the length, making for a coffee that is truly yours.
The use of a 15 bar pump means that extraction is always reliable and the coffee from this machine features a full and nuanced flavour profile that makes the most of your beans. I would recommend using high-quality beans with this coffee maker so that you can experience the full benefits of the thorough extraction process.
This machine is also rather easy to use, with a digital display and clearly labelled controls. The fully automatic cleaning, descaling, and rinsing programs also ensure that this coffee maker is relatively simple to maintain.
In the end, this model from De'Longhi is the best bean to cup coffee machine for those who have the budget.
[ecam44660bTable]
---
Specifications
15 bar pump makes for a capable and reliable machine
Can be used with coffee beans and coffee grounds
Comes equipped with a frothing arm for a greater variety of possible coffees
Dual-boiler helps reduce warm-up time and improves reliability
The double nozzle allows for the preparation of two drinks at once
Adjustable length and strength for coffees
Overview
While bean to cup coffee machines tend to be more expensive than other kinds of coffee makers, there are some models which feature a more reasonable price point. While the De'Longhi Magnifica ESAM 4200.S is still quite a bit more expensive than your average coffee machine, it is far cheaper than other bean to cup models.
Of course, when the price goes down, the first thing you'll want to take a look at is the build quality of the machine, as many affordable bean to cup models have a poor track record. Thankfully, this coffee machine is as reliable as any De'Longhi model, and it upholds the company's excellent reputation.
This affordable bean to cup coffee machine even comes equipped with everything that you would expect to find on a coffee maker of this style. For example, this De'Longhi coffee machine comes equipped with a milk frothing arm that significantly increases the number of coffee types that you can prepare.
Another feature that is commonly seen on high-end coffee makers is the dual-nozzle design, which allows you to prepare two coffees at once. Other features that make this model more convenient include the removable drip tray and brewer, making it far simpler to clean out this coffee maker.
This stainless steel machine is controlled by a smattering of buttons and dials that are located in the usual spot, right above the nozzles. All of the controls are durable and reliable, ensuring that you won't have to deal with broken knobs or stuck buttons, and they are labelled so that even beginners can use this machine.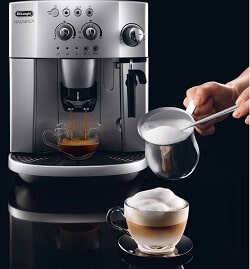 Equipped with dual boilers, this coffee machine will also warm up faster than most other bean to cup models in the same price range. Since the work is distributed between the two boilers, this setup will also be more reliable than a unit that is equipped with a single boiler.
This model also features one-touch functionality for espressos, ristrettos, and long coffees, giving you options for when you don't want to put the work into making something more complicated. De'Longhi estimates that you'll end up paying around 15 pence per cup, provided you use milk.
You even get a two-year guarantee that this machine will have no faults in its operation. If you're looking to save money, but you can't resist the appeal of a bean to cup machine, then this is the model for you.
[esam4200sTable]
---
Specifications
Prepares both espresso and Americano coffee styles
Aroma-extraction-system helps improve the flavour profile of your coffee
A choice of three settings for your coffee's strength
Features a frothing arm for enhanced versatility
Machine can be cleaned and descaled automatically
Cup size ranging from 30 to 220 ml
Compatible with the Melitta Companion App
Overview
Melitta's Solo & Milk bean to cup coffee machine is another affordable model that features excellent build quality and provides you with excellent value for your money. While this coffee machine may not come with a vast array of additional features, it is both user-friendly and surprisingly compact, making it an excellent first-time bean to cup coffee maker.
This coffee machine's monolithic facade isn't cluttered up with a wide range of buttons and knobs that seem like they're designed to bewilder you. Instead, you have a row of three buttons, two dials, and a power switch, and these provide you with all of the controls that you need to adjust your coffee.
The three buttons on this machine are used to toggle between single and double, choose between steam and hot water for the frother, and to adjust the coffee strength. One of the knobs is used to control cup size, and the other is used to operate the frother. All of this makes for one of the most user-friendly appliances around.
You can even use this machine in tandem with the Melitta Companion App, which will provide you with preparation tips and more. Maintaining this machine won't be the source of too many problems either, thanks to the automatic cleaning and descaling programs that keep this model in top shape.
Moving on to the performance of this coffee maker, you'll find that it is comparable to most other bean to cup models in the same price range. Anyone short of a coffee connoisseur would not be able to notice much of a difference in the flavour between this machine's coffee and brews from even more expensive models.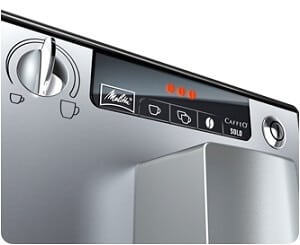 The impressive quality and flavour profile of the coffee is due to the unique extraction method used by this machine. The Aroma-Extraction-System ensures that all of the nuances in flavour end up in your cup and aren't lost in the brewing process.
While the LED display on this coffee maker may seem a little simplistic compared to some of the more expensive models out there, it provides you with all of the information you need at a glance. You'll be able to see the strength of your coffee and whether or not you're brewing a single or a double, even from further away.
Unlike other affordable bean to cup machines, this model also has a noise reduction system that will isolate the sound of the grinder, ensuring that you don't disrupt the household. An automatic shutdown feature is also featured, and you can even program a custom time limit.
If you are new to using bean to cup coffee machines and you don't want to spend a huge sum on your first one, then the Melitta SOLO & Milk should be ideal for you.
[soloAndMilkTable]
---
What to Look for in the Best Bean to Cup Coffee Machine
Whether you've never used a bean to cup coffee machine before or if you're a veteran with them, I'm going to cover a few different aspects that may prove to be helpful. First off, I'll go over some of the features you'll want to look for so that you can find the best bean to cup coffee machine. After that, I'll also go over how they operate.
Price
Of course, the issue of price is a personal matter that will depend on how much you're willing to put into your budget for a new coffee machine and how much you like coffee in the first place. A coffee lover and a first-time bean to cup machine user will likely not be shopping in the same price range.
Reliability
Up next, you'll have to consider how reliable your bean to cup coffee machine is, as these appliances can get expensive, and it makes sense to expect a long period of service from them. Unfortunately, there aren't many ways to tell whether or not a coffee maker is reliable short of testing it out yourself.
Frother
The frother is a crucial part of any coffee machine if you're planning on making lattes or cappuccinos the traditional way, and the vast majority of bean to cup machines will come with one. Without a frother, you'll only be able to make espressos, ristrettos, and americanos.
Maintenance
The amount of work you have to put into maintaining your coffee machine is a critical consideration if you don't want to be stuck cleaning out your coffee maker every week. The best bean to cup coffee makers will feature automated maintenance programs which can do most of the cleaning for you.
Bean and Water Capacity
When looking for the right product, you'll also want to consider the capacity of the bean hopper and the water tank. Of course, larger coffee makers will tend to feature a more voluminous reserve for both water and beans, but there are exceptions, so you'll want to be sure of their sizes.
As you would expect, if either of these containers is too small, you're going to waste a lot of time refilling them, especially if you drink a lot of coffee.
Controls
The best coffee makers will feature one-touch controls that allow you to make your coffee with the touch of a button. You should also ensure that the buttons and dials themselves are durable enough for extended use, as they are some of the most common points of failure on a bean to cup coffee machine.
---
How Does a Bean to Cup Coffee Machine Work?
You may be wondering how a bean to cup coffee machine manages to do everything required to brew a cup of coffee, so let's take a look at a simplified version of the process. When you turn on your machine, the first thing it does is heat up the elements so that it can start boiling water.
Once you select your coffee strength and your length and engage the brewing process, the machine starts grinding your coffee beans, as you can tell by the high-pitched sound that it makes in this stage. By the time the coffee is freshly ground, the boiling water is then run through it down to the nozzle(s).
Your coffee comes out of the nozzle, and when the machine has finished extracting the coffee, the used coffee grounds are deposited into the reserve. This reserve will eventually have to be emptied out when it fills up.
In the case of frothy coffees like lattes and cappuccinos, you'll either have to manually froth the milk or use a frothing jug with your machine so that it can do the job for you. Preparing coffee is a relatively simple process, but getting a machine to do it reliably takes quite a bit of effort, as you can see by the average price of these machines.
---
Conclusion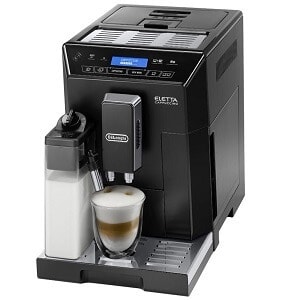 As we reach the end of this guide, it's likely that you're wondering which of these products really is the best bean to cup coffee machine on the market. Unfortunately, the answer to that question is going to depend on your needs and how you like your coffee prepared, so it will be up to you.
The first De'Longhi coffee machine I reviewed (the Eletta ECAM 44.660.B) is certainly the most capable of the bunch, but it has the key downside of a much higher price point. If you have the money and you want the best bean to cup coffee machine, this appliance will be sure to impress.
On the other hand, the De'Longhi Magnifica ESAM 4200.S manages to maintain the same level of quality as its big cousin but is available for around half the price. This machine blends versatility with a price point that is approachable for a wide range of buyers, resulting in the best product in terms of value for money.
The Melitta SOLO & Milk is the best choice for customers who have never used a bean to cup machine before and would like a coffee maker that is easy to get used to. This model is also affordable, and it has the potential to convert a lot of coffee drinkers to bean to cup machines.
There is a vast range of bean to cup coffee machines on the market, and sorting through them can often seem like a daunting task. I hope that this guide has helped you find the right coffee machine for your needs or at least given you some sense of direction.
Last update on 2021-01-12 / Affiliate links / Images from Amazon Product Advertising API
Related Articles