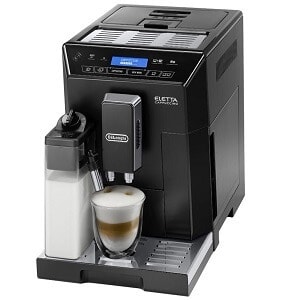 Today, we're going to be reviewing the DeLonghi ECAM44.660.B Eletta automatic bean to cup machine to see how well the actual machine lives up to its impressive reputation.
Wondering if the DeLonghi Ecam is the right coffee machine for your requirements?
If you consider yourself a true coffee connoisseur, then you have no doubt dreamed of owning a high-end espresso maker that you can finally use to make all of your favourite drinks with- just the way that you like them.
Aside from giving you the freedom and versatility to make your own drinks exactly the way that you like them whenever you want them, owning your own espresso maker is a great way to save money in the long run. If you do a quick calculation of how much money you spend every day at your local cafe, you'll quickly find that it adds up.
Making the one-time purchase and investing into your own espresso maker can save you a lot of money over time, and if you purchase a high-quality unit it can easily last you for years at a time.
[ecam44660bTable]
---
DeLonghi ECAM44.660.b Eletta Specifications
Make all of your cafe favourites with the touch of a button
Built-in grinder with 13 adjustable settings for coarseness
Easy to clean
Pre-programmed cleaning modes
Digital LCD display
Detachable milk carafe
Create your own pre-set drinks
8 Litre water tank
De'Longhi Eletta, Fully Automatic Bean to Cup Coffee Machine, Cappuccino and Espresso Maker, ECAM 44.660.B, Black
VARIETY OF COFFEE CHOICES: Enjoy a wide variety of espresso based drinks at the touch of a button: Espresso, Ristretto and Long Coffee; easily customize aroma level and Coffee length according to...
AUTOMATIC MILK MENU: Make your favourite milk drink with one touch - Cappuccino, Caffee Latte or Latte Macchiato
LATTECREMA SYSTEM: This machine will allow you to achieve the perfectly creamy milk foam with the LatteCrema Technology; auto Cleaning function available; aemovable Milk carafe can be stored in the...
Last update on 2021-01-13 / Affiliate links / Images from Amazon Product Advertising API
About The DeLonghi ECAM44.660.b
De'Longhi is one of the most well-known companies in the realm of high-quality espresso makers, and for good reason- they know how to make a great coffee maker, and the Eletta is no exception.
Before we get into the deeper features of this machine, I'd like to take a minute to draw your attention to the aesthetics. It's sleek and modern, making use of sharp lines, hard edges, and rectangular shapes. The electric blue LCD display only adds to the high-tech appearance. The exterior is a glossy jet black with bits of chrome and silver trim. Simply put- this is a truly beautiful machine.
Despite the amazing aesthetics, however, looks alone do not constitute a good coffee maker. Luckily the De'Longhi Eletta can make you one of the best cups of coffee that you'll ever have as long as you're using some decent quality coffee beans.
It has several pre-programmed settings for lattes and traditional cappuccinos, but the real magic is that it allows you to program in customized settings to make your own personalized drinks. This machine even has a milk carafe, which definitely comes in handy when you're making multiple drinks and removes the hassle of having to use a manual steaming arm.
---
Features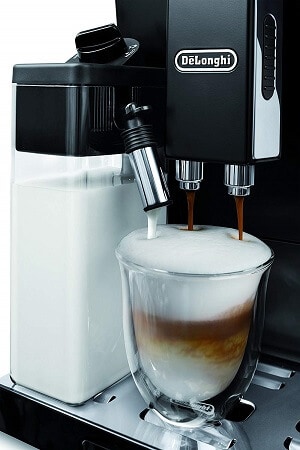 If you can't already tell, the De'Longhi Eletta is packed with absolutely packed with features. As a coffee lover, I've been into a lot of cafes and I can assure you that this espresso maker is as good as if not better than many of the commercial machines that are worth thousands.
Let's take a few minutes to look at some of the best overall features of this machine, though.
Fresh-Ground Beans, Every Day
De'Longhi excels in providing a true bean to cup brewing experience. All you need to do is select your favourite roasted coffee beans and place them in the hopper. The hopper is airtight and will keep your coffee fresh and flavorful as long as the lid remains closed.
The machine will also only grind the exact amount needed for each drink so that you'll never waste a single coffee bean. This, in turn, keeps the beans fresh and helps them maintain their flavour profile in a whole-bean form.
The built-in grinder has 13 separate grinding settings so that you can select the exact coarseness that you want for each cup of coffee. From thick, coarse grinds that provide a strong and robust flavour to finely-ground espresso style grounds that provide a smooth, silky flavour, this machine can do it all.
A Completely Personalized Experience
Quite possibly the best feature of this particular machine is that it gives you the option to create a completely personalized espresso drink. From simple Americanos to more complicated drinks, the precision setting knobs and preset mix ratios make it easy to make any cafe beverage that you could ever think of.
You can control the exact temperature of the milk, how much coffee goes into each beverage, and how much water you want in each beverage. If you have any leftover milk in your carafe, you can easily detach it and place it in your refrigerator for later use.
Easy To Keep Clean
If you've done any amount of research on espresso makers, then you've no doubt heard that one of the most important things to remember is the weekly cleaning of your machine. Failure to keep your espresso maker clean can cause it to stop functioning properly.
Cleaning is easier than ever before with the De'Longhi Eletta's built-in cleaning programs. From the console, you can run decalcification and rinsing programs to remove mineral buildup from water and calcium buildup from milk. This will ensure that everything runs smoothly for years to come. You can also remove the brewing apparatus for deep cleaning purposes, but you shouldn't have to do this too often.
---
What I Liked
There's definitely a lot to like about this espresso machine. But to make it simpler, here's the short list:
Personalized drink settings
Detachable milk carafe
Sleek design and modern appearance
One-press drink settings
Incredibly easy to clean
What I Didn't Like
Overall, there wasn't much to dislike about the De'Longhi Eletta. However, there were a couple of things that I think they could do better on:
The buttons are flat and sometimes require you to press them hard
This machine gives you a lot of options and requires some practice to use
Read More: What is the best bean to cup coffee machine in the UK?
My Verdict On The Eletta ECAM44.660.b
If you're looking for a high-end automatic espresso maker that's going to give you plenty of options when it comes to custom drinks and precision-tuned settings, then the De'Longhi Eletta is a good choice. It's definitely on the pricey side, so keep that in mind. If you're trying to make a long-term investment, however, then it's definitely worth considering.
[ecam44660bTable]
Related Articles