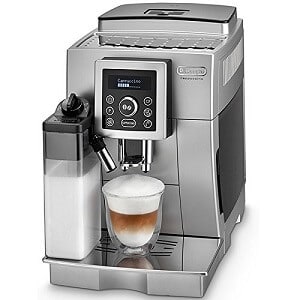 Today we're going to be reviewing the ECAM23.460 by De'Longhi. It's a mid-level home espresso maker that's loaded with cool features and is designed to have you making your own espresso right out of the box.
First, let's take a look at the specs, then I'm going to give you my in-depth DeLonghi ECAM23.460 review and see how it stands up to the competition.
A recent study by the British Coffee Association showed that in the UK alone, over 95 million cups of coffee are sold a day. A further review of the study shows that of the people who prepare and drink coffee in their homes, just over 80% use instant coffee.
Long story short, Britain and coffee go hand-in-hand. However, recent statistics prove that people prefer to drink their coffee at home. The only issue is that your average instant or drip coffee setup can't come close to that perfectly-prepared cappuccino that you're used to getting at your neighbourhood Italian cafe.
This is where home espresso makers really come in handy. They turn your kitchen into a cafe and you into your own barista. You can come up with any concoction you like from a simple Americano to fancy Macchiatos, Mochaccinos, or Lattes. The choice is yours and the only thing limiting you is your own creativity.
---
DeLonghi ECAM23.460 Review: Specifications
A double spout allows you to pour two shots at once
Features electronic temperature control
Built-in cup warmer
8 Litre water tank
Programmable coffee settings
Detachable milk carafe
13 separate grinder settings
The coffee storage tank holds up to 14 cups at a time
Last update on 2021-01-12 / Affiliate links / Images from Amazon Product Advertising API
About The DeLonghi ECAM 23.460
If you've already read our review of the De'Longhi Eletta, then you'll find that this product is very similar. It's essentially the little brother of the larger, more powerful Eletta. It has most of the same functionality, but it's a little bit smaller and is meant more for personal use than it is for family use.
However, if you're just looking for a small home espresso maker for yourself then this De'Longhi ECAM23.460 is a great option. It can make all of your favourite cafe drinks and you'll never have to worry about spending another penny at that overpriced cafe again!
It's slim, compact, and can fit in almost anywhere. If you're really serious about your coffee, you could technically bring this to work and put it right on top of your desk. Then you could sip on fine cappuccinos all day, every day.
Now that you know a little bit more about this particular espresso maker, let's take a few minutes to look over some of the more notable features.
---
Features
De'Longhi is well known for making some of the highest quality home espresso makers on the market, and although this machine may appear small and simple from the outside, it can make a great cup of coffee any day of the week.
Read More: Don't buy coffee beans until you read this
Quiet Grinding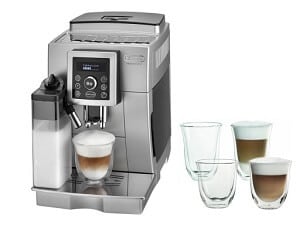 In any household, the person who wakes up first usually gets blamed for waking everybody else up. This is almost always undoubtedly due to the fact that they're the ones who are grinding and making coffee in the morning.
While this is all well and good during the week when everybody has to wake up early for work, it doesn't work out so well on the weekends when everybody has the day off and wants to sleep in. Thankfully, this espresso maker is incredibly quiet when it comes to grinding coffee.
Sure, it produces a light hum, but it's nowhere near enough to wake up everybody else. The quiet grinding also makes it ideal for office use as you won't have to worry about disturbing your co-workers or interrupting important meetings.
Make Two Cups At Once
Nothing's worse than being late to work because you have to take an extra 10 minutes to make your double shot cappuccino. With the De'Longhi, you can make two shots at once which is a major time-saver when it comes to those mornings when you're running late. It also means that you don't have to go through the process of reloading and resetting the machine to make another shot.
Make Coffee… Your Way
Change it up!  Thanks to the additional milk tank for the cappuccino system you can finally make your own cappuccinos, lattes, macchiatos or just your average coffee. The choice is all yours. This coffee maker allows you to store your favourite coffee setup such as the intensity, cup size, and temperature so that your cup of coffee is always just as strong as you want it to be.
---
What I Liked
I like a lot about this particular coffee maker. My favourite thing is probably how small and compact that it is. This makes it a great option for places such as my personal study. I might even consider buying a couple of them to send out during the Holidays since they're small and easy to ship.
Here's the short list of features that I really appreciated:
It can make two shots at once
Built-in cup warmer
Removable milk carafe for refrigeration
What I Didn't Like
Keeping in mind that this unit is relatively inexpensive compared to some of De'Longhi's other models, there were still a few areas that I felt lacked attention to detail:
The drip pan tends to fill up way too fast
It takes a while to completely heat up the milk
Not designed to use with larger mugs
My Verdict
If you're looking for a small and compact espresso machine, then this is a good choice. It's also a great idea for a gift for that family member who's always obsessed with coffee. It makes a good cup of espresso, and it's also incredibly durable and well-built. This particularly is very nice to see in a day and age where everything else seems to be built with cheap materials and designed to break in less than a year.
At the end of the day, the De'Longhi ECAM23.460 is a nice entry level unit. If you're serious about coffee, however, you'll eventually want one of De'Longhi's larger, fancier models with all of the extra bells and whistles.
[ecam23460Table]
Related Articles