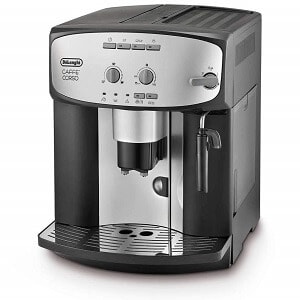 Today, we're going to be having a look at one of the most popular espresso machines on the internet- The Delonghi Caffe Corso ESAM2800 coffee maker.
Read this Delonghi ESAM2800 review to see how it lives up to its reputation as an Amazon best-seller.
If you're anything like me, the first thing on your mind when you roll out of bed in the morning is something like, "It's way too early for this, I need a very strong cup of coffee." While I spent the better part of my younger years using a standard drip coffee maker and drinking the occasional cup of tea, I eventually developed a taste for espresso.
Maybe I liked the fact that espresso was strong enough to satisfy my considerable caffeine tolerance or perhaps I just liked the taste. Needless to say, though, I was hooked. It was only a matter of time before I became a bit of a connoisseur in the realm of coffee beans and espresso makers.
Call me a nerd, but hey we've all got to have a hobby right?
[esam2800sbTable]
---
Pressure pump that delivers 15 bars
Hand-operated frothing arm for milk and cream
Intuitive heating plate to keep your cup warm
Built-in decalcification and cleaning programs
Built-in burr grinder with 7 separate settings
8 Litre water tank
Automatic shut off feature to save energy
Simple user interface
Sturdy and durable design
About The DeLonghi Caffe Corso ESAM2800
If you're looking for a simple espresso maker that has everything that you need and that will continue performing well over time, then the Delonghi Caffe Corso is a great choice. It may not have all of the bells and whistles of some of the more expensive machines on the market, but you'll still be able to make almost all of your favourite espresso drinks.
There's a built-in manual steamer arm so you can warm your milk for a smooth cafe latte or froth it for a classic Italian-style cappuccino. The choice is yours and the possibilities are endless.
Compared to other espresso machines, the Caffe Corso one is definitely on the smaller side. However, that makes it perfect for those who live in a small flat or who are just looking for a smaller machine to fit in their office space or family room. It's sturdy and compact, and you don't have to worry about being extra delicate with this one.
At the end of the day, all of the fancy features on a coffee maker don't matter unless it can make a perfect shot of espresso. With the Delonghi Caffe Corso, you can rest assured that you'll never be disappointed with the quality of your cup. As long as you keep the machine clean (and use decent quality coffee beans), you'll continue to enjoy cup after cup of fine espresso.
---
Features
Now that you know a little bit more about the product, let's take a few minutes to go over some of the special features that really set the Caffe Corso apart from the other competition on the market.
Easy To Clean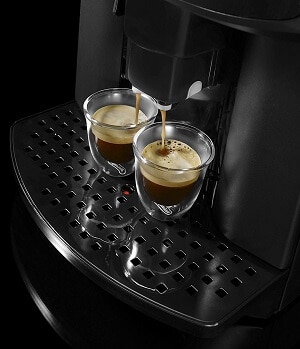 If you ask any full-time barista or espresso machine owner about their experience, one thing will remain the same no matter what. Espresso makers are great… as long as you keep them clean. The quickest way to ruin a nice espresso maker is to neglect the cleaning and care of it.
You're dealing with high-pressure steam, hot water, and finely ground coffee beans. Failure to clean properly will undoubtedly result in jams, clogged spouts, and leaking O-rings.
Read More: Best place to buy coffee beans in the UK
Thankfully, the Caffe Corso is incredibly easy to clean which means you have absolutely no excuse. The machine has pre-programmed decalcification and rinsing cycles designed to remove build up in the water tank and pour spouts. This ensures that your espresso will continue to pour quick and smooth and that you won't get any funny aftertaste.
Additionally, you can also open up the front of the machine to remove the internal brewing unit for a thorough cleaning routine. While you don't need to do this every day, it's a good idea to clean the brewing unit at least once a week if you're using it regularly.
Read More: Top-rated UK coffee machines
Cup Warming Plate
One of the most intuitive features of the Caffe Corso is the handy cup warmer. One of the most irritating things about making coffee in the winter months is that your mug is almost always cold and tends to decrease the temperature of your coffee on contact.
With this machine, all you need to do is place your cup upside-down on the warming plate and it will release a small amount of warm steam into the cup bringing it to a nice warm temperature.
Customize Your Cup
The Caffe Corso allows you to create each cup of coffee to your own specific wishes. While it doesn't have any pre-sets for certain drinks, it does allow you to adjust the strength of the coffee, the coarseness of the grind, and the exact amount of water. As long as you know the basic ratios for your favourite drinks, you'll be your own barista before you know it.
---
What I Liked
There are a few things that I really appreciate about the Delonghi Caffe Corso:
The steam wand actually works (really well)
Espresso texture is very smooth
The machine is very user-friendly
The built-in grinder makes life easy
Cup warmer
What I Didn't Like
Although this particular coffee maker is loaded with great features, there were a couple of things that I didn't particularly like:
The machine is pretty noisy
It's rather slow when it comes to making espresso shots
My Verdict On The DeLonghi ESAM2800
If you're looking for a sturdy, compact, and easy-to-use espresso maker, then the Delonghi Caffe Corso is a great option. While it doesn't have some of the fancier pre-sets and the flashy exteriors of more expensive machines, it can make a great cup of coffee. It's easy to clean, has several intuitive features to make your life easier, and it's one of the best-selling coffee makers on the internet.
[esam2800sbTable]
Related Articles