When you choose to buy a coffee machine, you have countless options available to you, and each of those choices has a varying degree of difficulty when it comes to their operation. You'll find that some coffee machines are designed to be more user-friendly at the expense of coffee quality, while others are the opposite.
These two qualities don't always have to be opposed, however, and there are many kinds of coffee makers that are both capable and still simple enough for even first-time users to get a grasp of them. Striking the right balance between coffee quality and ease of use is one of the defining characteristics of the best Nespresso machines.
Nespresso machines are pod-type espresso machines which use single-use pods containing coffee grounds, meaning that you won't need a grinder and beans. Pod-type machines save a lot of effort because you can simply slide a pod into your coffee maker and it will make a coffee for you, provided it has water.
In today's article, I'm going to cover three of the best Nespresso machines on the market in this comprehensive review guide. I'll give you the specifications of these coffee machines, and then I'll provide you with a general overview of what to expect from them so that you can find the ideal model for your needs.
Once I've covered the best Nespresso machines around, I'll go over some other things you should know before buying one of these appliances. Regardless, let's get to what you came here for; the reviews.
Top Rated Nespresso Machines In 2022
---
Specifications
Capable of heating up in merely three seconds
Works with a selection of coffee pods ranging from espresso to latte macchiato
Offers three different serving size settings
A choice of eight different settings for frothiness
Simple cleaning process improves user-friendliness
Included accessories: stainless steel jug for milk, cup support, drip tray and drip grid
Offers 11 choices of milk temperature
The interface is sleek and intuitive
Overview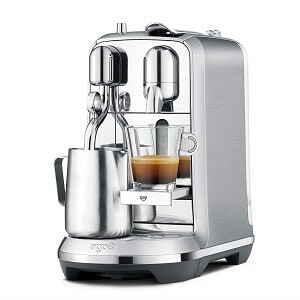 The Creatista Plus from Nespresso is my favourite option overall on this list because it combines an excellent range of capabilities into a machine with a more reasonable price point. While this espresso machine may be just as capable as other pod-style machines that are more expensive, it retains about the same capabilities.
For example, this model comes with a display mounted on the top of the appliance that allows you to see how your coffee preparation is coming along and keeps you informed about matters of maintenance. This interface means that this is an excellent machine for customers who have never used a pod-style product before.
Unlike other pod coffee machines, you can also customise your brew quite a bit with this Nespresso maker, as there is a range of adjustable settings. The automatic steam pipe that is mounted in this machine allows for much more precise adjustments than in comparable coffee makers.
For example, you have a choice of 11 different milk temperatures that can range anywhere from 56 to 72 degrees C so that your espresso can be the perfect temperature when it's done. You'll no longer have to sit around waiting for your coffee to cool down (or the opposite, if you like your espresso as hot as possible).
Other than that, you'll also have a range of volume settings (three, to be precise) that vary from 25 to 150 ml, allowing you to get the perfect shot of espresso for your needs. Finally, you can also change the froth levels on your coffee, and you can get a maximum of 30 mm of froth from this coffee maker.
Another feature that makes this Nespresso machine more convenient is that it heats up in only three seconds, ensuring that you'll be able to make your coffee, even when you're in a rush. Also, you can clean ut this coffee maker with ease thanks to the instructions shown on the display while in cleaning mode.
You'll also get all of the accessories included with this coffee maker, including the stainless steel milk jug, a cup support for a shorter pour distance, and a few other items. The machine will even shut down automatically after nine minutes so that you can save on your electric bill.
While many will criticise Nespresso machines for lacking performance, that just isn't the case with this model. Equipped with a 19 bar pump, this coffee maker can make a brew that is comparable to traditional espresso machines, making it one of the best pod-style machines overall.
[creatistaPlusTable]
---
Specifications
Low-profile design results in a space saving coffee maker
Designed for beginners and equipped with a simple capsule receptacle
Heats up in around 25 seconds, speeding up the process
Carry handle allows you to bring this machine on the go
7 L water tank provides enough for up to nine coffees
High-end 19 bar pump makes excellent coffee
Automatic shut down after nine minutes of inactivity
Overview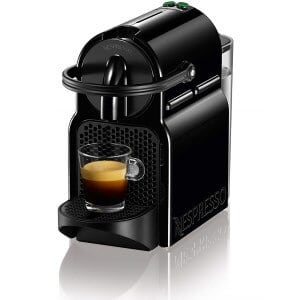 Up next, I'm going to cover the Nespresso Inissia, which is a machine that is designed for those who are new to pod-style machines. If you've always had doubts about the quality of pod coffee, but you'd still like to give it a shot without putting too much money on the line, this is the machine for you.
This is a relatively affordable Nespresso machine, but that doesn't mean that it's lacking when it comes to quality. You'll find that this appliance still features the trademark build quality you'd come to expect from Nespresso, meaning that this machine is built to last you for a long time to come.
Of course, reliability and quality at an affordable price aren't the only benefits to the Nespresso Inissia. This is as close as you'll get to a portable Nespresso machine, and it is an ideal choice if you need a coffee machine to bring to your summer home or your cabin but don't want to buy a full-size model.
Equipped with a carry handle and a compact design, you can bring this coffee machine nearly anywhere with a power outlet and running water, and you'll be set. Other than being more portable, the smaller size of this coffee machine also means that it will take up less space in crowded kitchens.
With a warmup time of 25 seconds, you won't be waiting around for this coffee machine to get ready, ensuring that you can use it at any time. When making your coffee, you'll have a choice between espresso and lungo sizes so that you can get the perfect amount every time.
There are also a few features that help make this one of the most user-friendly Nespresso machines out there. For example, this model features one-touch operation: once you've selected the size of your coffee and placed your cup, all you have to do is push a button, and the machine will handle everything else for you.
This coffee machine also uses a 19 bar extraction system, which provides it with enough pressure to make quality coffee every time. Unlike some other pod machines, you'll find that the Inissia makes quality coffee, providing you with even more value for money for this appliance's comparatively low price.
Pods are also easy to place in this machine, and they are automatically ejected once they are spent, making for a coffee machine that does most of the work for you. If you're looking for an affordable Nespresso machine, this model will provide you with quality at a much lower price.
[inissiaTable]
---
Specifications
Features two pre-programmed coffee sizes: espresso and lungo
Allows for customisation of serving volumes
Aeroccino allows for milk-based coffees to be made as well
Features a 19 bar pump for improved coffee extraction
Thermoblock heating system warms up the machine in 25 seconds
Automatically shuts down after 9 to 30 minutes, depending on the setting
Also works with taller cups
Overview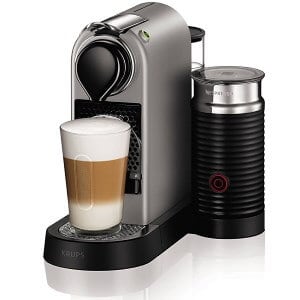 The Citiz and Milk is a little different when compared to the previous option on this list in that it features an integrated frother that allows for milk-based coffees to be made. When it comes to price, this model is situated right between the two previous models, being more expensive than the Inissia but cheaper than the Creatista Plus.
This Nespresso machine comes with fewer bells and whistles when compared to a lot of other mainline models, but it makes up for it when it comes to the quality of its coffee. Also, even though there aren't many added features, this machine still has all of the basics you would expect from a Nespresso maker.
To give you an idea of some of these features, this machine uses the Thermoblock to heat up the water, ensuring that it will be ready to operate within 25 seconds. However, the defining characteristic of this coffee maker is the integrated frothing unit that allows you to froth up your milk to the perfect level beforehand.
The frother is surprisingly capable, fully aerating your milk in moments, but it can also be used to heat up your milk before being mixed with your coffee. Both the machine and the frother also feature Nespresso's renowned build quality, ensuring that you'll be able to use them without any reliability issues.
Another unique aspect of this coffee machine is that it allows you to customise the serving volumes of your coffee. When you first get this machine, you will have the two common options of espresso and lungo, but you can also change either of them to suit your preferred coffee size.
This Nespresso maker is also designed with taller cups in mind, with sufficient space between the nozzle and the drip tray for larger servings of coffee. If you still don't have enough room, you can even adjust the height of the drip tray so that you can get a little bit more clearance for your cup.
Of course, Nespresso is also known for their high-performance machines, and that is still the case here. This coffee machine has a 19 bar pump that provides sufficient pressure for thorough coffee extraction, giving you a full flavour profile that you often won't find in competing pod machines.
You may also be surprised to find that this coffee machine features a compact footprint, allowing you to place it nearly anywhere so that you can make your espresso. Overall, this is the ideal Nespresso machine for those who prefer lattes, as the included frother makes them so much easier to prepare.
[citizAndMilkTable]
---
Nespresso Machine Buying Advice
Finding the best Nespresso machine is about more than just going over some reviews so that you can see the one with the highest rating. You'll need to know what features to look for, as everyone has varying needs, and the best coffee machine for you may not work too well for someone else.
I'll also take a look at some of the crucial differences between Nespresso machines and other styles of coffee makers.
What to Look for in the Best Nespresso Machine
Coffee Quality
Of course, the first thing to account for when you're buying a new coffee machine (regardless of whether or not it's a Nespresso) is the quality of the coffee that it makes. Your appliance can come with a range of different features that make it the most advanced coffee maker in the world, but if the coffee isn't good, then what's the point?
Whether or not a coffee machine makes coffee that tastes good will depend entirely on the extraction process and the grounds used. Nespresso machines use pods, so the quality of the grounds is uniform, meaning that the flavour of the brew is entirely up to the components which extract it.
Size
Another thing that many people fail to account for is the size of the Nespresso machine that they are purchasing. Before you go out to buy your new coffee machine, make sure that you take a look around your countertops and your cabinets to ensure that you have enough space to fit the appliance.
Coming home and finding that your Nespresso machine is too big to fit in the same spot as your old coffee maker will necessitate some reshuffling and it will simply be inconvenient. If you ever plan on taking your coffee machine on vacation or to a friend's house, you'll also have to account for compactness then.
Water Capacity
Nespresso machines may be nearly entirely self-contained, but any coffee machine will require some water so that the coffee can be extracted in the first place. When looking for the best coffee machine, take a look at the size of the included water jug to be sure that the volume isn't too low.
A smaller jug means that you'll spend time going back and forth between the sink refilling your water, making the process of preparing your coffee a little more tedious than it has to be. Of course, the size of the water jug is also going to depend on the overall size of the coffee machine.
Warm Up Time
Coffee machines will also require a specific time for the water to boil before it can be used to brew your coffee, and this is known as the warm-up time. Nespresso makers are known for being far quicker than many other kinds of machines when it comes to the amount of time it takes for them to warm up.
While some other appliances will take a few minutes to warm up, most Nespresso machines should be ready within 30 seconds. If it takes longer than that for your coffee maker to heat up, there may be an issue with the heating element, or you may have an older model with a less efficient design.
User Friendliness
User-friendliness is an aspect that is often sorely overlooked in all appliances, though it is crucial in pod-based systems like Nespresso. Since many people have never used pod-style coffee makers, these machines have to be relatively simple to operate so that they're easier to get used to.
Whether or not a Nespresso machine is user-friendly will depend on the interface and the buttons. If everything is arranged intuitively and clearly labelled, then you shouldn't have any difficulties running your new coffee machine. Still, it pays to give the instructions a once-over upon opening the box.
Build Quality
You'll also want to look for a Nespresso machine with excellent construction quality, as that will ensure that the appliance won't end up failing on you. You'll often find that more expensive products feature superior build quality, though they can end up saving you money in the long term.
Even though you pay more for a quality Nespresso machine up front, you'll be more likely to get years of service out of it before needing a replacement. Not having to buy a new coffee machine every year or less means that there will be more money in your pocket, and you'll get to benefit from better coffee the whole time.
Nespresso Machine vs Other Coffee Makers
Let's also go over some of the key differences between Nespresso makers and other varieties of coffee machines. The most evident difference is the use of a pod instead of loose coffee grounds, which makes for a more convenient preparation process and ensures that you don't need a grinder.
Coffee grinders can get rather pricey, and coffee makers which feature them integrated tend to be far larger and heavier, as well as more expensive. The pods also allow you to try out a range of different types of coffee without having to purchase whole bags of beans that you may not even like.
There are variety packs of pods available that allow you to try a range of different coffee types, allowing you to get acquainted with all kinds of brews. The pods are also far more portable than coffee beans, meaning that smaller Nespresso machines can come along with you on trips.
The combination of a relatively simple extraction system and the use of the pods means that Nespresso machines are surprisingly affordable when you consider their quality. A bean to cup machine that is comparable when it comes to reliability can cost as much as five times more than a Nespresso machine.
There will always be detractors who criticise the quality of Nespresso coffee, but I don't find that there is a massive gap between pod coffee and other brews. In the end, the best way to find out is to try it for yourself.
---
Conclusion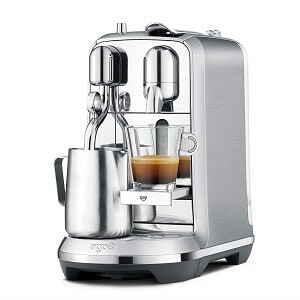 As you can see, these three coffee machines are all excellent choices, but the best model overall will depend on your needs. For instance, the Nespresso Creatista Plus is a highly capable model that comes with an equally high price tag, so some would consider it to be the best overall, provided it's within your budget.
On the other hand, the Nespresso Inissia is an excellent coffee machine for customers who want to save a little bit of money thanks to its relatively simplistic design. However, the Inissia is also an excellent choice for those who want a more portable coffee machine or beginners who have never used a pod-style coffee maker.
The Nespresso Citiz and Milk is a little more unique than the other two choices, as it is ideal for users who prefer to prepare lattes thanks to the integrated milk frother. With a price point between the two extremes of the other coffee makers, this is the most versatile choice on the list.
The best one will be up to you, as the coffee machine that fulfills your needs best will depend entirely on what those needs are in the first place. However, I can assure you that all of these machines feature excellent build quality and they are all compatible with Nespresso's pod system.
We hope that these reviews have given you an idea of what to expect from all of these coffee machines. It can often seem like a challenge to find the best Nespresso machine, but with the right information, the job should become a bit easier.
Last update on 2021-01-12 / Affiliate links / Images from Amazon Product Advertising API