A popular choice when it comes to coffee machines is something quick and easy that delivers a delicious cup of coffee. For that reason, I've always been interested in making coffee with a machine that takes pods.
For many people, a cup of coffee is part of their morning ritual, and it's easy to see why it's the most popular drink worldwide. What I particularly like about coffee machines with pods is that you can make several types of drink, from lattes and cappuccinos to tea and hot chocolate.
There are some good choices on the market from well-known brands, which is great news when it comes to finding something that does the job at the right price. However, it does mean that there are lots of options to consider, and it can be hard to find one that stands out.
Tassimo Coffee Machines has become a classic choice for a household coffee machine. They make a variety of pods with other brands, including Costa Coffee, Kenco, and Cadbury, which provides me with some reassurance about quality and flavour. You can buy the pods at most supermarkets, too, which makes it easier to stock up on the coffee you want.
I took a closer look at the Tassimo range to discover the best Tassimo coffee machines. In my research, I cover what the machine can do, as well as any positive and negative aspects that might impact the use of the machine or the coffee it produces.
Best Tassimo Coffee Machines UK: Top Picks Reviewed
Tassimo works with Bosch, an established appliance manufacturer, to produce their coffee machines. Here are the top coffee makers available.
Last update on 2021-01-13 / Affiliate links / Images from Amazon Product Advertising API
This Tassimo machine works with their Intellibrew System, which reads the barcodes on the pods to create a tasty hot drink, made just the way it should be for each type of beverage. The machine is compact, so it can fit on most worktops.
Drinks are produced quickly, and there is an adjustable stand, so you can fit different cups sizes under the nozzle, including a travel cup. Due to the size of the machine, the water tank is quite small but large enough to make a couple of drinks without topping it up. It sits in the middle of the price range of the machines reviewed.
Features
The machine is operated from a one-touch button to make a drink. The pods are entered in the cap at the top, and the drink pours from the nozzle below. The same button can be used to add extra water to the cup when you press and hold.
The machine comes in different colours, including black, red, and cream. The capsule holder is cleaned with automatic steam after each drink is made. This ensures that no flavours from the last drink change the taste of the next one.
Customer Feedback
Customers found this machine a good choice for making coffee on a daily basis. They are particularly pleased with the hot drinks that are produced with no mess and very little effort. Some users would have preferred a larger water tank.
Pros
Compact in size
Easy to make different drinks
Fits different cup sizes
Cons
Small water tank
Instructions could be clearer
A detailed review can be found here: Tassimo Vivy 2 Review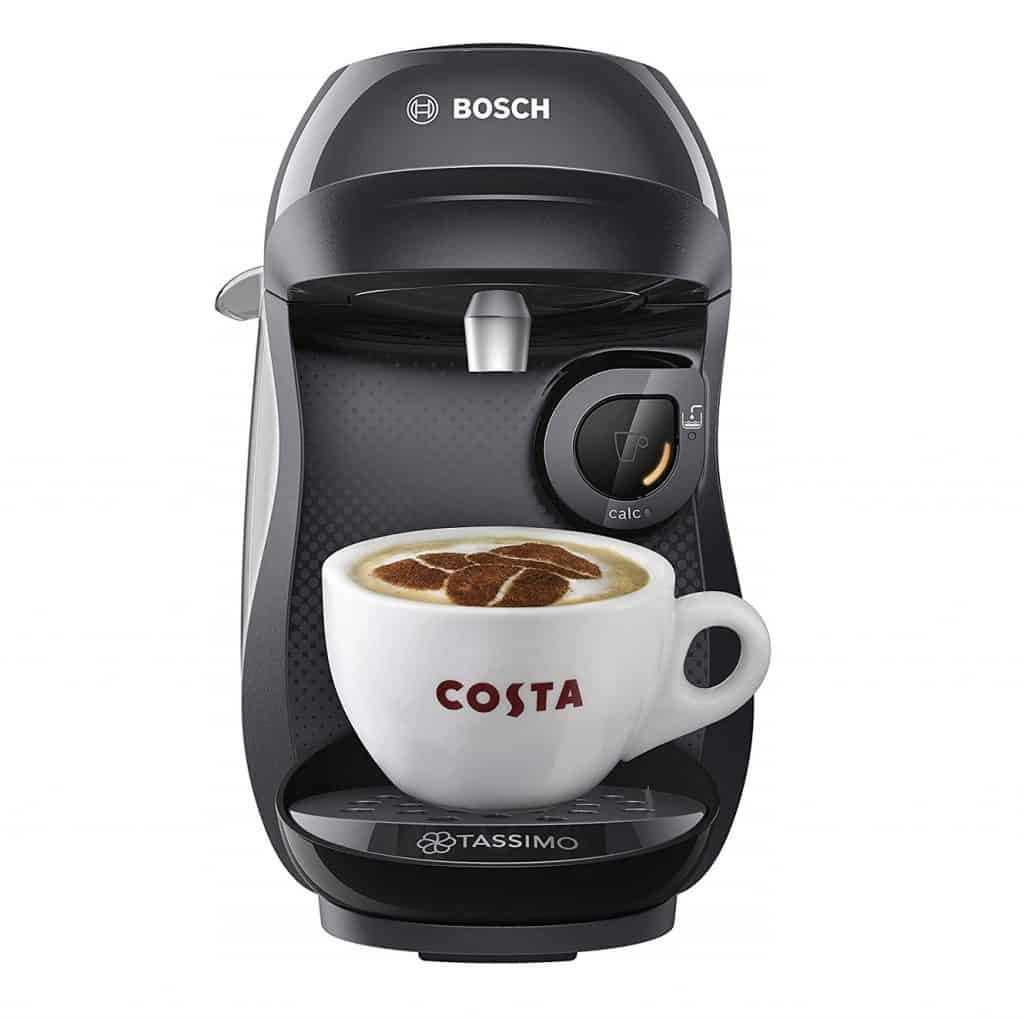 This coffee machine is one of the newer models from Tassimo. It sits at the lower end of the price range, making it a good affordable choice. It works with the same Intellibrew System as their other machines, which means it can read different pods to make different drinks.
It's the smallest machine we've reviewed, so ideal for small kitchens or those without much surface space available. The machine issues just the right amount of water at the right temperature, and doesn't take too long to heat up.
Features
The machine features the new control style from Bosch and Tassimo. A cup of coffee can be made with one touch of a button. The drip tray can be removed to accommodate larger cups. This also makes the machine easy to clean, and it's easy to use.
This Tassimo coffee machine comes in a variety of colours, including black, cream, purple and white, red and black, and red and white.
Customer Feedback
Customers were happy with the taste of the coffee that this machine provides, however many remarked that it didn't quite fill the cup. The water tank is small, and the finish of the machine has a more plastic look and feel than some other models.
Pros
Fits in most spaces
Good value for money
Bright and colourful machines
Cons
Build is lower quality
Small drink size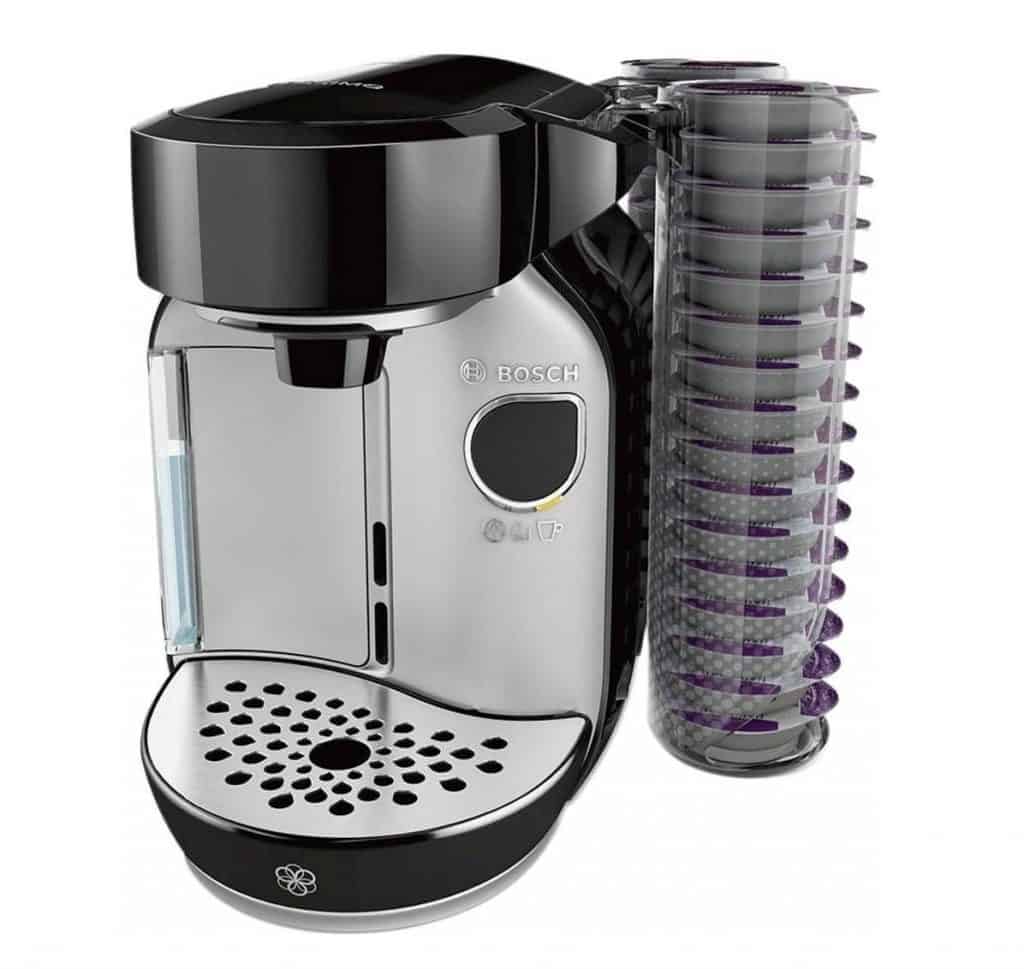 This Bosch Tassimo machine has a larger tank capacity than the other machines reviewed. That also makes it the largest machine in terms of footprint. It sits at the top end of the price range as it's designed to make more drinks and has more features.
This machine works in a similar way to the smaller ones in the Tassimo range. It reads the barcode on the pod to tailor the brew time, amount of water, and water temperature to make the drink just as it should be.
Features
This machine has a nice finish in stainless steel. It comes in black and silver, or black with some silver trim. The machine is large and has plenty of room for small and tall cups on the drip tray. The tank has a water level gauge and can be removed.
This machine comes with a Brita filter incorporated into the machine. There is an auto-shutoff function that will turn the machine off once it has been inactive for some time. They named this one the Caddy because of the two holders that are integrated on the sides of the back of the machine. They will hold up to 32 discs or pods ready to be used.
Customer Feedback
Several customers were happy with the appearance of this machine and the added bonus of a Brita filter, which can be removed if you don't want to use it. They were impressed with how simple it was to use. Some customers felt that the water tank could be bigger given the size of the machine, while others had an issue opening and closing the lid.
Pros
Brita filter incorporated
Convenient pod holders on the side of the machine
Attractive finish
Cons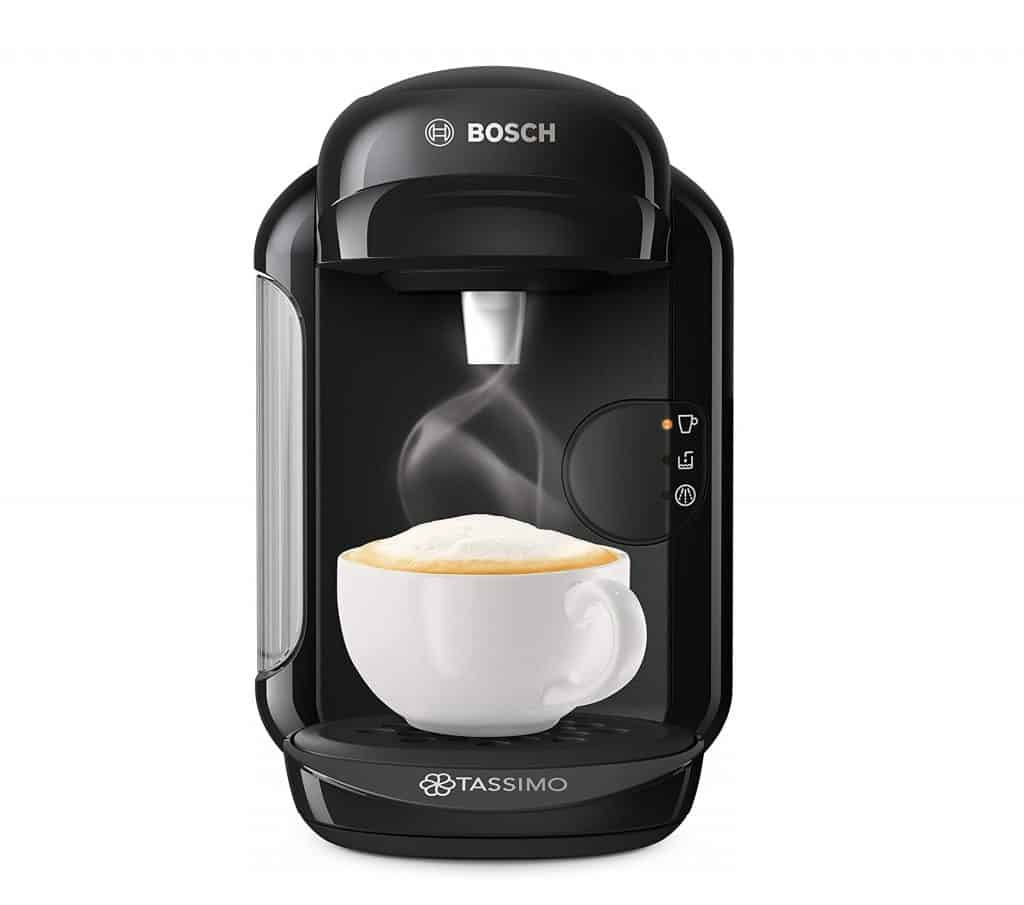 The Vivy 2 is a medium-sized coffee machine that is still quite compact. It's made from plastic and is one of the quieter and faster machines from Bosch and Tassimo. It's one of the more affordable models at the lower end of the price range.
It works with the same intelligent barcode scanning system as other Tassimo machines to produce a variety of hot drinks. The machine is simple to set up and easy to use. It works with the full range of pods, including hot chocolate, tea from Twinings, and a good choice of coffees.
Features
The water tank size is 0.7 litres, which is smaller than the Caddy, but the same size as many other Tassimo machines. It comes in black, red, and cream. It operates at the push of one button and has an adjustable drip tray and cup stand.
The interface has an LED light to indicate different information. This includes standby mode, an alert to refill the water tank, an alert to show the machine needs to be descaled, and an automatic and manual mode.
Customer Feedback
Customers were happy with how easy it is to use this machine. They liked the compact size and colour, although they found the instructions insufficient and chose to watch tutorials online. They were very happy with the drinks that this machine produced.
Pros
Consistently makes great drinks
LED indicator makes it easy to use
Good value for money
Cons
Some issues with certain milk pods
Buying Guide for Tassimo Coffee Machines
When it comes to buying a coffee machine, there are many things to take into consideration. In order to take the worry out of buying the right machine, it's worth completing some research. There are few things to decide in advance that will guide you to picking a machine that suits your needs.
Size
There are two factors for you to consider when it comes to the size of your machine. The first is the space available in your kitchen and on your worktop. Many machines come with a compact footprint, which means you don't need too much room, and it won't clutter your kitchen. Choosing a smaller machine can mean compromising on features, though.
Instead of making your decision based on the size of the machine, you might want to consider the size of the water tank. If you like to make lots of drinks without refilling, whether it's for many members of your family or just for you throughout the day, then a larger water tank will save you time.
Your Needs
Opting for a Tassimo machine means choosing coffee from pods. There are other options for pods, but you can also have coffee from a filter, a pump, and a bean to cup machine. Each delivers a different coffee experience.
Pod machines are known for delivering drinks quickly with consistent flavour. There is little mess involved in making the coffee, and almost no time preparing. These machines heat up quickly, which means you don't need to wait. The Tassimo machines, in particular, make the cup without any input, so you don't need to stand next to the machine deciding how much water to add.
If you want to drink coffee every day, you will want a machine that is straightforward and fast, as well as being easy to clean. However, if you like to change your coffee and have a hand in creating the perfect cup, then pod machines might not be for you.
Purchasing Hot Drinks
Although the coffee machine purchase might be the main thing on your mind, it's worth thinking about the purchases you'll need to make to achieve your perfect cup of coffee in the long run. Once you choose a machine, you are committed to buy a particular type of coffee. For pod machines, you are then required to use those to make your coffee and can't switch back to grounds.
You don't need to feel limited, though. If you choose a pod machine, it's best to check where the pods are available from, and what different types are on offer. If you can buy them in a range of locations, it will give you options. With Tassimo, there are over 40 drink types to choose from, which means if you prefer gingerbread lattes or Costa cappuccinos, you should be happy with what you can find.
Functionality
The main concern when buying your coffee machine is that it is easy to use, or you can at least find out how to work it to achieve the cup of coffee you want. Many one-touch coffee machines take all of the work out of the process, but don't give you many options.
It's worth looking for a machine that comes with several modes, including a cleaning mode to help you care for your machine. Warning lights regarding water levels and an auto-shutoff feature also help you make the most of your machine and save time and energy. Added extras like holders for your pods and filters for the water can really add to the convenience and space-saving, as well as delivering a nicer cup of coffee with less cleaning required.
Verdict
The Tassimo Vivy 2 comes out on top thanks to its convenience, compact size, and its ability to make great drinks. The LED function takes this machine one step up from more basic models, and it's good value for money. The Caddy comes in a close second, although it sits in a different price bracket.
Last update on 2021-01-13 / Affiliate links / Images from Amazon Product Advertising API