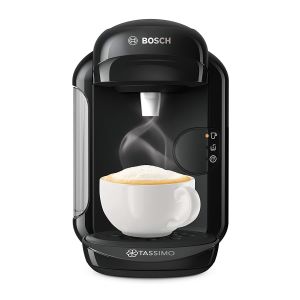 If you're looking for a new Tassimo coffee machine, there are a number of selections on the market. However, you may prefer specific features that will make you feel like you're visiting the local coffee shop every morning without having to leave your home.
The Tassimo Vivy 2 from Bosch is one of the top coffee machines available today. This Tassimo Vivy 2 review will help you decide if this coffee machine is the right addition to your kitchen.
When you roll out of bed and have the convenience of getting a fresh cup of coffee that energises you even before you get dressed, there's a good chance you'll have a great start to your day.
[tassimoVivy2Table]
Tassimo Vivy 2 Review: Product Features
One of the most impressive features of the Tassimo Vivy 2 is that it descales and cleans automatically. It's best to programme these features to activate at night since you'll need to wait about 24 hours for the coffee machine to unlock.
Sale
Last update on 2021-01-12 / Affiliate links / Images from Amazon Product Advertising API
You can also control how much coffee you want each time you use the machine since you can adjust the cup height. So, whether you're having a mug of coffee to enjoy at home or need to put your Thermos or reusable cup in the coffee machine to enjoy your cup of joe on the go, you can make the changes you need in a matter of seconds.
The Tassimo Vivy 2 cup stand is also removable, which makes for easy cleaning. The drip tray, which is made from stainless steel, also makes cleaning up after preparing your coffee a breeze.
You'll need Tassimo T-Discs for the machine. All you have to do is place the T-Disc in the machine, fill the water tank, press a button and wait for your coffee to brew. The water tank is 0.7 litres, and you can remove it with ease each time you want to make a new cup of coffee.
You can make a variety of coffee drinks in the machine, so whether you prefer a cup of espresso to get your day going or you want a macchiato for dessert, the Vivy 2 can get the job done in a matter of minutes.
Since the machine isn't incredibly large, you can also carry it with you to the office in case you drink several cups of coffee a day and want to make sure you have what you need to make a fresh cup or two throughout your day. It makes a great addition to a breakroom, or you can set the machine up in the lobby area so your guests can enjoy the coffee of their choice as well. The Tassimo pods allow you to enjoy coffee in several flavours so you can sample several varieties until you find the flavours you prefer.
You'll be able to keep up with each step of the coffee brewing process as well since the machine features a 5 LED interface that gives you all the information you need about your device. You'll know when the coffeemaker is on standby or in automatic or manual mode. The screen will also let you know when it's time to refill your water tank or when the coffeemaker needs to be descaled.
---
Pros and Cons
There are a number of benefits to using the Vivy 2, including:
The ability to make more than 40 beverages from several popular brands due to INTELLIBREW
The ability to make several different coffee drinks, including freshly brewed coffee, espresso, latte macchiatos, cappuccino, hot chocolate or tea
Clear screen display that lets you know the status of your coffee or tea during preparation
Automatic features that let you know exactly when the machine needs to be cleaned
Sleek, elegant design that looks great with kitchen décor
Coffee machines are available in black, white or red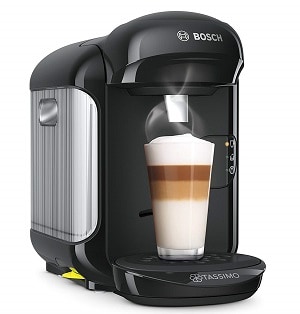 There are a few things to consider before purchasing the Vivy 2. The water tank is particularly small and needs to be filled often, so keep this in mind if you want a machine that allows you to brew large batches of coffee at one time. The coffee also pours rather quickly, but this is a perk for many users since the pour speed is faster than a kettle.
Once you receive the coffeemaker, the instruction manual consists of pictures instead of words, so be sure to follow the diagram to figure out how to assemble and use the machine. However, this could be ideal if you're a visual learner.
You'll also need coffee pods that are specially designed for the Tassimo machine, which may mean you'll have to shop around for coffee pods at a great price. However, you can purchase the coffee pods from the Tassimo website for your convenience.
Overall, the Vivy 2 can save you time and money since you can avoid going out for coffee every day and spending up to £5 a cup each time. The device is easy to use, so you won't spend hours fiddling with the machine, particularly in the mornings, when time is of the essence.
---
Tassimo Vivy 2 Review: Final Thoughts
The Tassimo Vivy 2 is one of the best machines for preparing single-serve coffee, and you can make different types of coffee drinks to match your tastes and preferences. You can also prepare hot chocolate and tea in the machine, which comes in handy when you're entertaining guests or when you're in the mood for a warm beverage other than coffee. Since the machine also makes hot chocolate, you can prepare drinks for your kids or guests who visit your home but don't prefer coffee.
The variety of colours means you can find a Vivy 2 that fits your style preferences, and all the features on the coffee machine are easy to clean to keep your coffeemaker looking its best. The device is durable and lasts for a while, which makes it a good investment that you won't regret, especially if you drink coffee often.
[tassimoVivy2Table]
Related Articles