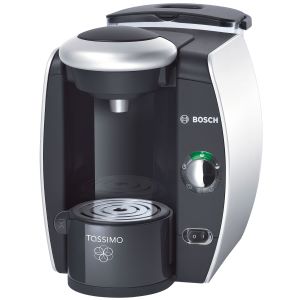 I can't tell you how much I love pod coffee makers. Sure, pod-brewed coffee may lack the finesse of a french press or the body of a stove brewed coffee, but if they aren't just the most convenient things.
Hence why today we are going to cover the Bosch Tassimo T40 coffee maker. Pod coffee makers are very popular right now, but many may not have heard of Tassimo while they have heard about extremely popular pods makers such as Keurig.
In this Tassimo T40 review, you will find out why it is a great pod coffee maker with some excellent smart features, such as a barcode scanner for pods, auto water temperature adjust, fast brewing times, and a pretty solid 2-year manufacturer's warranty. Great taste, ease of use, and the sheer convenience of it all make this a solid choice for those looking for a pod coffee maker.
A quick note: The Bosch Tassimo T40 is designed to be used with their signature pods (or T-discs as they are called). Tassimo does not offer refillable pods for their machines at this time.
Let's get into some specifics.
[tassimoT40Table]
---
Large Water Tank in a Compact Design
One of the first things to notice on the Bosch is its huge 2L water tank. Most pod coffee brewers out there have around 1L- 1.5L water capacity so they have to be refilled more frequently. In my experience, most tanks can only get about 5 cups out before they run out, the Bosch can easily churn out 8-10 cups before needing to be refilled.
Aside from the large tank, the rest of the coffee maker is pretty compact. The adjustable cups and is wide and tall enough to fit a large mug but maybe a bit too small for some bigger travel cups. It is a bit on the heavier side, especially when you try to move it with a full tank of water. The rounded edges and simply shape let it fit most places in your kitchen without getting too much in the way. Overall, it is a decent size and won't take up too much space.
Smart Features for Easy Operation
One of the bosch's more interesting draws is the smart features. Aside from the obvious auto-brew, the Bosch Coffee Maker has an intelligent barcode feature that scans the individual pod for its contents and adjusts water temperature and brew length. So say you want some hot chocolate. You pop in a hot chocolate pod, the machine scans the barcode, and automatically adjust temperature and brew times to optimally make hot chocolate. The auto-adjust features are not perfect for every pod, but it works very nice for the majority.
LED indicators on the front let you know about the status of your beverage. They are not anything fancy per se, but they are useful and easy to read. The Bosch has a very good brew time due to its "flow heater" tech that heats water very quickly and can bring a regular cup to brew in a bit less than a minute.
Performance/Taste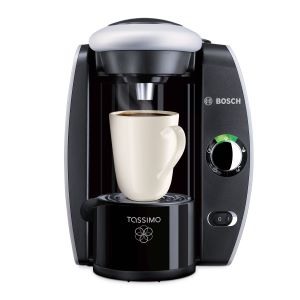 Like I said earlier, a Bosch pod-brewed cup of coffee may not have the subtle hints of something made by a pro barista, but as far as pod coffee goes, it is very good. Tassimo offers a lot of pods in classic coffee flavours and styles (french vanilla, dark roast, espresso, etc) as well as some uncommon ones (Cadbury hot chocolate comes to mind). They also offer tea pods like black, green, chai, and white tea.
As far as actually making a cup of coffee, it's super simple to use. You just put the pod in, turn the on/off switch, and come back in a minute to a ready cup. The ease of use is great when you're scrambling in the morning before work. Several reviewers note that the taste does not transfer between pods very much. So if you make green tea after making hot chocolate, you won't find yourself with a faint chocolatey green tea (which, honestly, doesn't sound too bad).
Disadvantages
The one potentially big flaw with the Bosch Tassimo T40 Coffee Maker is that Tassimo does not offer refillable coffee pods. Each pod is one-use only and must be thrown away afterwards. I have tried running a used pod on a Keurig before just to see the taste and it was not a pleasant experience, so I imagine it would be the same for the Bosch. The lack of refillable pods creates a lot of solid waste which might be a point of concern for more eco-conscious buyers. Buying single-use pods can also get expensive if you drink a lot of coffee.
Read More: Which brand of coffee pod machine is the best?
Also, the Bosch strangely does not give you the option to set brew parameters on your own; it entirely uses the barcode system. Most of the time, this is not a huge deal as the auto-adjuster does a good job. However, the lack of a custom brew setting may draw the ire of those who want to get a bit more experimental with their coffee.
Tassimo T40 Review: Conclusion
In short, the Bosch Tassimo T40 Coffee Maker is a good choice for coffee drinkers. It has great smart features, plenty of good flavours to choose from, and is convenient as a coffee maker can be. Best of all, it is very reasonably priced for an auto-coffee maker. Overall, I would give it a 4 out of 5, only taking off points for the lack of refillable pods and no custom brew setting.
[tassimoT40Table]
Related Articles