The Fracino Piccino is one of the best machines I've come across. If you're a coffee-lover, then you know the difference between a proper cup and an average joe. With the Fracino Piccino, you'll have a cafe-style coffee in your kitchen.
The machine itself is stylish, affordable, and simple to use. The design is sturdy, practical, and stunning. Unlike many other coffee machines, with this one, you can make two cups of coffee at the same time.
I'm a massive fan of the Piccino. Not only does it make a lovely cup of coffee, but it's also one of the best looking machines available on the market for domestic use.
Last update on 2021-01-13 / Affiliate links / Images from Amazon Product Advertising API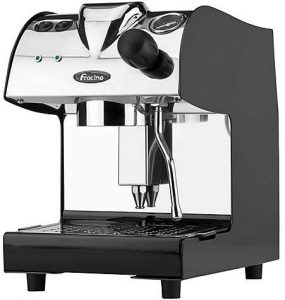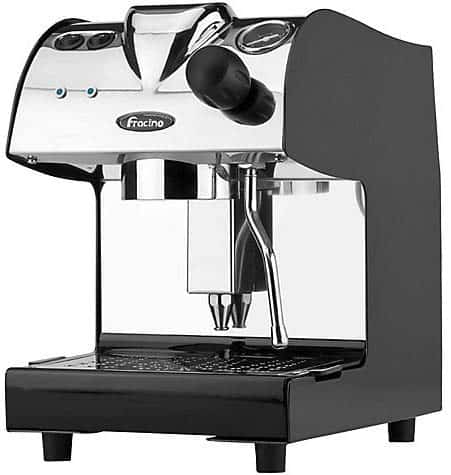 The Fracino Piccino is the ideal espresso machine for both domestic and small commercial use. For making the perfect cup, you do have to know the basics behind using an espresso machine.
Even though it's a little bit complicated for a novice barista, once you use this machine a few times, you can have it down.
My favourite part of this machine is that It's possible to make coffee and steam milk at the same time, which is excellent since I love cappuccinos. Unlike some other espresso makers, you don't have to worry about running out of steam and getting sub-par latte milk.
The stainless steel material is durable and very sleek. What excited me most about this machine was all of the beautiful colours available if you want something more bright and lively.
You can customise the body to fit in with the design of any kitchen. The black colour is very neutral so will never look out of place.
The machine is available in black, pure stainless steel, yellow, white blue, green, pink, as well as any RAL custom colours, It'll look beautiful on any countertop, and it doesn't take up too much space.
Build Quality
The Fracino Piccino is a hefty machine. The water tank and lid aren't very aesthetically pleasing, but they can't be seen from afar. Some reviewers of the product have mentioned that the water tank lid doesn't cover the white plastic of the tank, but most were pleased with it.
The excess drip tray has a strange and tight lid, which makes sense in operation. As the name indicates, the Piccino is compact and sturdy. Don't let the size fool you, though; this is a powerful machine.
Most people buy this for their home if they want a frequent good cup of coffee, but you can also use this in a commercial environment. This isn't the best for a packed cafe but works for up to around forty cups per day.
Two Boilers
I really like this domestic espresso machine, mostly because it has two boilers. This means that you can extract all of that delicious espresso and froth milk at the same time.
The machine has two 300ml boilers, one is for coffee, and one is for steam. The benefit of the dual boilers means that you can make copious amounts of both, without having to worry about running out of steam.
You can keep an eye on the steam pressure with the gauge. I find this to be quite useless since I usually am only making a few cups at a time.
Simple Brewing
The Fracino Piccino features a filter holder, single and blank baskets, as well as a tamper and measure. I found that the baskets easily fit into the machine.
I like to grind my coffee relatively coarse, though many prefer fine for espresso. The best thing is, you can't overdose measures when making a cup because it just won't fit into the filter holder.
Many users have realised that it's best to grind the beans as fine as possible since this machine can handle it.
Once you get the hang of this machine, you'll be looking forward to every morning and afternoon cup. The coffee drink will come out as smooth as a pint of Guinness and will be accompanied by a rich and robust flavour.
Easy to Clean
A lot of folks are afraid to get a machine because so many are terrible to try to clean. One of the best things about this espresso maker is that it's simple to sanitise.
An added benefit that is also worth mentioning is that there is no complex plumbing required. Set up is straightforward, and you don't have to deal with any complications in the long run.
Pros
The dual boilers allow you to brew two cups of coffee while steaming milk at the same time.
A compact yet sturdy build featuring brass steam valves and a stainless steel shower plate and steamed tubes that are convenient to clean.
Installation is quick and easy and learning how to make either a single espresso, latte, or even a fully frothed cappuccino is simple
Customise your machine by choosing from a wide variety of colours so that they can fit perfectly with the aesthetic of your cafe or home kitchen.
Cons
The instruction manual that comes along with this product could be a bit more detailed.
The Fracino Piccino can be used for commercial purposes, but only small cafes that don't have to make more than around 40 cups per day.
Conclusion
The Fracino Piccino is a delightfully designed espresso machine that makes superb coffee. While it may look overwhelming for first time users, it's simple to figure out and operate.
If you're a cappuccino drinker like me, this machine will change your life. If you do run into any trouble during setup, make a call to Fracino's customer service. The company is refreshingly helpful and will replace any components if you find yourself with a problem.
Last update on 2021-01-13 / Affiliate links / Images from Amazon Product Advertising API