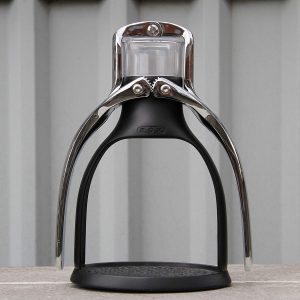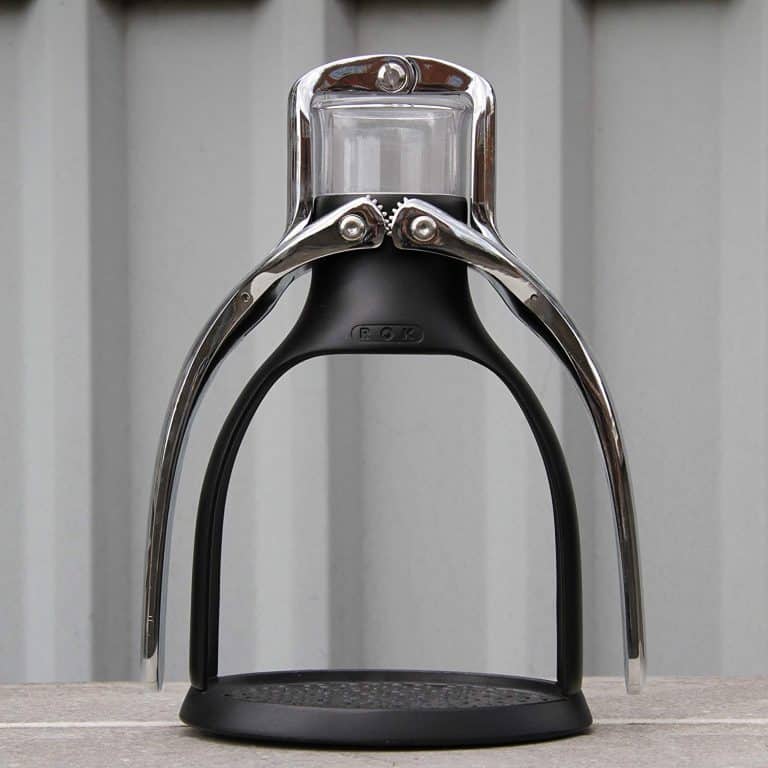 Sometimes it doesn't seem worth heading to a cafe just for an espresso shot. However, it's also virtually impossible to make it at home with instant coffee. Well, to help you get your fix, and instead of buying a big fancy coffee machine, why not just buy an espresso maker?
Today we're going to look at the Roks Espresso Coffee maker that makes tidy and tasty espressos time after time. There's no longer a need to buy a bulky machine if you're only going to be drinking espressos.
I've taken a look at how well this machine makes espresso and how it compares to others on the market. With its neat design and easy usability, I really like the idea of this one, and it will look great on any countertop.
Roks Espresso Coffee Maker Review
I've begun by looking closely at a few of the essential features. These will help you compare it to other models and to see what makes it worthwhile.
No Electricity
My favourite feature regarding this little gadget is the fact that you don't need electricity. Not only does it help you save a few pounds, but it means you can take it anywhere. If you enjoy camping and still want to enjoy an espresso each morning, you easily can.
It makes it far more portable and you don't need to worry about placing it near to a socket or finding a free one to plug it into. No electricity makes it much more eco-friendly, and a lot of people want this nowadays.
No Pods
This will also save you another hole in your pocket. Buying pod after pod can really add up; they aren't cheap. This espresso maker doesn't need any pods or require you to buy any extra fancy parts.
You can buy regular ground coffee, or beans if you have a grinder, and just fill up the little steel filter. Not only will you be spending less, but it's far fresher than pods. You'll find that this way the coffee tastes like a barista made it.
Complete Kit
The device comes with everything you need to make your favourite cup of coffee. This includes a portafilter, milk frother, and a splitter so you can make two separate shots at once. The milk frother means you can also make macchiatos or cappuccinos as well.
It also comes with a really nice storage tin that I love. This is great for those who will only use it now and again, and you can easily put it away to get out on special occasions. You can keep it in a cupboard or out on the counter as it looks like a biscuit tin.
Rubber Feet for Grip
The bottom of the device comes with four rubber feet to make sure it doesn't slide everywhere while you're trying to make a cup. This may seem a little insignificant, but it's a crucial safety factor.
Imagine pushing down on the metal handles while there is boiling water in the tank. If you slip, that water can go all over you and cause a lot of harm. Not only does it protect you, but it makes it much easier to use the machine without trying to keep it steady.
Roks Espresso Coffee Maker Pros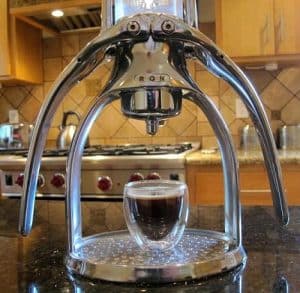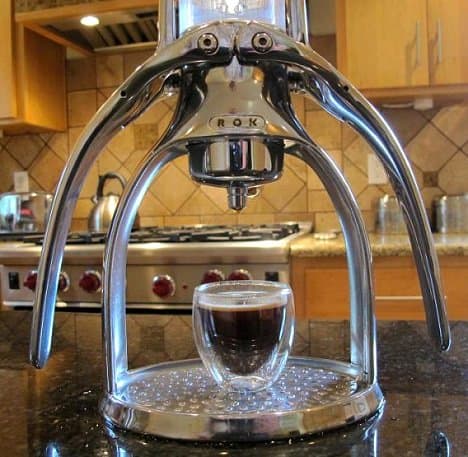 To help you a little more in your final decision, I've compiled my favourite positives for the device.
10 Year Warranty
You'll often find that when you buy a product, you get a one or two year warranty. With the metal parts of the Roks device, you get a whole ten years. That's very comforting to know that you are protected for such a long period should any issues arise.
Affordable
If you compare the machine to others on the current market, you'll see that the price is fair. It's not a cheap item, but considering how well it does the job, the fact you don't need to worry about electrics, and the extended warranty, it doesn't cost too much.
Very Portable
It doesn't weigh too much, and because you don't need to plug it in, it can be used literally anywhere. You can take it camping, fishing, and any other outdoor activity where you don't have electricity.
Durable
As well as the 10-year warranty, you'll find that this product is generally very durable. It's made from robust material and is exceptionally resistant. It will be tough to do a lot of damage.
Cons
It's been a little challenging to come up with any negatives as at the moment the product has 100% excellent comments, so customers are delighted with it. I've done my best to come up with a couple.
Takes a Bit of Practice
It's a great machine, but it can take a few tries to get it to work as you want it. You'll need to experiment with different grinds to get the taste you want. Once you get your style down, though, it will consistently give excellent results.
Doesn't Heat Water
One of the only things I'm not so sure about is the fact that it doesn't heat the water itself as a regular coffee machine would. You'll need to boil it separately and then pour it into the device. It's not difficult to do, though. Just a little extra step that might add another minute or two to your routine in the morning.
Verdict
Overall, I think this is an excellent device. It makes excellent coffee without the need for electricity, pods, or any other extras. It comes with everything you need to make coffee how you like, and the warranty is incredible.
You shouldn't have any issues with a breakdown, and it will last many years. The price is well worth it, and the customer sentiments at this moment in time are great. I believe it to be an excellent addition to any kitchen.